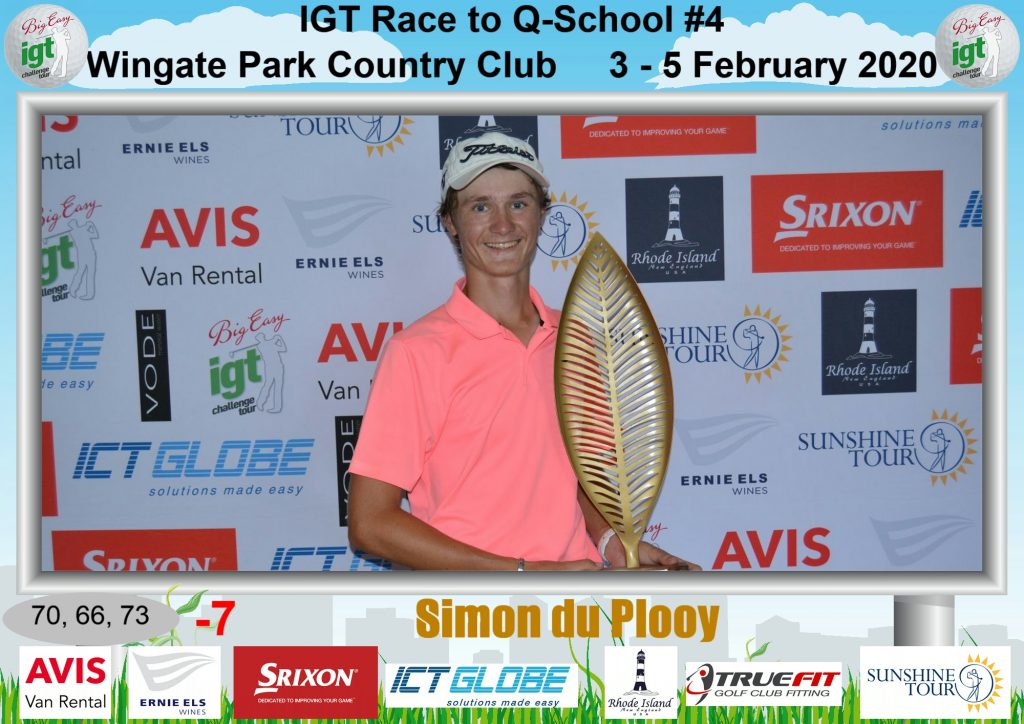 6th February 2020 | IGT Challenge Tour
Emotional maiden win for Du Plooy at Wingate Park
Emotional maiden win for Du Plooy at Wingate Park
(PHOTO – Simon du Plooy; credit CJ du Plooy)
PRETORIA, 5 February 2020 – Krugersdorp amateur Simon du Plooy dedicated his maiden IGT Challenge Tour victory to his 16-year-old sister Nadia after he showed nerves of steel to win by one-shot on Wednesday.
The 19-year-old holed several tricky putts for pars on the back nine in an enthralling battle with professional Quintin Wilsnach and fellow amateurs Brandon Gildenhuys and Zachary Chegwidden from England in the Race to Q-School #4 at Wingate Park Country Club.
The most important of all came at the 18th where, under the most intense of pressure, the teenager rolled it into the cup for a one-over 73 and victory on seven-under.
"I've never really featured on the amateur circuit and definitely not on the IGT Challenge Tour until now, so this is really big for me. It was a different Simon du Plooy out there today. I'm so pleased to have done this for my younger sister," Du Plooy said.
Nadia du Plooy was diagnosed with Kearns Sayres Syndrome at a young age, a very rare neuromuscular and progressive disorder. She is only documented sufferer in South Africa.
"Nadia is a very positive person, but it's not going so well at the moment. She's been in a coma at The Wilgers for the last three weeks. My sister has always inspired me and she is a fighter. The prognosis is not promising, but I really hope I get the chance to tell her all about this day."
The unheralded Du Plooy surged into the lead with a second round six-under-par 66 and carried a four-shot lead into the final day.
""I was very solid all week and even my third round I was comfortable, although I did drop some shots," he said. "I got off to a par start that settled the nerves and on the second, I hit driver with a small draw and 7-iron from 181 metres out to 18 feet and drained the putt for eagle."
The young gun dropped a shot on the par three eight and let two more slip on 12 and 13, but he kept his cool as the pressure mounted from the chasing pack.
"Quintin made a bunch of birdies and Brandon eagled the second and was also making a run. I just played the course and tried to shut out what they were doing. I made some very good par-putts over the last five holes to stay ahead."
Wilsnach came up one shot short of Du Plooy's target after closing with 67, while Gildenhuys eagled the 18th for 67 to match Wilsnach for the low round honours. The eagle finish netted the Southern Cape amateur a share of third on four-under to tie Chegwidden, who closed with a level-par 72.
"It's fantastic to have my first win under the belt," Du Plooy said.
"I've gained a lot of experience since I started campaigning on the IGT Challenge Tour and I hope to play the last two before the Sunshine Tour Q-School. I've jumped to third in the rankings and the top 15 at the end of the Race to Q-School Series will go straight to Final Stage.
"I'm starting my B.Com Accounting degree this year through UNISA and I'll take less subjects so I can continue to play golf competitively. I've been discussing my career path with my coach Hendrik Buhrmann and my dad. We want the go through the experience of Q-School, but I if I'm successful, I will probably not take up a card. I think I will benefit from another year on the IGT Challenge Tour and hopefully also on the Big Easy IGT Challenge Tour. It's been a brilliant week and I'm over the moon, because the conditions were tough. I just want to build on this now."
Royal Johannesburg & Kensington's Keaton Slatter cemented his position at number in the Race to Q-School Order of Merit with a top seven finish, while Jack Duthie from George rose to second with his top 12 performance. Du Plooy sits in third, while Pretoria pair Richard Kruger and Teagan Moore from Pretoria hold the fourth and fifth positions respectively.
With just two events remaining, the gents in the bubble – Michael Pfeifer in 15th and amateur Jancarel Rossouw in 16th – will both be looking for something special to happen to guarantee their spots in the Final Stage of Q-School at Houghton in March.
Visit http://www.hopewithnadia.org/ for more information about Nadia du Plooy.
Final Result
209 – Simon du Plooy AMA 70 66 73
210 – Quintin Wilsnach 69 74 67
212 – Brandon Gildenhuys AMA 70 75 67, Zachary Chegwidden AMA (ENG) 69 71 72
214 – Bryce Myburgh 72 72 70, Richard Kruger 76 67 71
215 – Keaton Slatter 73 73 69, Jason Rossiter 70 75 70, Albert Visser 69 74 72, Henning Stander AMA 70 72 73, Jancarel Rossouw AMA 68 73 74
216 – Shalan Govender 73 74 69, Jack Duthie 71 71 74
218 – Keanu Pestana 73 74 71, Ruhan van Dijk 74 73 71, Jaco van der Merwe 67 77 74, Duan Nagel 71 72 75, Michael Kok 67 76 75
219 – Jason Froneman 75 72 72, Jay Fourie 73 71 75, Albert Venter 73 71 75, Michael Schutz 72 77 70, Lance Ellerbeck AMA 75 68 76
220 – Gideon van der Vyver 73 74 73, Paulo Serrao (POR) 72 75 73
221 – Michael-James Steyn 73 73 75, Alex de Gunzburg (USA) 71 75 75, Michael Pfeifer 70 74 77, Conner Mackenzie AMA 73 76 72, Zabastian de Jager 70 73 78
222 – Angus Ellis-Cole 75 71 76, Teagan Moore 72 76 74, Maverick Faber (FRA) 70 78 74
223 – Handre Truter AMA 75 70 78, Jason Gilliver AMA 75 74 74, Stephan Erasmus 73 76 74, Dylan O'Leary 73 76 74, Luke Trocado 74 76 73, Ricardo Towell 75 75 73
224 – Werner Deyzel AMA 74 72 78, Elmo Barnard AMA 73 73 78, Leon Visser 76 74 74
225 – Francois Blaauw AMA 76 73 76
226 – Reinhardt Blaauw 76 71 79, Ruan Jooste AMA 77 72 77
227 – Leon van der Walt AMA 75 74 78
229 – Gerhard Henning AMA 72 77 80
230 – Igor Milicic (SRB) 75 74 81
231 – Phumlani Maluka 75 74 82
234 – Tyron Taylor AMA 73 77 84
Written and released by Lali Stander on behalf of the Big Easy IGT Challenge Tour.
Latest IGT Challenge Tour News