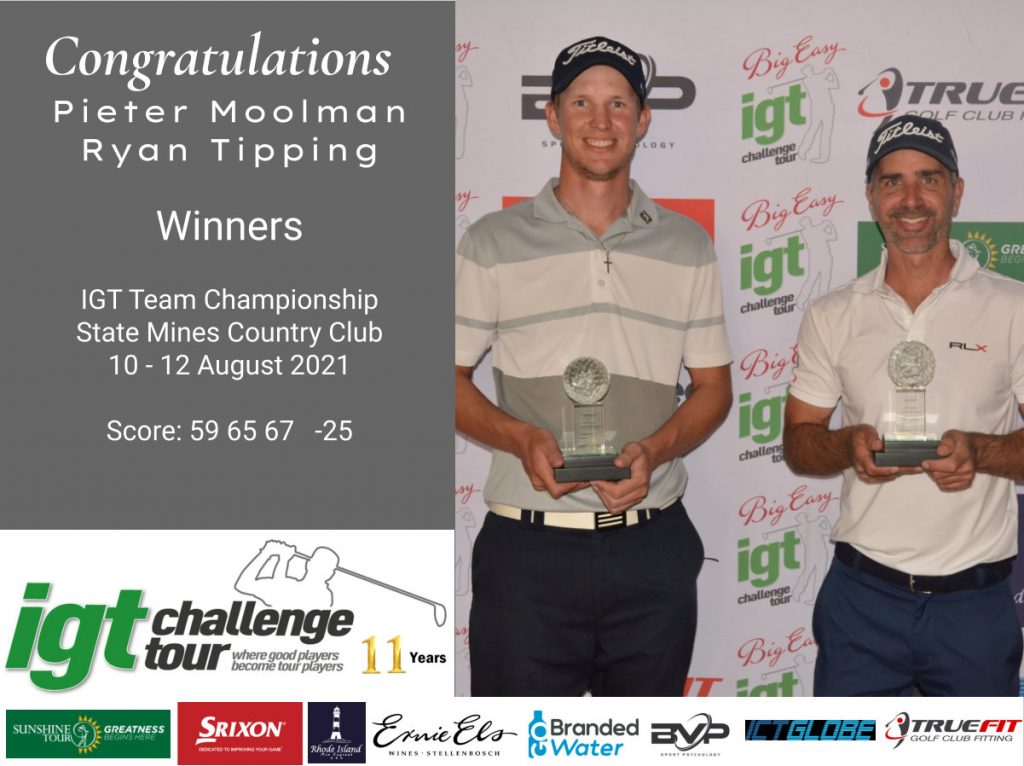 13th August 2021 | IGT Challenge Tour
Experience pays off as Tipping, Moolman win IGT Team Champ
Experience proved the deciding factor on Thursday as professionals Ryan Tipping and Pieter Moolman won the Big Easy IGT Challenge Tour's Team Championship at State Mines Golf Club on the second play-off hole.
The 40-year-old Tipping, bidding to regain his Sunshine Tour card, and the 30-year-old Moolman, currently 53rd on the Sunshine Tour Order of Merit, made a birdie on the 18th on their third trip up that fairway on the final day to edge out the 18-year-old amateur pair of Casey Jarvis and Yurav Premlall.
Both teams had finished the 54 holes of regulation play at 25-under-par in the betterball scoring format, with Jarvis and Premlall chasing down the more seasoned pros with their closing six-under-par 66.
"Casey and Yurav were just so excited throughout the round," said Tipping. "I said to Pieter that we should just keep our heads down, get the balls up the fairways and try to make our putts, and that kind of pressure together with them trying so hard would eventually work in our favour."
And so it proved, despite the older men both missing par putts on 17 as they let the first bogey onto their card in three rounds. That was in contrast to Jarvis and Premlall, who made bogeys on five and 12 as they pressed for the win.
"We both missed our tee shots left on the 17th," said Tipping, "and then I missed an eight-footer and Pieter just missed a 15-footer.
"And then on 18, Pieter just missed a four-footer for the win. In the play-off, after we all made par on the first hole, Pieter made his birdie putt to get it over with."
Dwayne Basson and Allister de Kock also made a charge for the win in the final round, carding an eight-under-par 64 to finish third on 24-under-par for the tournament.
For Tipping, a second title for the season is pleasing, even if this one is shared. "My game is heading in the right direction," he said. "Now I'm looking for the third win as soon as possible."
Latest IGT Challenge Tour News