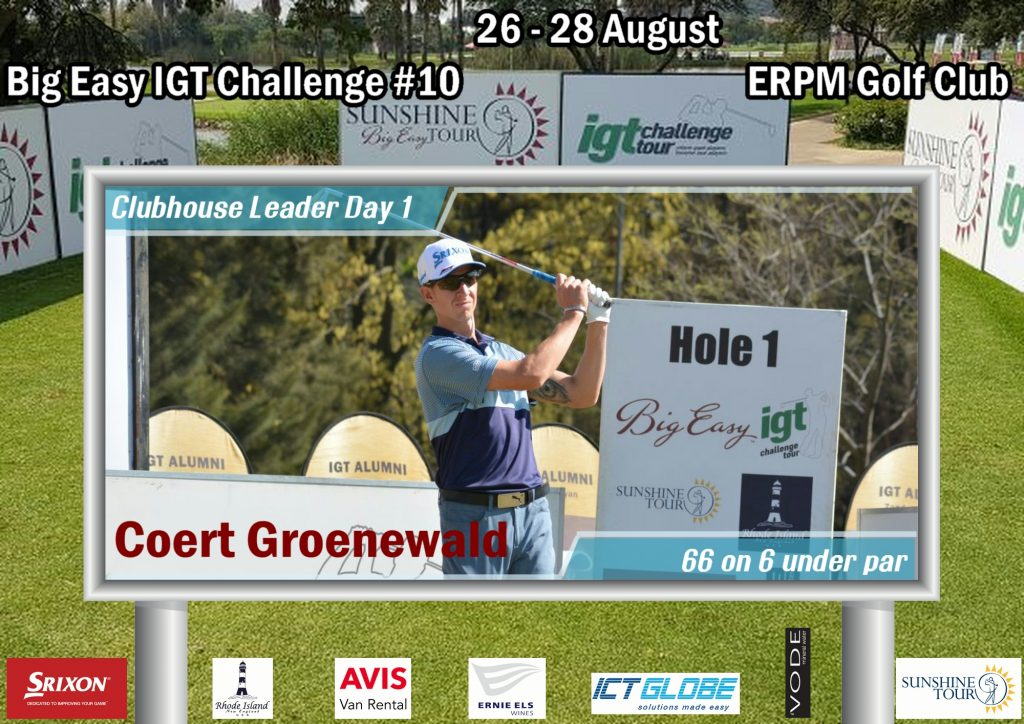 26th August 2019 | IGT Challenge Tour
Flawless Groenewald rules at Big Easy ERPM
Flawless Groenewald rules at Big Easy ERPM
(PHOTO – Coert Groenewald; credit CJ du Plooy)
BOKSBURG, 26 August 2019 – Coert Groenewald fired the only bogey-free round of the day to move to the top of a jam-packed first round leaderboard in the Big Easy IGT Challenge Tour #10 at ERPM Golf Club on Monday.
The 30-year-old Houghton golfer was in imperious form as he sunk two eagle putts and fired two birdies for a six-under-par 66 that left him one shot clear of former Sunshine Tour winner Ruan de Smidt and the reigning Road to Sunshine Tour leader Malcolm Mitchell.
Groenewald made a perfect start with a trio of pars from the 10th and set up his first eagle of the day with a great drive on the par five 13th.
"The drive was long and straight down the middle and left me with a sand-wedge in," he said. "I stuck it six feet from the hole and made the putt. I was two-under at the turn.
"I hit another great drive and 8-iron to the middle of the green on the second. The ball spun back to the bottom tier, but I holed a long putt for eagle. I hit my second shot into the bunker on four, and had quite a long bunker shot, but I struck it well and left myself a 12-foot putt for birdie.
"Sunk that one to go five-under. At the ninth, I went with a 5-iron off the tee and I hit sand-wedge to three feet and sunk the birdie putt."
Groenewald has moved to fifth in the rankings, courtesy of three top 10s and top 20 finishes in his last two starts, and he believes he is starting to find his best form after a battling 2018 season.
"I think my game has been going the right way for a while now," he said. "I had a lot going on last year off the golf course and it negatively impacted on my game and my season, but my mind-set is very strong and positive this year.
"The course is in really good nick and the greens are rolling fast and true. I had a very good ball-striking round, but the putter frustrated me a little. It could have been better because I had so many lip-outs, but if I can get the putter going, it will be another good week."
Mitchell – targeting a hat-trick of wins on the premier golf development circuit – was also feeling positive after a solid opening performance.
"I made a bit of a slow start and dropped a shot at my third hole, but brought it back to level with a birdie at the fourth (par five 13th)," said the KwaZulu-Natal rookie.
"I had a three-putt bogey on seven (16), but I hit a great second shot into eight (par five 17th). I holed an eight-footer for eagle and a birdie on nine (18th) to turn two-under.
"On my back nine, I missed an eagle putt on the second, but made the birdie and I made two more birdies at four and six to get to five-under. Unfortunately a poor tee shot led to bogey on the seventh, but I finished with another birdie.
"Five-under is a half-decent score and leaves me right in the mix, so I'm pretty happy. I won one of my Ekurhuleni Open titles here at ERPM Golf Club as an amateur, so coming here brings up positive feelings. My game and my mind-set has been good for a while now, so I'll just keep at it and see where it leaves me at the end of the tournament."
Albert Venter and Gary Player Class of 2019 member Thanda Mavundla posted rounds of 68 to finish two shots off the pace, with Matt Bright, Jeff Inglis, Ruan Korb and Clinton Grobler are sitting a further stroke back in joint sixth.
Big Easy IGT Challenge Tour #5 winner Jason Smith rounded out the top 10 on two-under alongside Michael Kok, Zabastian de Jager and Dayne Moore from Zambia, while Allister de Kock – another member of the Gary Player School of 2019 – also broke par in the opening round to join the group tied for 14th on one-under.
First Round Scores
All competitors RSA unless otherwise specified and amateurs indicated as AMA.
66 – Coert Groenewald
67 – Ruan de Smidt, Malcolm Mitchell
68 – Albert Venter, Thanda Mavundla
69 – Matt Bright, Jeff Inglis (ENG), Ruan Korb, Clinton Grobler
70 – Dayne Moore (ZAM), Jason Smith, Michael Kok, Zabastian de Jager
71 – Desne van den Bergh, Theunis Bezuidenhout, Marthin Scheepers, Allister de Kock, Hendrikus Stoop, Quintin Wilsnach, Peetie van der Merwe
72 – Hanlo Jacobs, Jaco van der Merwe, Marco de Beer, Byron Coetzee, Gerhard Pepler, Teboho Sefatsa, Romano Saincic
73 – Morne Buys, Keaton Slatter, Ruan Huysamen (NAM), Beyers Smith AMA, DK Kim (KOR), Karl Ochse, John McClean (NIR), Luan Boshoff, Maritz Wessels, Gideon van der Vyver, Charles Spencer-White, Leon van der Walt AMA
74 – Evance Vukeya, Jason Roets, Jason Froneman, Teagan Moore, Eric Nel, Reinhardt Blaauw, Xander Basson AMA, Nicholaus Frade, Jason Viljoen, Dwayne Basson, Bradley Diggeden
75 – Nico du Buisson, Aubrey Beckley, Darin de Smidt, Jason Rossiter, Divan Marais, Brett Liddle, Paul Colditz, Clayton Mansfield, Gareth Sargent, Michael Pfeifer, Thabang Simon
76 – Adriel Poonan, Tristan Eeles, Quintin Crause, Wayne Stroebel, Christian Basson, Alpheus Kelapile, Keelan Africa, Arno Pretorius, Matthew Spacey, Mpho Mafishe
77 – Jason Diab, Ruhan van Dijk, Francois Blaauw AMA, Cameron Esau, Makhetha Mazibuko, Hennie O'Kennedy, Gerard du Plooy, Alwyn Smith
78 – James Pennington (SWZ), James Kamte, Liam Labuschagne, Jay Dean Fourie, Keanu Pestana, Angus Ellis-Cole
79 – Carlo Heunis, Neal Woernhard (SUI), Roedolf Klopper AMA, Cameron Gurr AMA, Richard Joubert
80 – Mike Maile, Caylum Boon, Leon Visser, Donovan Pearse, Leon Vorster, Jack Duthie
81 – Albert Visser, Shalan Govender
82 – Wynand Potgieter, Gerhard Botha AMA, Michael Schutz, Maverick Faber (FRA), Gary Daoust (BEL), Wesley du Toit AMA
83 – Bryce Myburgh, Jarryd Govender, Phumlani Maluka, Byron van der Merwe
85 – Sipho Bujela
86 – Jonathan George AMA
90 – Jared Hall AMA
WDN – Kenneth Dube
RTD – CJ Levey
Written and released by Lali Stander on behalf of the Big Easy IGT Challenge Tour.
Latest IGT Challenge Tour News