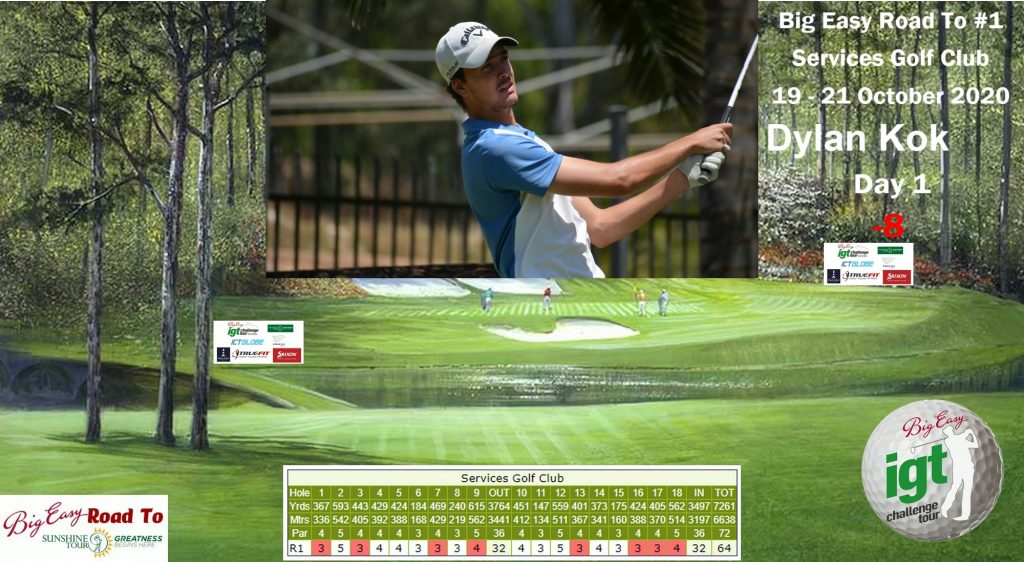 19th October 2020 | IGT Challenge Tour
Flawless Kok in tight lead as BET returns at Services
ZWARTKOP, October 19 – Dylan Kok got off to a flawless start in the first event of the new Big Easy Tour season, where his bogey-free eight-under 64 handed him a one-shot lead in the Big Easy Tour Road To #1 at Services Golf Club on Monday.
With Vaughn Van Deventer leading in the clubhouse at seven-under-par, Kok was inspired and was four-under and bogey-free on the front nine, thanks to birdies on the first, the third, seventh and ninth holes.
He would have to wait for three more holes for any more birdies but the patience proved to be key because Kok would make gains again, picking up an important birdie on the par-four 13th. A par on 14 was followed by a game-changing par-save on the par-three 13th hole before Kok made a hat-trick of birdies to close off in style.
"I started well," Kok admitted, "but I missed a few putts here and there but on number seven I made a very nice putt for birdie, a good up-and-down on 10 to keep the momentum going and it was nice to finish with three birdies back-to-back.
"The course is fairly easy but you still need to play your shots. It helps to keep it on the short grass because you will give yourself opportunities. For me, finding fairways and making a few putts really helped."
Van Deventer – following an eventful seven-under 65 opening round which consisted of seven birdies, an eagle, and two bogeys – ties the second spot with amateur Ryan Van Velzen and they trail by just a single shot.
This season, the Big Easy Tour Road To has introduced a major change which allows for the amateurs to now compete for the six Sunshine Tour cards available for the 2022 season. Players will now receive points on the Order of Merit and the reasoning behind that decision is that the IGT Tour has observed in the past a trend where amateurs changed their statuses to compete for the cards.
Christiaan Maas, an amateur himself and a recent winner on the IGT Tour is in a five-way share of the fourth spot at six-under-par while Karabo Mokoena's five-under-par 67 opening round sees him occupying ninth after day one.
64 – Dylan Kok (RSA)
65 – Vaughn Van Deventer (RSA) , Ryan Van Velzen (AM) (RSA)
66 – Michael Kok (RSA) , Keanu Pestana (RSA) , Henning Du Plooy (RSA) , Caylum Boon (RSA) , Christiaan Maas (AM) (RSA)
67 – Karabo Mokoena (AM) (RSA)
68 – Kyle McClatchie (RSA) , Theunis Bezuidenhout (RSA) , Christo Lamprecht (AM) (RSA) , Adriel Poonan (RSA) , Nash De Klerk (AM) (RSA) , Bradley Diggeden (RSA) , Alpheus Kelapile (RSA) , Lincon Cele (RSA) , Llewellyn Booysen (RSA) , Tristan Leonard (AM) (RSA)
69 – Wynand Potgieter (RSA) , Angus Ellis-Cole (RSA) , Reinhardt Blaauw (RSA) , Jeremy Sharpe (RSA) , Albert Visser (RSA) , Phumlani Maluka (RSA) , Warwick Purchase (AM) (RSA) , Wayne Stroebel (RSA) , Therion Nel (RSA) , Matthew Rushton (RSA) , Morne Buys (RSA) , Danie Van Niekerk (RSA)
70 – Shaydon Johnson (AM) (RSA) , Darin De Smidt (RSA) , Leon Vorster (RSA) , Cameron Gurr (AM) (RSA) , Charlie Dell (AM) (ENG) , Travis Procter (AM) (RSA) , Dean Wilken (AM) (RSA) , Christiaan Burke (AM) (RSA) , Gregory Mckay (RSA) , Keaton Slatter (RSA) , Thabang Simon (RSA)
71 – Gregg Gilson (AM) (RSA) , Marco De Beer (RSA) , Matt Saulez (RSA) , Ruan Botha (RSA) , Gerard Du Plooy (RSA) , Nicholaus Frade (RSA) , Paulo Serrao (POR) , Neezy Thubisi (RSA) , Matthew Dennis (AM) (RSA) , Ryan Van Rosenveldt (RSA)
72 – Conway Kunneke (RSA) , Rigardt Albertse (RSA) , Gerhard Pepler (RSA) , Ricky Hendler (RSA) , Kai-Alexander Brandkamp (RSA) , Franklin Manchest (RSA) , Brandon Gildenhuys (RSA) , Werner Deyzel (AM) (RSA) , Leon Scheepers (RSA) , Teddy Mathebula (RSA) , Donovan Liddicoat (AM) (RSA) , Martinus Barnard (RSA)
73 – Drikus Joubert (AM) (RSA) , Keelan Van Wyk (RSA) , Carlo Heunis (RSA) , Fritz Orren (RSA) , Ruan Groenewald (RSA) , Jastice Mashego (RSA) , Warrick Greentree (RSA)
74 – Adam Gamsy (AM) (RSA) , Arno Pretorius (RSA) , Jaco Van Der Merwe (RSA) , Marcel Steyn Scholtz (RSA) , Christopher Scheppel (AM) (RSA) , Basil Wright (RSA) , Warrick Moonieyan (RSA) , Leon Van Der Walt (AM) (RSA) , Michael Pfeifer (RSA) , Irvin Mazibuko (RSA) , Darren Slingers (AM) (RSA) , Jurgen Visser (AM) (RSA)
75 – Rees Emanuel (AM) (RSA) , Jade Buitendag (RSA) , Tetelo Seseni (RSA) , Johan Milho (RSA) , Christiaan Pretorius (RSA) , Francois Blaauw (AM) (RSA) , Matt Bright (RSA) , Slenda Sithebe (RSA) , DK Kim (KOR) , JP Du Rand (RSA)
76 – Pierre Du Plessis (AM) (RSA) , Jason Froneman (RSA) , Michael-James Steyn (RSA) , Conner Mackenzie (AM) (RSA) , Jonathan George (AM) (RSA) , Jeff Inglis (ENG) , Donald Makhafola (RSA) , Andrej Skrbinsek (AM) (RSA)
77 – Juan Diedericks (AM) (RSA) , Brandon Moodley (RSA) , Zabastian De Jager (RSA) , Ricco Motsa (AM) (RSA) , Jason Hale (RSA) , Brenden Pieters (RSA) , Duan Nagel (RSA)
78 – Christopher Constantinou (AM) (RSA) , Phillip Degenaar (RSA) , Jancarel Rossouw (RSA) , Armand Van Dyk (AM) (RSA)
79 – Byron Van Der Merwe (RSA)
80 – Erhard Lambrechts (RSA)
81 – Xander Prinsloo (AM) (RSA)
82 – Gerhard Henning (AM) (RSA)
84 – Nkosikhona Dilla (RSA)
86 – Dylan Underwood (AM) (RSA)
88 – Sfiso Motsa (AM) (RSA)
DSQ – Lwazi Gqira (RSA) – Cut
Latest IGT Challenge Tour News