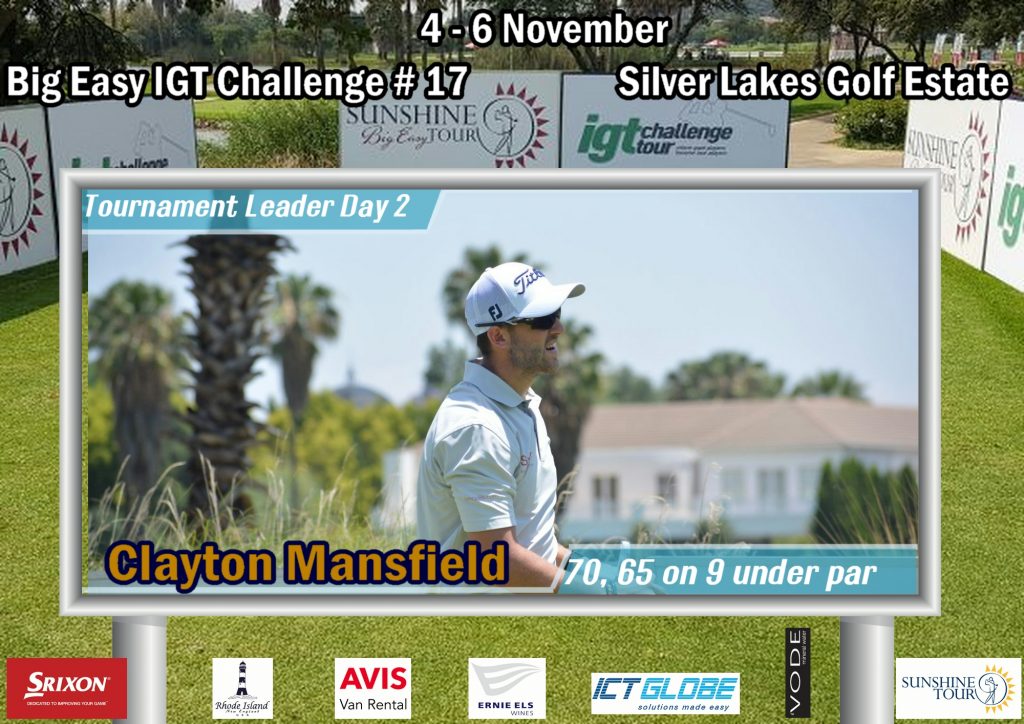 5th November 2019 | IGT Challenge Tour
Flawless Mansfield leads Big Easy IGT Silver Lakes
Flawless Mansfield leads Big Easy IGT Silver Lakes
(PHOTO – Clayton Mansfield; credit CJ du Plooy)
PRETORIA, 5 November 2019 – Clayton Mansfield from KwaZulu-Natal stormed into the lead on the second day of the Big Easy IGT Challenge Tour #17 with a bogey-free round of seven-under-par 65 at Silver Lakes Golf Estate.
The 25-year-old rookie showed off exceptional skills in the one and a half club wind to fire two eagles and a trio of birdies and move to nine-under. Mansfield will head into the final round with a three-shot cushion and a burning desire to land a maiden professional win.
"I was still an amateur when I won on the Chase to Sunshine Tour series on the IGT Challenge Tour in February and getting that first pro win under the belt has been a goal all season," said the former GolfRSA National Squad member.
"I really played solid from tee to green and having two eagles on the card always helps, but going around this track bogey-free in the wind felt great. I started nicely with a four-foot birdie putt on 11 and on 14, I hit 4-iron to three feet and boxed for eagle. I hit a poor tee shot on the 18th and laid up, but almost holed the wedge shot and walked off with a birdie.
"I missed the green on the second short left, but got up and down for another birdie. I had to momentum saving pars at five and six – first I got up and down from the front bunker out of a plugged lie on the fifth and on the sixth, I got up and down from left of the green. On the seventh, I hit driver just off the fairway left, sand wedge to 20 feet and drained the putt for the eagle.
The solid ball striking round has given Mansfield plenty of confidence to take into the final round.
"It's the business end of the season and the pressure is on. We only have two events left after this week and I'm still about R13 000 short of the top six of the Road to Sunshine Tour rankings. Only the top six will earn cards for the Sunshine Tour next season, so it has to happen soon," said the Durban Country Club member.
"A win will boost me within striking distance of the top six, but I will need to push those thoughts right to the back of my mind. You can't afford to lose focus in a final round, especially not at a course like this. A three-shot lead can be gone in a wink if you drop your guard here."
Mansfield will be further tested by the five-way tie on six-under that features Basil Wright, Reinhardt Blaauw and the trio of Jason Smith, Jason Froneman and Jason Rossiter.
Smith, already a two-time winner this season, took fourth in the 16th event last week, Froneman fired a final round five-under-par 67 to claim a runner-up finish at Reading Country Club and Rossiter carded 68 in the final round to catapult to joint 17th.
Road to Sunshine Tour leader Matthew Spacey, Theunis Bezuidenhout and Mansfield's travel partner Matt Saulez will start the final round four off the pace in joint seventh, while first round leader Tumelo Molloyi slumped to three-under after carding 75 in the second round.
Second Round Scores
All competitors RSA unless otherwise specified; amateurs indicated as AMA
135 – Clayton Mansfield 70 65
138 – Jason Smith 65 73, Basil Wright 68 70, Reinhardt Blaauw 67 71, Jason Froneman 65 73, Jason Rossiter 68 70
139 – Theunis Bezuidenhout 70 69, Matt Saulez 70 69, Matthew Spacey 69 70
140 – Dwayne Basson 71 69, John McClean (NIR) 70 70
141 – Jack Duthie 69 72, Byron Coetzee 67 74, Gary Daoust (BEL) 74 67, Tumelo Molloyi 66 75
142 – Peetie van der Merwe 72 70, Coert Groenewald 71 71, Gideon van der Vyver 68 74, Michael Kok 68 74, Romano Saincic 68 74, Nicholaus Frade 72 70
Written and released by Lali Stander on behalf of the Big Easy IGT Challenge Tour.
Latest IGT Challenge Tour News