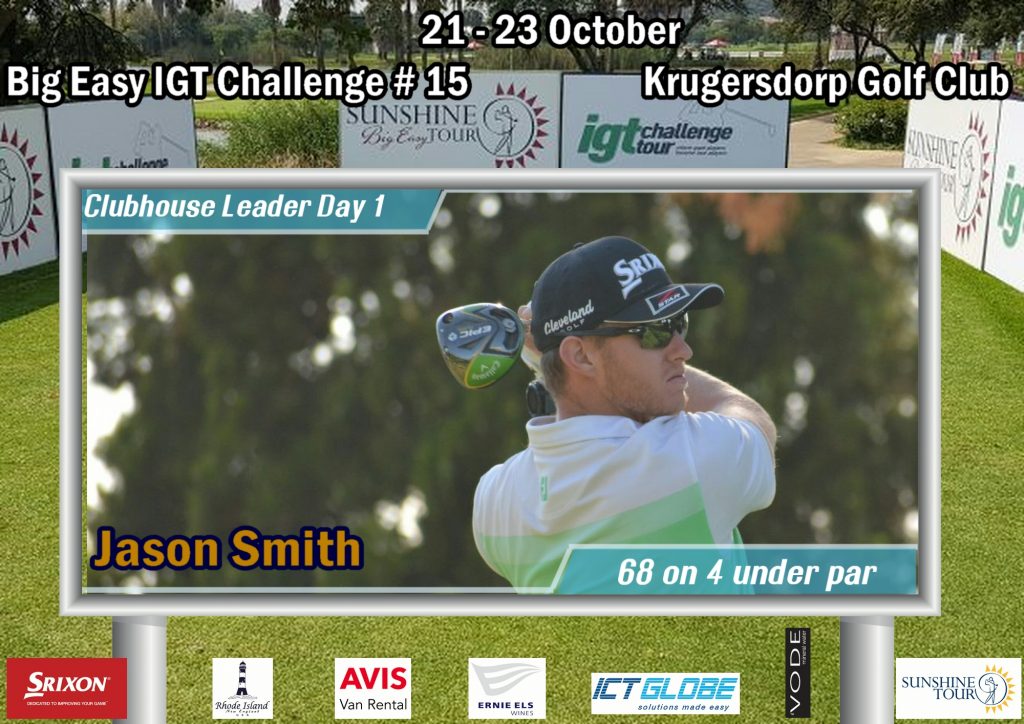 21st October 2019 | IGT Challenge Tour
Flying start sees Smith lead Big Easy IGT Krugersdorp
Flying start sees Smith lead Big Easy IGT Krugersdorp
(PHOTO – Jason Smith; credit CJ du Plooy)
KRUGERSDORP, 21 October 2019 – Pretoria golfer Jason Smith carded an opening four-under-par 68 to take the lead on day one of the Big Easy IGT Challenge #15.
Smith has won twice this season – #5 at State Mines and #12 at Centurion – and a handful of top five finishes has kept the 25-year-old in the number two position on in the Road to Sunshine Tour rankings for eight weeks. The fast start at Krugersdorp Golf Club left the Irene golfer in a strong position to challenge for a hat-trick of titles that will go a long way to close the R14 000 gap on number one Malcolm Mitchell.
The par-72 layout was bathed in sunlight for the first day but the sunny conditions belied the severity of the 30-plus km per hour gusts, which posed a huge challenge for the field.
Smith burst from the blocks with a birdie-eagle combination on two par fives and a birdie at the third propelled him into the lead. He offset a pair of bogeys on the back nine to finish two shots clear of Zabastian de Jager.
"I bogeyed the last hole, which is never the way you want to finish, but otherwise I am happy with that round," he said.
"It was very blustery, but you couldn't trust the wind because it kept changing direction. You could throw up grass twice and get too different results, so it was tricky. I just played smart; hit a lot of good drives and good irons to the heart of the greens and grinded out a decent score."
Smith had no expectations, having only played the Krugersdorp layout once before.
"I played a practice round with Spacey last week, so I didn't know what a good score would be," he said. "The first three holes played completely different to the practice round.
"I hit a good drive and decent approach to the middle of the green on the first and wo-putted for birdie and I sunk a long range putt on the second for eagle. My drive ran out quite long and I hit 7-iron into the wind on the right edge of the green. I wasn't expecting to make that one.
"The third hole played downwind today, so I took my line down the left edge of the fairway. When I got down there, I was in the greenside bunker and I made a good up-and-down for birdie."
Smith made amends for two soft bogeys coming home with a fighting birdie on the 16th and a tap-in gain on 17th.
"I misjudged the wind on 11 and again on 18 and hit the wrong clubs. On the last hole, my drive ran through the fairway and I couldn't up-and-down to save par. It was disappointing and made the drive home a little longer, but really, I couldn't have asked for a better start."
De Jager, meanwhile, bookended a trio of birdies from the 11th hole with bogeys on 10 and 14. The Klerkdorp rookie birdied 17, one and two to join Smith on four-under, but surrendered his share of the lead with bogeys on four and nine.
Big Easy IGT Challenge Tour #8 winner Desne van den Bergh finished three off the pace in joint third with Jaco van der Merwe, Michael Pfeifer, Eric Nel, Jason Rossiter and Leon Vorster, while Boland rookie Hennie O'Kennedy, who won the 14th event at CMR Golf Club a fortnight ago, will start the second round in a nine-way tie on even-par.
First Round Scores
All competitors RSA unless otherwise specified and amateurs indicated at AMA
68 – Jason Smith
70 – Zabastian de Jager
71 – Jaco van der Merwe, Michael Pfeifer, Desne van den Bergh, Leon Vorster, Jason Rossiter, Eric Nel
72 – Keagan Thomas AMA, Hennie O'Kennedy, Marthin Scheepers, Kieron van Wyk AMA, Donovan Pearse, Alpheus Kelapile, Calvin Caldeira, Jeremy Sharpe, Gideon van der Vyver
73 – Jason Froneman, Michael Kok, Neal Woernhard (SUI)
74 – Nicholaus Frade, Jeff Inglis (ENG), Luan Boshoff, Reinhardt Blaauw, John McClean (NIR), Marcel Steyn Scholtz, Coert Groenewald, Morne Buys, Mike Maile
75 – Christian Basson, Greg Bentley (ZIM), Quintin Crause, Bryce Myburgh, Jason Roets, Thato Mazibuko, Richard Joubert, Matt Saulez
76 – Keanu Pestana, Henning du Plooy, Dean du Plessis, Romano Saincic, Quintin Wilsnach, Xander Basson AMA, Byron Coetzee, Dwayne Basson, Gerard du Plooy, Simon du Plooy AMA
77 – Liam Labuschagne, Gary Daoust (BEL), Thabiso Ngcobo, Clayton Mansfield, Andi Dill, Gareth Sargent, Angus Ellis-Cole
78 – Gerhard Pepler, Cole Stevens AMA, Michael-James Steyn, Oswin Schlenkrich AMA, Leon van der Walt AMA, Albert Visser
79 – Ernst Louw AMA, Carlo Heunis, Keaton Slatter
80 – Marco de Beer, Evance Vukeya, Ruhan van Dijk, Thabang Simon, Divan Marais
81 – Stephan Erasmus, Jastice Mashego, Francois Blaauw AMA, Michael Schutz, Matthew Spacey, Jason Viljoen, Chase Paton
82 – Albert Venter
83 – Jonathan George AMA, Deon Bredenkamp
85 – Clinton Duncan AMA
88 – Thabo Moraba
89 – Fritz Orren
Written and released by Lali Stander on behalf of the Big Easy IGT Challenge Tour.
Latest IGT Challenge Tour News