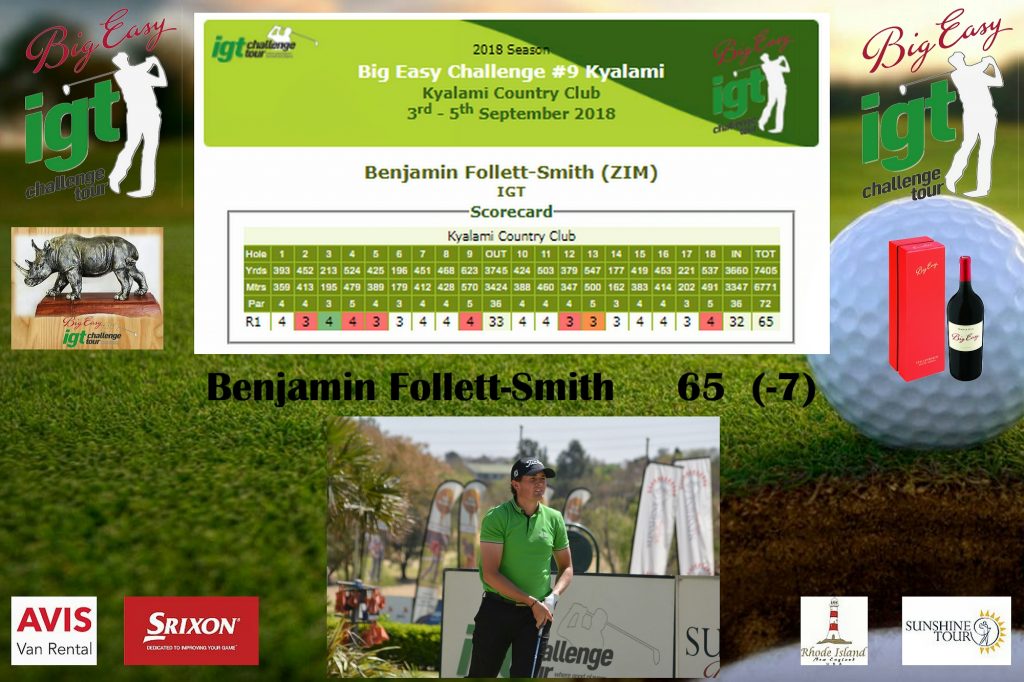 3rd September 2018 | IGT Challenge Tour
Follett-Smith forges to front in Big Easy IGT #9
Follett-Smith forges to front in Big Easy IGT #9
(PHOTO – Ben Follett-Smith; credit CJ du Plooy)
KYALAMI, 3 September 2018 – Zimbabwe rookie Ben Follett-Smith made a flying start to the Big Easy IGT Challenge #9 with a seven-under-par 65 in the first round at Kyalami Country Club on Monday.
The 24-year-old old made light work of the firm greens to set the benchmark high with a superb round that featured six birdies, an eagle and a lone bogey and leads by four shots from Ruan Korb, Maritz Wessels, Wayne Stroebel and Gary Player School member Heinrich Bruiners.
Follett-Smith was left ruing an early drop, but overall was happy with his opening effort.
"I was annoyed after I hit a terrible 9-iron off the tee into the third and short-sided myself in a bunker," he said. "I wasn't sure about the trap shot and didn't trust it. It's okay, though; that's golf.
"I struck the ball well, hit a lot of greens and put a lot of shots close. It was nice to get an invitation to play this week. I needed to get the putter going again after I missed the cut in the Vodacom Origins last week. I played really well, but I just didn't get along with the greens at Selborne."
Follett-Smith birdied three of the par fives and eagled the fourth after a great drive down the middle of the 13th fairway.
"I stuck a 6-iron six feet from the hole and boxed the putt," he said. "I made great up-and-downs from the bunkers at nine and 12 and I just lipped out for another eagle at the last.
"It's an interesting course. The fairways are fairly narrow, so have to play strategically. And the greens are very slopey.  I only played it once before this week, but I managed nine holes in on Sunday to refresh my memory."
A former Zimbabwe Amateur champion, Follett-Smith graduated Mississippi State University on a scholarship and joined the pro ranks last year.
Within the first four months in the paid game, he won the NAC HIV & Cancer Pro-Am at his home course, Royal Harare Golf Club, by eight shots and claimed a runner-up finish in the Cote d'Ivoire Open on the West Africa Golf Tour.
In February, the 24-year-old Zimbabwean claimed his first victory on South African soil when he went wire-to-wire on the IGT Challenge Tour in the 15th event of Race to Q-School Series at State Mines Country Club.
Through affiliated membership, Follett-Smith has tested the waters on the Sunshine Tour and earned four cheques. A tie for 12th in the KCB Karen Masters in Kenya and joint sixth in the Sun Wild Coast Sun Challenge has boosted him to 68th in the rankings.
"It's ironic, because I wasn't planning to turn pro when I returned from the States," he said.
"Then it happened and there is no turning back. The hardest thing at first was the travelling, but it's easier now that I'm based in Johannesburg with my girl-friend Nicole in Bedfordview. Now I know what's going on and it feels more like home, and I'm ready to push on.
"I'm really enjoying the pro circuit and it's nice to have the Big Easy and the IGT Challenge Tours to keep competitive. I'm heading to the First Stage of the European Tour Q-School in two weeks, so a good performance this week will definitely notch my confidence in a positive direction."
Former Oklahoma City University student Rupert Kaminski did not have the homecoming he had hoped for. The Parkview golfer, who won the Kyalami Challenge on the IGT Challenge Tour last year, carded a one-under 71 in his pro debut.
Kaminski sits six off the pace in a bus of seven players, including Cameron Moralee and Paul Boshoff – both winners on the IGT Challenge Tour this season – Sunshine Tour player Jason Smith, Derick Petersen from the Gary Player School of 2017/2018, Juran Dreyer and Ruhan van Dijk.
First Round Scores
All competitors RSA unless otherwise specified and amateurs indicated as AMA.
65 – Benjamin Follett-Smith (ZIM)
69 – Maritz Wessels, Ruan Korb, Heinrich Bruiners, Wayne Stroebel
70 – Dylan Kok, Dongkwan Kim (KOR), Jeff Inglis (ENG), Kyle Barker, Duane Keun
71 – Cameron Moralee, Juran Dreyer, Rupert Kaminski, Paul Boshoff, Derick Petersen, Jason Smith, Ruhan Van Dijk
72 – Liam Clinton AMA, Gary Daoust (BEL), Bryce Myburgh, Luke Brown, Dayne Moore (ZAM), Neil Cheetham (ENG), Makhetha Mazibuko
73 – Peetie Van Der Merwe, Luke Mayo AMA, Jabulane Mabilane, Quintin Crause, Karl Lehmacher, Mitchell Lightfoot AMA, Tyran Van Lieshout, Gianni Pera AMA, Dwayne Basson, Stephan Erasmus
74 – Marco De Beer, Conway Kunneke, Hayden Griffiths, Gerard Du Plooy, Stefan Wears-Taylor, Matthew Spacey, Greg Bentley (ZIM), Stals Swart AMA, Jonathan Waschefort, Keanu Pestana AMA
75 – Jack Rex Duthie, Jason Diab, Antonio Costa (CHL), Allister De Kock, Matt Bright, Hanish Nagrani (ZIM), Christiaan Pretorius, Richard Joubert, Romano Saincic, Garth Wolter, Irvin Mazibuko, Thabang Simon, Michael-James Steyn
76 – Shaun van Tonder, Nqobani Ndabambi (ZIM), Hendrikus Stoop, Thabiso Ngcobo, Gilson Filho (BRA), Leon Visser, Francois Coetzee, Daniel Hammond, Eric Nel, Stuart Smith (BOT), Caylum Boon AMA, Teboho Sefatsa
77 – Lincon Cele, Andrew Burmester, Aneurin Gounden AMA, Coert Groenewald, John McClean (NIR), Keaton Slatter, Andrew Carlsson, Arno Pretorius, Dylan Naidoo AMA, Divan Marais, Patrick Thompson, David Rebelo
78 – Armand Van Dyk AMA, Matthew Rushton, Jason Rossiter, Brett Liddle, Matthew Hands AMA, Fritz Orren, Leon Vorster, Marcus Smal AMA
79 – Tumelo Molloyi, Stephan Du Toit, Alpheus Kelapile, Terence Archibald AMA, Louis Botha, Adam Baker
80 – Christian MacGregor AMA, Neal Herman, CJ Levey, Andi Dill, Dean Du Plessis AMA
81 – Christopher De Beer, Shalan Govender, Alwyn Smit
82 – Ricki Dembo, Byron Garvie
83 – Nicklas Van Wyk AMA, Tertius Van Den Berg, Albert Visser, Gareth Sargent AMA
84 – Ricardo Towell
85 – Marais Visagie, Jonathan George AMA
86 – Michael Dreyer
88 – Warric Dyers, Jay Dean Fourie, Paulo Serrao (POR)
RTD – Dylan Mostert, Jason Roets
DSQ – Sipho Bujela
Written and released by Lali Stander on behalf of the IGT Challenge Tour.
Latest IGT Challenge Tour News