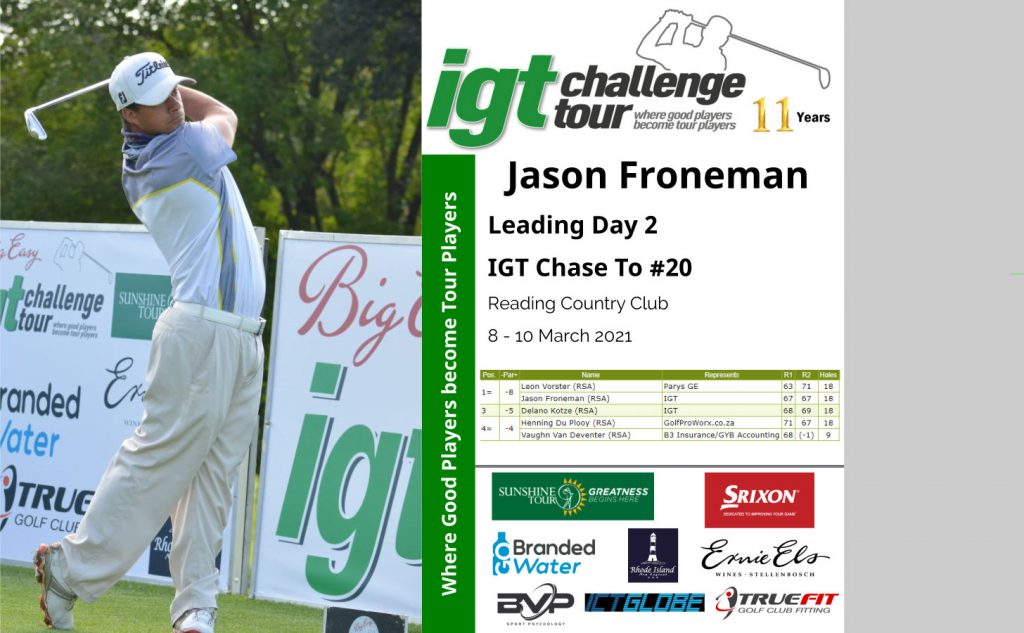 9th March 2021 | IGT Challenge Tour
Froneman looking for momentum as he targets second IGT title
ALBERTON, March 9 – Jason Froneman backed up his opening round of 67 in the Big Easy IGT Tour Chase To #20 with a similar score on Tuesday for a tournament total of eight-under, a share of the top spot with overnight leader, Leon Vorster, and three shots clear ahead of the final round at Reading Country Club.
Looking to claim his second IGT Tour title since his Silver Lakes win in 2019 – and boasting a top-five and a top 10 finish already this season, and lying a decent 10th on the Chase To Sunshine Tour – Froneman has everything to play for.
His opening round in Alberton showed that he had clearly gotten over the stinging pain of the 75 he shot in the final round of the Big Easy Tour Road To #7 at Krugersdorp Golf Club which would have boosted his standings on that Tour last week. He lies 13th on that Tour's Order of Merit where the top six players will earn their Sunshine Tour cards at the end of the season.
He was three-under in his first four holes on Tuesday, thanks to a birdie on two and an eagle on four. Froneman surrendered a shot on the par-three fifth but made excellent use of the next par-five hole on the front nine – the eighth – taking a birdie there to turn in 33. Birdies on 11 and 14 were accompanied by a bogey on 16 but Froneman will be happy with his work for the day.
He did not have the greatest of starts as he bogeyed his first hole of the round but the despair of dropping a shot would soon be replaced by the joy of signing for a birdie-laden round.
"I think what worked nicely for me was just my whole game came together," said Froneman, "and, I was a bit more consistent overall. I'm really enjoying my golf at the moment and the Reading layout I have always enjoyed. I just really enjoy the layout of the course and it tends to suit my game and the way I play."
Vorster had a laborious day at the office and the result was a level-par second round. Back-to-back birdies in the last two holes in round two saved what could have been a disastrous round for the Parys Golf Club member and ensured he kept his spot atop the leaderboard.
"Well, it wasn't the best of days out there today," admitted Vorster, "I just couldn't get it going, made too many mistakes but I still managed to shoot level par, so I am still happy with the round. I made five bogeys out there today but it's part of the game and I must just accept it and try not to make the same mistakes tomorrow again.
"But, I am really motivated for tomorrow and looking forward to it but I won't get ahead of myself. I will just try to take it shot by shot and see what happens."
Froneman will just be as cautious of the challengers, led by Delano Kotze, and only three shots off the pace. Such margins have been overturned many times on Tour this season and Kempton Park Golf Club's Froneman will be aware of this and the pressure with which leading a tournament in the final round comes.
"I enjoy the excitement of pressure," Froneman said, "there is always pressure. For the final round, my plan is to just keep doing what I'm doing, keeping to my game plan, and try to keep playing stable golf."
Fourth on the leaderboard Henning Du Plooy at four-under while Herman Loubser and amateur Leon Van Der Walt share fifth at three-under going into the last round of this 54-hole event.
Latest IGT Challenge Tour News