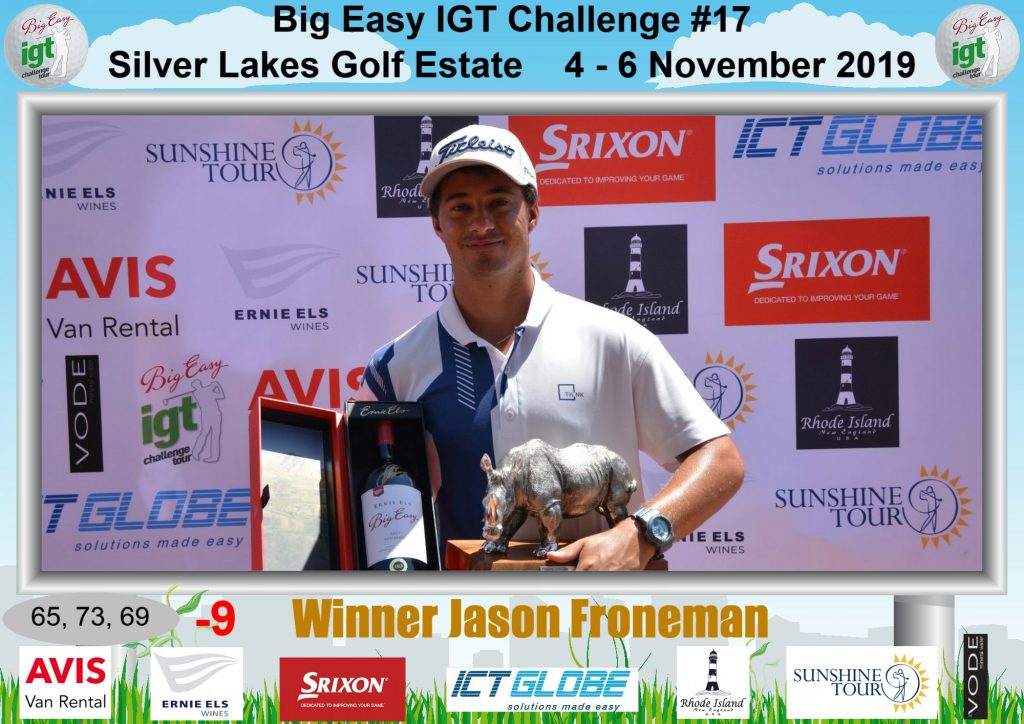 6th November 2019 | IGT Challenge Tour
Froneman pips Spacey for maiden Big Easy IGT win
Froneman pips Spacey for maiden Big Easy IGT win
(PHOTO – Jason Froneman; credit CJ du Plooy)
PRETORIA, 6 November 2019 – Kempton Park's Jason Froneman produced some quite stunning golf at crucial moments to secure a maiden Big Easy IGT Challenge Tour title in a play-off at Silver Lakes Golf Club on Wednesday.
The 23-year-old burst into contention with a birdie the par five 15th and a lucky bounce on the par five 18th netted him the birdie he needed for a final round 69 to tie clubhouse leader Matthew Spacey on nine-under-par 207.
"It's a great feeling to get my hands on a trophy," said Froneman, who won at the first extra hole.
"I've been trending towards this win for the last couple of tournaments and after the tie for second last week at Reading, I felt I could win. I had a terrible front nine, but things went my way on the back nine and I played the last nine holes really well. I am psyched for the last two events after this."
Froneman was three off the pace and Spacey a further stroke back with Clayton Mansfield leading the field on nine-under at the start of the final round, but the KwaZulu-Natal rookie got off to a bumpy start.
Spacey pounced with four birdies on the front nine to take pole position on nine-under and Froneman made an early move with birdies on two, four and seven, but he reach the turn level for the day after dropping shots on six, eight and nine. "I pulled my tee shot in the water on six, three-putted the eighth for bogey and couldn't up and down from the greenside bunker on nine," he said.
"It was a bit of a rough end to the loop, but I had a good chat with my caddie Brendan and we decided to start from scratch. I hit a really good second shot into 11 and holed a 10-footer for birdie and I was feeling good. From that point we just played shot for shot."
Up ahead, Spacey struggled in the three-club wind and managed to offset bogeys on 13, 15 and 17 with a trio of birdies. Chasing a hat-trick of titles, the Dainfern golfer would end up rueing a short miss for birdie on the par five 18th and a final round 68.
Froneman, meanwhile, birdied the par five 14th to move within a shot of Spacey.
"I hit a good drive, laid up with my second and hit my approach to 10 feet," he said. "That's when I knew I was in with a shout."
He made a great up and down on 16 to keep the momentum going.
"My birdie putt on 17 lipped out, but I knew I still had a par five to come to tie Matthew. I hit a good tee shot just a little bit left, but it was still in play and I had a good lie. I had 185 metres flag with the wind into us from the left and I decided to go for the green," Froneman said.
"I pushed a 5-iron a bit and we saw it fly to the right of the green. Then it took a hop off the rocks and bounced left onto the green. The one bounce I had on the day went my way. I lagged it close and got myself in a play-off with a birdie."
With the pressure on again, Froneman responded brilliantly in extra time.
"I was feeling great, but when I heard we were playing the ninth first, I got a bit nervous. I misjudged the wind in regulation play and bogeyed the hole, but we discussed it and I decided to go with a 9-iron this time and just hit it to the middle of the green," he said.
"Matthew just missed the green on the right, so I committed to the shot and got on the green. Matthew chipped to about six foot and I lagged my downhill putt to a foot to force him to make par. When he missed, fortunately for me, I was really excited because I knew I wasn't going to miss that putt."
The victory propelled Froneman to eighth in the Road to Sunshine Tour rankings and he is within striking distance of regaining his Sunshine Tour card.
"It was a big disappointment when I lost my card earlier this year," he said. "I tore a ligament in my knee and was out for eight months last year. The Sunshine Tour gave me a medical exemption, but I had six tournaments at the start of the season to try and keep my card.
"I came up short, but the Big Easy IGT Challenge Tour is a huge life-line. My coach Adrian van Pletzen at the World of Golf has worked with me to get my swing straighter and in the last couple of weeks it started to pay off.
"Today I got the result I wanted. I believe in my swing and in myself. Just need to keep this momentum going for two more weeks to get inside that top six to get one of the automatic Sunshine Tour cards for next season."
Spacey settled for second, Big Easy IGT Krugersdorp winner Byron Coetzee (67) finished third on eight-under and Mansfield (74) tied for fourth with Jason Rossiter (71) on seven-under.
Final Results
All competitors RSA unless otherwise specified; amateurs indicated as AMA
207 – Jason Froneman 65 73 69
207 – Matthew Spacey 69 70 68
208 – Byron Coetzee 67 74 67
209 – Jason Rossiter 68 70 71, Clayton Mansfield 70 65 74
210 – Dylan Kok 67 76 67
211 – Gideon van der Vyver 68 74 69, Dwayne Basson 71 69 71, Basil Wright 68 70 73
212 – Albert Venter 71 72 69, Nicholaus Frade 72 70 70, Matt Saulez 70 69 73, Reinhardt Blaauw 67 71 74
213 – Jeff Inglis (ENG) 71 72 70, Coert Groenewald 71 71 71
214 – Karl Ochse 72 71 71, Michael Kok 68 74 72, Peetie van der Merwe 72 70 72, Theunis Bezuidenhout 70 69 75
216 – Franco Putter 69 74 73, Malcolm Mitchell 70 73 73, Gary Daoust (BEL) 74 67 75, John McClean (NIR) 70 70 76, Jason Smith 65 73 78
217 – Christian MacGregor AMA 71 72 74, Jack Duthie 69 72 76
218 – Eric Nel 68 75 75, Romano Saincic 68 74 76, Tumelo Molloyi 66 75 77
220 – Jaco Van Der Merwe 70 73 77, Thabang Simon 70 73 77, Morne Buys 70 73 77
224 – Wesley Du Toit AMA 72 71 81
Written and released by Lali Stander on behalf of the Big Easy IGT Challenge Tour.
Latest IGT Challenge Tour News