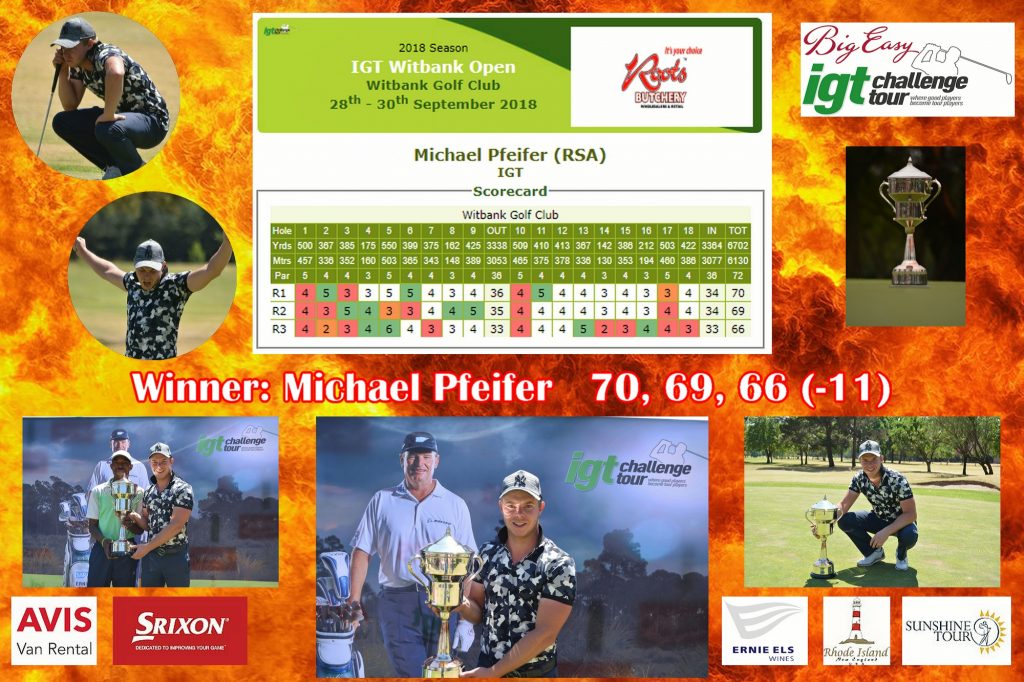 30th September 2018 | IGT Challenge Tour
Full marks for maiden winner Pfeifer in Witbank
Full marks for maiden winner Pfeifer in Witbank
(PHOTO – Michael Pfeifer; credit CJ du Plooy)
WITBANK, 30 September 2018 – Michael Pfeifer produced a late birdie burst to hold off Englishman Jeff Inglis to capture his first IGT Challenge Tour title in a thrilling final-day battle at the IGT Witbank Open on Sunday.
The German-born Pfeifer started the final round tied for the lead with four-time Sunshine Tour winner Brandon Pieters. The pair led by one shot from playing partner Inglis at Witbank Golf Club.
Pfeifer signalled his intentions when he took the lead with a birdie-eagle-birdie start, but he was pushed by Inglis down the last few holes. The pair drew level when the seasoned Sunshine Tour campaigner chipped in for a birdie at 16, however, Pfeifer sealed a two-shot victory when he birdied the last two holes for a six-under-par 66.
"I was playing well, especially tee to green, so I expected a lot of myself and to pull it off is amazing," said Pfeifer, who posted a winning aggregate of 11-under 205.
"Jeff made a great run on the back nine and put me under a lot of pressure, but I managed to handle myself and made two crucial putts to win. I'm just so happy and relieved. My dad had some business in Johannesburg, so my parents made a weekend of it. It was very special to have both my parents standing behind the 18th green to see me win."
Pfeifer kicked off the final round with a brilliant up-and-down for birdie after his tee shot landed him behind a palm tree.
"That settled me down, and I hit a great tee shot down the middle at the second," he said. "I was slightly right in the fairway, 30 metres out, but I had a great angle and I chipped it in for eagle.
"At the third, I drove it down the middle. I had 50 metres flag to a front pin. I wanted to hit the ball with some spin, but it released. But I made the five metre putt to go into the lead."
After soft drops at four and five, Pfeifer picked up a third shot at seven and he turned eight-under with a one shot lead over Inglis, while Pieters faded from the fight.
"Jeff and I both birdied 10 and parred the next two holes," said Pfeifer. "I dropped a shot at 13, but I birdied 14 and 15 to go two shots clear. Then I hit it long and left at short hole and dropped another shot.
"Jeff hit a fantastic chip from the front of the green for birdie and we were level with two to play. The birdie at 17 was the game-changer. I had 178 metres flag after a good drive and I hit a solid 7-iron that pitched next to the flag. It kept on rolling and I had a five metre putt from the fringe.
"I made the putt and going down 18, I just tried to stay in the moment. I hit my tee shot slightly left behind a small tree, but I had a clear shot to the green and I hit a low 9-iron from 95 metres. It pitched nicely and I holed another five metre putt for the win."
Pfeifer's two shot victory earned him one of the biggest paydays of the season. He banked a cheque of R30 000 that vaulted him to third in the Money Leaders Order of Merit.
"Since I led in the opening round of the IGT Challenge #11 at State Mines in August, I've been trying to put myself in a position to win and it's finally happened," he said.
"It was great to play something different to the usual 54 holes of stroke play. I really enjoyed the chance of pace with the two Pro-Am rounds and my amateurs made it a lot of fun.
"It's a relief to get the first win under the belt. I think my game is in a good shape and this win gives me a lot of confidence. Hopefully I can take this form to the winner's circle soon on the Big Easy IGT Challenge Tour."
Final Result
205 – Michael Pfeifer 70 69 66
207 – Jeff Inglis (ENG) 70 70 67
211 – Kyle Barker 71 70 70, Ruan Groenewald 68 72 71
212 – Andrew Burmester 68 72 72, Brandon Pieters 72 67 73
213 – Clinton Grobler 73 72 68, John McClean (NIR) 75 69 69, Tokkie van den Berg 77 66 70
214 – Keaton Slatter 74 72 68, Eric Nel 74 71 69, Lejan Lewthwaite 75 69 70, Richard Joubert 73 71 70
215 – Juran Dreyer 73 71 71
216 – Blain Sansom 78 72 66, Leon Visser 70 75 71, Dylan Mostert 72 72 72, Hendrikus Stoop 75 68 73
217 – Stefan Wears-Taylor 74 73 70, Hanish Nagrani (ZIM) 71 73 73
218 – Nobuhle Dlamini (SWZ) 73 72 73
219 – Gary Daoust (BEL) 72 76 71, Neil Cheetham (ENG) 72 74 73, Peetie van der Merwe 73 72 74
220 – Matthew Rossouw AMA 70 78 72, Arno Pretorius 75 73 72, Marcus Smal AMA 76 73 71, Francesca Cuturi 77 73 70, Dylan Kok 71 73 76, Bryce Myburgh 76 79 65
221 – Leon Vorster 76 71 74, Marco de Beer 73 71 77
222 – Jonathan Waschefort 78 71 73
223 – Shaun van Tonder 74 74 75
226 – Maurice Prinsloo 76 76 74
227 – Zabastian de Jager 79 71 77, Gerhard Henning AMA 77 74 76, Albert Visser 77 76 74, Ricardo Towell 78 75 74
229 – Romano Saincic 79 72 78, Patrick Thompson 77 77 75, Nicholas Souranis AMA 80 76 73, David Rebelo 83 77 69
230 – Divan Marais 77 78 75
231 – Stephan du Toit 73 75 83, Divan de Villiers 75 74 82, Quintin Crause 83 74 74
232 – Tristan Topka AMA 79 76 77, Wayne du Toit 77 79 76, Tristan Brice AMA 75 81 76
234 – Nico du Buisson 80 79 75
238 – Michael Kok 85 78 75
243 – Sam Metcalfe AMA 85 79 79
249 – Matthew Holland AMA 85 83 81
Latest IGT Challenge Tour News