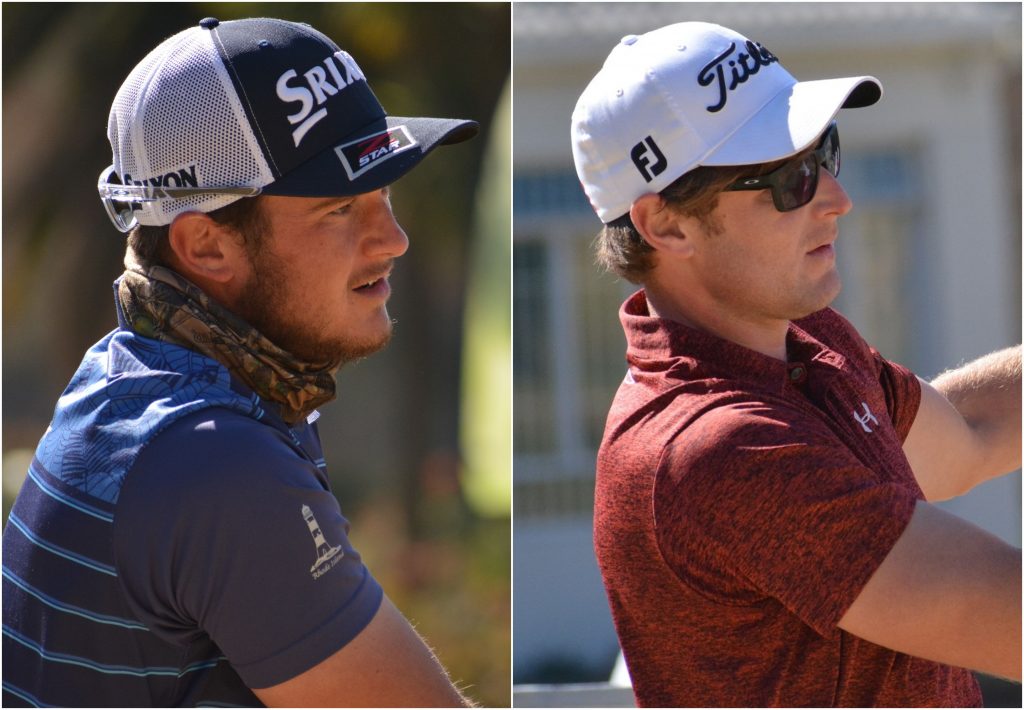 22nd July 2019 | IGT Challenge Tour
Grobler goes low for share of Big Easy IGT lead
Grobler goes low for share of Big Easy IGT lead
(Photo: Clinton Grobler; credit CJ du Plooy)
JOHANNESBURG, 22 July 2019 – Sunshine Tour rookie Clinton Grobler and Desne van den Bergh share the first round lead in the Big Easy IGT Challenge Tour #7 after carding six-under-par 64s at Killarney Country Club on Monday.
Early starter Grobler used a gentle touch to move past a group of players bunched at the top of the leaderboard to set the clubhouse target at six-under-par 64 and he was joined at the summit by Van der Bergh, who matched his pace-setting seven birdies in the afternoon session.
Big Easy IGT Challenge Tour #5 winner Jason Smith took route 66 to a tie for third with Kyle Barker, while Jason Rossiter and Aubrey Beckley share fifth on three-under.
Matthew Spacey, who won the season-opener at Wingate Park County Club and ranks second in the Road to Sunshine Tour, finished a further shot back alongside 2018/2019 Big Easy IGT Challenge Tour Championship winner Luke Brown, Dylan Naidoo, Ruan Botha, Karl Ochse and last week's IGT Challenge Tour champion Leon Vorster.
Grobler from Krugersdorp Golf Club had two top five finishes at Killarney since he won his second IGT Challenge Tour title at the tight layout in 2017. "I hoped I would start nicely because I always seem to play well around here," said the 25-year-old Randburg resident.
"I hit my irons really well and that's why this course suits my game. I score better at courses where you don't need to pull driver out of the bag on every tee. It was also bitterly cold when we started and I tend to hit the ball skew in the cold, so I also dialled it down and the gentle approach did the job."
Grobler graduated to the Sunshine Tour courtesy of a top 20 finish in the March Q-School.
"I'm happy to be in contention again after the rude awakening on the Sunshine Tour," he said. "You know it's going to be tough, but it has been so much tougher than I imaged.
"As a Q-School graduate, you're under pressure right from the start to try and make enough money to keep your card. I was absolutely heart-broken when I missed the cut in my first two starts by one shot and two shots.
"On the plus-side, though, my game was grown a huge amount since March. I've learned so much from playing with the seasoned pros, especially when it comes to course management. I think I paid more attention to Jean Hugo's game than my own when I played with him in Kenya.
"I made the cuts in the Lombard Insurance Classic and in my last event in Kenya, so I'm in a much better head-space and when I saw the Big Easy IGT was at Killarney this week, I grabbed the chance to play. I have a lot of good memories of this course and I knew it would be good to fine-tune my game here this week before the Royal Swazi Spa Challenge in Swaziland next week."
Grobler turned one-under after a birdie at 11, bogey at 13 and birdie at the par five 15th and was three-under after birdies at the second and third holes.
"I struck the ball really well throughout the round, but the putts started to drop on my back nine," he said. "I hit a soft, punch 6-iron on two and had 116 metres flag. I pitched a sand-wedge next to the hole and tapped in for birdie.
"At the next hole, I hit a 2-iron off the tee, cut a soft pitching-wedge to five foot and boxed the birdie putt. I got to four-under at the par five fifth and I made another birdie at seven. I took driver instead of 2-iron and hit it into the right rough on nine. I had to hit a high 9-iron over the trees and just found the green on the left and thought I left the putt short, but it trickled in for birdie.
"The wind was into us on nine and I hit a punch 2-iron and let it roll down the hill. I hit a high 8-iron with a slight cut and left myself a tough putt. It had a big break left to right, but it found the hole. How I've played in recent weeks doesn't matter too much to me. As long as I stick to my process, I believe I will eventually succeed and reach the level I want to. If I can take this game to the Swaziland, I'll have a good chance of making a third cheque."
Van den Berg turned four-under and offset a lone bogey at the par four 11th with a trio of gains, including a birdie finish that netted him a share of pole position.
He was equally pleased with his ball striking and hopes to go low again on Tuesday. "This course is all about positioning and a lot of the holes are heavily tree-lined, so you have to put yourself in the right spots," said the 29-year-old Vaal de Grace golfer.
"The course favours a draw and I play with a natural fade, so I mostly hit irons off the tee and I also sunk some great 15-foot and 20-foot putts. I hope I can keep it going. It's nice to be among the front runners again."
First Round Scores
All competitors RSA unless otherwise specified and amateurs indicated at AMA
64 – Clinton Grobler, Desne van den Bergh
66 – Kyle Barker, Jason Smith
67 – Jason Rossiter, Aubrey Beckley
68 – Luke Brown, Dylan Naidoo, Matthew Spacey, Ruan Botha, Leon Vorster, Karl Ochse
69 – Marco de Beer, Thabiso Ngcobo, Ruan Huysamen (NAM), Malcolm Mitchell, Allister de Kock, Keelan van Wyk
70 – Coert Groenewald, Ruan de Smidt, Jade Buitendag, Jason Froneman, Hendrikus Stoop, Stuart Smith (BOT), Michael Kok, Hennie O'Kennedy
71 – Brandon Gildenhuys AMA, Paul Boshoff, Quintin Crause, Ruan Korb, Peetie van der Merwe, Hayden Griffiths, Darin de Smidt, Marthin Scheepers, DK Kim (KOR), Nicholaus Frade, Slade Pickering AMA, Gerard du Plooy, Clayton Mansfield, Ryan Tipping, Jeff Inglis (ENG), Basil Wright, Franklin Manchest
72 – Adriel Poonan, Erhard Lambrechts, Sipho Bujela, Ruhan van Dijk, Bradley Diggeden, Deon Germishuys, Zabastian de Jager, Wayne Stroebel, Makhetha Mazibuko, Gideon van der Vyver, Jack Duthie, Teddy Mathebula
73 – Cameron Esau, Stefan Wears-Taylor, Theunis Bezuidenhout, Shalan Govender, Dylan Kok, Gerhard Pepler, Gary Daoust (BEL), Tumelo Molloyi, Jaco van der Merwe, Teboho Sefatsa, Hanlo Jacobs
74 – Alpheus Kelapile, Jason Roets, Matt Bright, Eric Nel, Quintin Wilsnach, Leon Visser, Neal Woernhard (SUI), Caylum Boon, Dylan Mostert, Thato Mazibuko, Arno Pretorius, Carlo Heunis, Christian Basson
75 – Reinhardt Blaauw, Gareth Sargent, Juran Dreyer, James Pennington (SWZ), Michael-James Steyn, John McClean (NIR), Luan Boshoff, Maritz Wessels, Jacquin Hess, Keaton Slatter, Armand van Dyk AMA, Michael Pfeifer
76 – Teagan Moore, Mike Maile, Ruan Groenewald, Wynand Potgieter, Evance Vukeya, Thabang Simon, CJ Levey, Henning Du Plooy
78 – Patric Dowling AMA
79 – Matthew Rushton
80 – Keelan Africa
81 – Neil Swart (NAM)
82 – Ricardo Towell
83 – Khaya Jika
84 – Byron van der Merwe
85 – Brenden Pieters
86 – Tristan Topka
Ends
Written and released by Lali Stander on behalf of the Big Easy IGT Challenge Tour.
Latest IGT Challenge Tour News