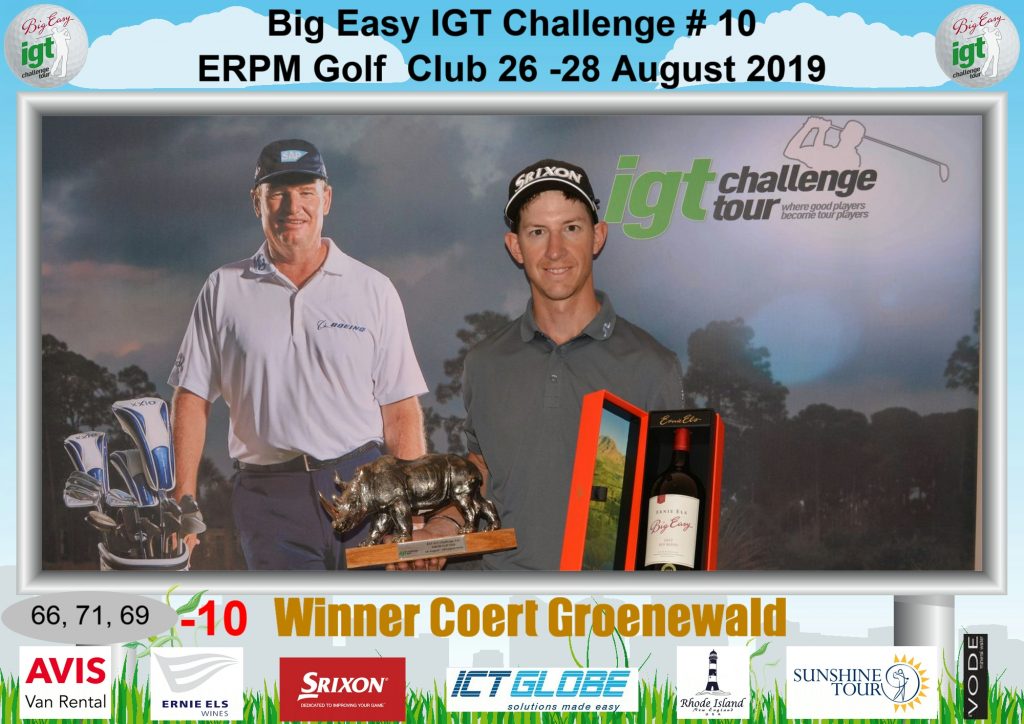 28th August 2019 | IGT Challenge Tour
Groenewald bags Big Easy IGT win at ERPM
Groenewald bags Big Easy IGT win at ERPM
(PHOTO – Coert Groenewald; credit CJ du Plooy)
BOKSBURG, 28 August 2019 – Coert Groenewald's "yo-yo" golf paid handsome dividends as the Houghton golfer claimed a maiden Big Easy IGT Challenge Tour title in a thrilling final round battle with Peetie van der Merwe and Ruan Korb on Wednesday.
"It wasn't pretty, but I am so thrilled to have pulled it through," said the 28-year-old after his one-shot triumph on 10-under-par 206 at ERPM Golf Club.
Groenewald led the field with an opening 66, but he started the final round three shots behind leaders Ruan de Smidt and Jeff Inglis after carding 71 in the second round.
"The last round was just as topsy-turvy as the second round, but the difference was that I countered every bogey I made today with a birdie and that eagle on 17 did the rest," said the champion. "I've been striking the ball really well in the last two, three weeks, but I haven't been able to score well. The short-game and putting is not there yet, but I'll take the win; it feels pretty sweet to bag a trophy again, even if it was with yo-yo golf."
De Smidt and Inglis had a one-shot lead at the start of the final day but the experienced pair faded early on. Inglis compounded a double-bogey start with further bogeys and De Smidt's title run ended with a double bogey-bogey combination after the turn.
Meanwhile Korb had eagles either side of a double bogey at the third, and the Silver Lakes took pole position on 12-under with birdies on six and eight.
"I was just treading water," Groenewald said. "Birdie start, three-putt bogey at the third. Birdie at six, but back-to-back bogeys at eight and nine. I was very calm today; I never got frazzled. Not even when I dropped those two shots. And I managed to pull it back to one-under with birdies at 10 and 11.
"Peetie eagled the par five (13) to go nine-under and then I saw the leaderboard and I realised I was tied for second with Ruan, just one shot back. Over the last couple of holes, I just tried to play percentage golf and the 17th was the turning point.
"Peetie hits the ball a land-mile and he hit another great tee shot at the par five. I also hit a good drive and with the flag back left, I aimed for the centre of the green, but the ball rolled into the back fringe. I had about 20 feet to the pin. Peetie left himself with a six-foot putt for eagle, and I knew I had to hole my third to have a chance. I hit it perfectly. It stayed on line and dropped for eagle."
After Van der Merwe's eagle effort lipped out, the pair headed to the final hole tied on 10-under.
"I opted for a 4-iron and hit it down the middle, but Peetie went with the driver and found the bunker about 50 metres short of the green," Groenewald explained. "The bunker shot came out a bit fat and finished short of the green. I hit a wedge from 142 metres out to six feet and his chip ran 12 feet past. He missed the par putt and that gave me some breathing space. Would have been nice to finish with a birdie, but par was good enough."
Victory boosted Groenewald to third in the Road to Sunshine Tour rankings, a position he aims to guard for the remainder of the season.
"I had a tough time last year off the course and it cost me my card, but the Big Easy IGT Challenge Tour is my way back. The top six guys at the end of the season will gain full cards for the 2010/2021 season. It's a great initiative to reward the consistent guys this way.
"I am going to do my level best to stick around the third spot, but you're always going to have one or two bad rounds, so it's good to have a bit of a cushion. Just need to put some hard graft into my short game and putting now."
Van der Merwe and Korb both carded with level par rounds to share second.
Jason Smith returned a flawless 68 that earned him a share of fourth alongside Michael Kok (68), Clinton Grobler (69) and Zambian golfer Dayne Moore (70) and elevated the Irene golfer to second in the standings.
De Smidt finished alone on seven-under after returning a 75, while Inglis was a further shot back after a round of 76. Malcolm Mitchell retained the top spot in the rankings with his share of 10th on five-under. The KwaZulu-Natal rookie leads the Road to Sunshine Tour with earnings of almost R40 000 after 10 starts.
Final Result
All competitors RSA unless otherwise specified and amateurs indicated at AMA
206 – Coert Groenewald 66 71 69
207 – Peetie van der Merwe 71 64 72, Ruan Korb 69 66 72
208 – Michael Kok 70 70 68, Jason Smith 70 70 68, Clinton Grobler 69 70 69, Dayne Moore (ZAM) 70 68 70
209 – Ruan de Smidt 67 67 75
210 – Jeff Inglis (ENG) 69 65 76
211 – Aubrey Beckley 75 68 68, Malcolm Mitchell 67 72 72
212 – Teboho Sefatsa 72 71 69, Albert Venter 68 71 73
213 – Thanda Mavundla 68 75 70, Jason Froneman 74 67 72
214 – Desne van den Bergh 71 73 70, Luan Boshoff 73 70 71, Gerhard Pepler 72 68 74
215 – Theunis Bezuidenhout 71 73 71, Zabastian de Jager 70 73 72, Jaco van der Merwe 72 70 73, Marthin Scheepers 71 70 74
216 – Brett Liddle 75 69 72, Marco de Beer 72 71 73, Jason Viljoen 74 69 73
218 – Ruan Huysamen (NAM) 73 71 74
219 – Michael Pfeifer 75 69 75
220 – Keaton Slatter 73 70 77
222 – Karl Ochse 73 70 79
223 – Eric Nel 74 69 80
Written and released by Lali Stander on behalf of the Big Easy IGT Challenge Tour.
Latest IGT Challenge Tour News