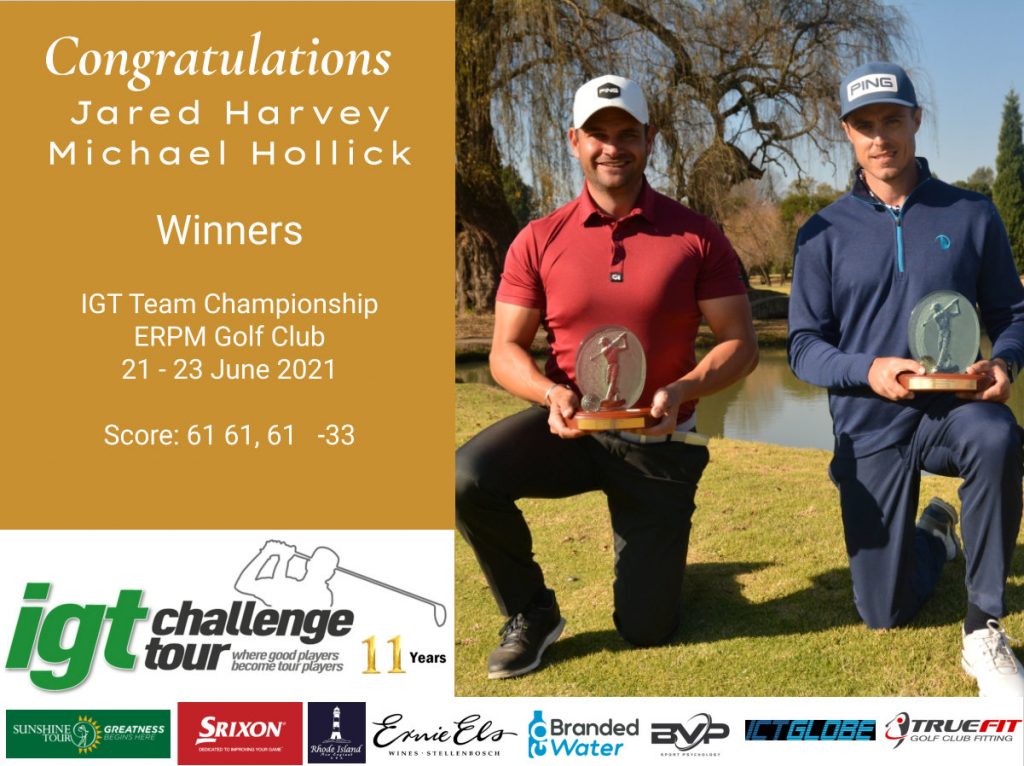 5th August 2021 | IGT Challenge Tour
Harvey, Hollick canter to IGT Team Championship victory
Jared Harvey and Michael Hollick carded their third successive round of 11-under-par 61 in a betterball format on Wednesday on their way to a six-shot victory in the Big Easy IGT Challenge Tour's Team Championship at ERPM Golf Club.
Once again, the duo, who played together frequently as amateurs, kept the dropped shots off the card, making two eagles and seven birdies between them as they pulled clear of runners-up Franklin Manchest and amateur Noel Anderson, who had a betterball nine-under 63 on their way to 27-under.
"We just dovetailed together well today," said Hollick. "We played very aggressively, as we were hoping to get a 59 or better, something we did once in the Sunshine Tour's Team Championship when it was played at Steyn City."
They play together less frequently now as professionals, but Hollick says there is a great deal of institutional memory amongst them which makes them a dangerous team. "The only problem is that Jared is very stubborn," laughed Hollick, "and it's difficult to get him to dial things down when one part of his game isn't working well.
"For example, I was playing well on the first day and I made 10 birdies, but Jared wasn't hitting it that well, and it was difficult to persuade him to stop going for everything and leave himself wedges in, instead of little chips, which are not his strong point.
"But his ball striking came back on the second day, and we were able to complement each other's play really well today."
For Hollick, the win came as vindication of the work his coach Neil Cheetham has been putting in with him over the past year or more. "We started seeing signs of results of the hard work he does when we came back to tournament play after lockdown last year, and it feels as if things are really set up nicely now," said Hollick.
Behind the top two teams, four combinations shared third on 26-under: Ruan Korb and Wynand Dingle, Rigardt and Louis Albertse, Ryan van Velzen and amateur Warwick Purchase, and joint second-round leaders Allister de Kock and Dwayne Basson.
Latest IGT Challenge Tour News