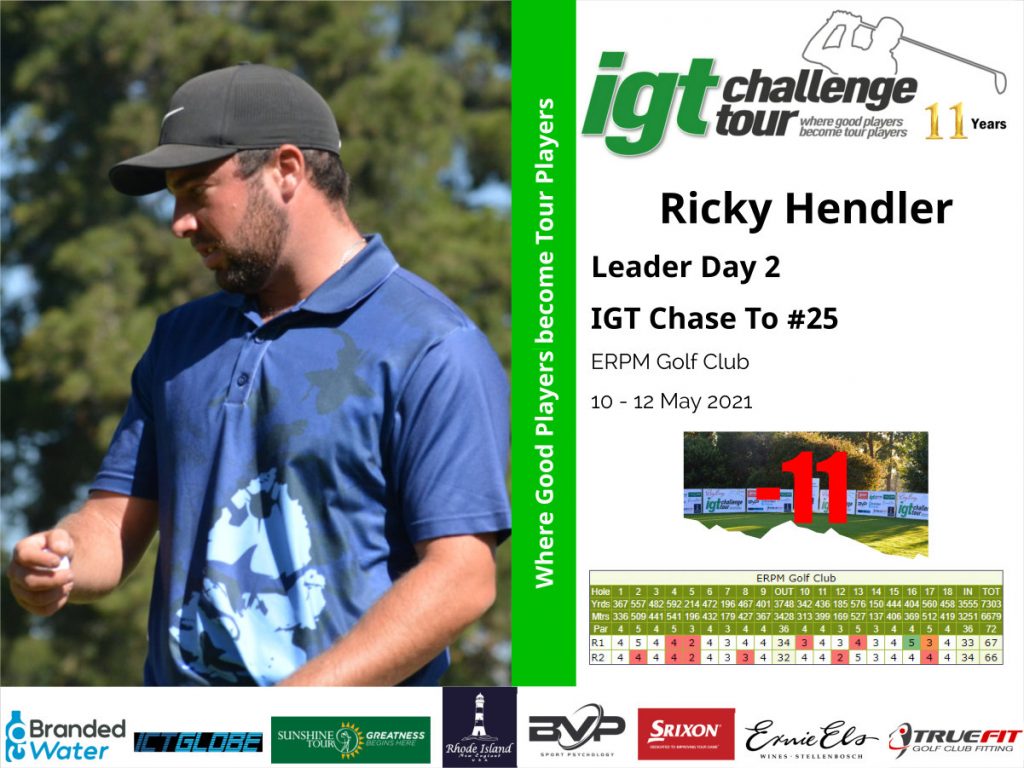 11th May 2021 | IGT Challenge Tour
Hendler defies illness to shoot for the top at ERPM
BOKSBURG, MAY 11 – Ricky Hendler overcame food poisoning and made the biggest move on moving day of the Big Easy IGT Chase To Sunshine Tour #25, signing for a bogey-free 66 which catapulted him to the top of the leaderboard at 11-under-par and one shot clear at ERPM Golf Club on Tuesday.
Trailing by a single shot coming into the second round – thanks to his opening 67 – Hendler was among the many players who would have felt they had every opportunity to unseat Kyle McClatchie, Leon Vorster, Leon Van Der Walt and Casey Jarvis from the summit. After all, the slender one-stroke lead they shared could always be overturned and after a round in which he made only one bogey, Hendler would have sensed his opportunity to snatch the lead ahead of the final round and let everybody else chase.
Three birdies in the first five holes handed him the start he would have wanted and the birdie he made on eight not only saw him turn in 28 and blemish-free but also gave him much-needed confidence on the homeward stretch.
"I woke up with food poisoning this morning which may have even helped me come out today with fewer expectations and just play golf, "Hendler mused. "But I really enjoy ERPM, it's a course that you have to think about and position yourself off the tee. The best part of my game has always been my mid-to-short irons. My iron play has been on form the last two days and a positive mindset with my putting has allowed me to make some extra putts this week. My caddie and Coach David Toplis has really been on form with reading the greens and keeping me calm and in the moment."
He made pars on 10 and 11th but used the par-three 12th expertly to make gains there, birdieing that hole while making pars in the next four holes. Hendler sealed his round with another birdie on 17 before saving par on the last.
"I have never had the lead going into the final round of a tournament but I'm really excited," Hendler said, "and playing week in and week out on this amazing Tour has really prepared me for this moment and I know I'm ready to come out tomorrow and get my first win. My caddie and I have really been working hard and I know we deserve it.
"I have been in a few final groups this season; my first one was losing to Casey (Jarvis) at State Mines by two. I'm excited to be playing with him again tomorrow and my other buddy Ryan (Van Velzen). I feel like I have enough experience now to come out tomorrow with my caddie Dave, stick to our game plan and keep the foot on the gas.
"Sticking to our game plan off the tee, rolling some puts in and staying in the moment will be key for us tomorrow. If we win tomorrow or not, our time is coming and we are going to fight till the last shot tomorrow."
Jarvis is within reach of his fourth title this season, at 10-under, and Van Velzen at nine-under and solo third is aiming to make it three wins this season.
Latest IGT Challenge Tour News