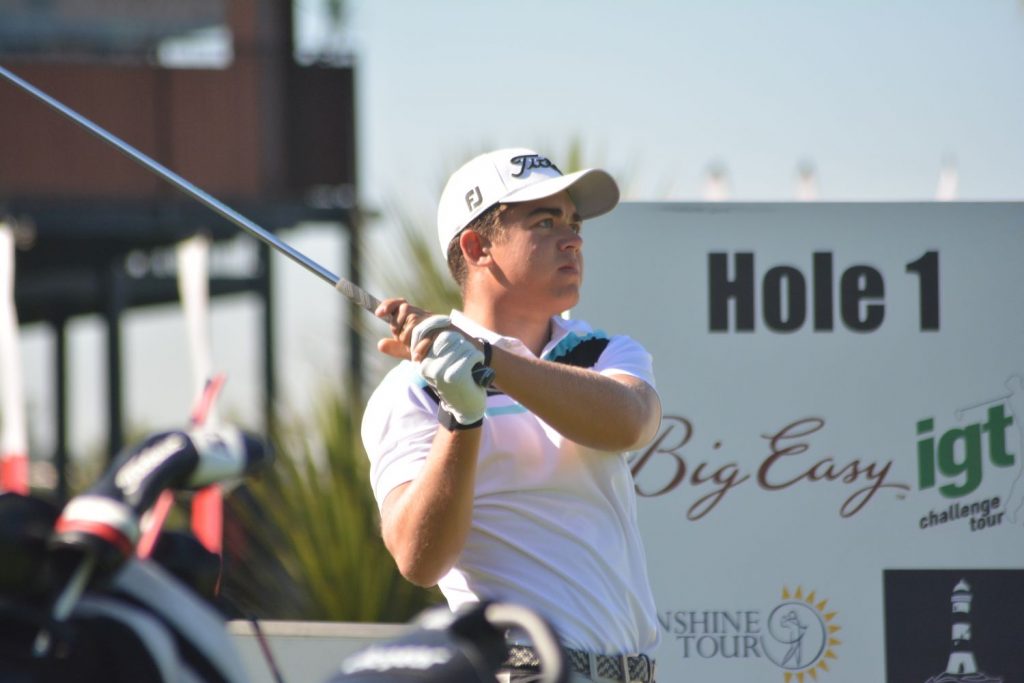 13th May 2019 | IGT Challenge Tour
Higgo takes route 66 to Big Easy IGT Modderfontein lead
Higgo takes route 66 to Big Easy IGT Modderfontein lead
(PHOTO – Garrick Higgo; credit CJ du Plooy)
MODDERFONTEIN, 13 May 2019 – De Zalze lefty Garrick Higgo constructed a fine opening score of six-under-par 66 at Modderfontein Golf Club to take the first round lead in the Big Easy IGT Challenge Tour #3 on Monday.
Playing the course blind, the 20-year-old Sunshine Tour rookie put up six birdies and an eagle with some amazing short-game skills to lead a jam-packed leaderboard.
His closest challengers are Marthin Scheepers, whose five-under 67 featured a pair of eagles, and former IGT Challenge Tour winner Paul Boshoff, who racked up five birdies and an eagle for a share of second.
A further 18 players are within five shots off the leader, with 16 players tied for 22nd on level par.
Former PGA Championship winner Michiel Bothma and Ryan Tipping finished on four-under, while Gareth Sargent, Andrew Burmester and Boland rookie Hennie O'Kenndy sit a further stroke back in joint sixth.
Reigning Junior Open champion Martin Vorster made the most of his invitation to lead the amateur challenge.
The Louis Oosthuizen Junior Golf Academy player opened with a two-under 70. Fellow GolfRSA National Squad members Matt Saulez and Jordan Duminy posted rounds of level par and two-over 74 respectively.
But the day belonged to Higgo.
The former GolfRSA National Squad member packed it in after a year on the collegiate circuit in the United States. He competed on the GolfRSA Africa Swing earlier this year, before earning his Sunshine Tour card with a tie for fourth at Q-School.
"I've enjoyed wetting my feet in the pro ranks," said the Boland lefty. "I came third in Zambia and made the cut in the Investec Royal Swazi Open, which was a really great event.
"I'm not into the Lombard Insurance Classic yet, so I decided to play this week's Big Easy IGT to keep the form going. I also got a new driver and a 3-wood and I wanted to test them under pressure.
"But it was my birthday on Sunday and I didn't fancy playing a practice round. Luckily the course treated me well. I played really solid from tee to green and putted quite well so it just sort of all came together."
Higgo turned one-under and made a flying start on his homeward loop. He reeled in back-to-back birdies at the first and second holes, gained another shot at the par four fifth and finished the last two holes in style, eagle-birdie.
"I had two bogeys – at 17 and seven – but to be honest, I didn't have a clue where to hit too on those holes, so I'll take the punishment," said Higgo.
"The course was like a big puzzle that I had to figure out. Sometimes that works to your advantage, because you don't know where the 'bad' misses are. I hit it in the completely wrong spot on the first, but ended up with a pitching wedge into the par five and made a birdie. I'll be hitting it there again intentionally tomorrow. The second hole is a dog-leg, and my tee-shot finished on the third holes' green, but again, it was the perfect position for me.
"My short-game really worked hard for me. I had some clutch par-saves and nearly holed out for two at the fifth hole. I hit a good chip at seven, and nearly saved par, but again, didn't have a clue where to go from the tee.
At the par five, I hit my drive into the trees. I hit a really great shot to 10 foot and holed the putt for eagle and at 18, I holed a 20-footer for birdie. It was a strong finish."
Higgo would love to go wire-to-wire to get that first pro win under the belt.
"Every rookie wants that first win to prove to yourself that you can win. Whether it's here this week or on the Sunshine Tour, I would love to get it done."
First Round Scores
All competitors RSA unless otherwise specified and amateurs indicated at AMA
66 – Garrick Higgo
67 – Paul Boshoff, Marthin Scheepers
68 – Ryan Tipping, Michiel Bothma
69 – Gareth Sargent, Andrew Burmester, Hennie O'Kennedy
70 – Christian Basson, Karl Ochse, Clinton Grobler, Clayton Mansfield, Martin Vorster AMA, Ryan O'Neill (ENG), Hanlo Jacobs
71 – Dennis Williams, Jacquin Hess, Divan Marais, Jason Roets, Gary Daoust (BEL), Evance Vukeya
72 – Matt Bright, Keaton Slatter, Neal Woernhard (SUI), Matt Saulez AMA, Michael Pfeifer, Maverick Faber (FRA), Franklin Manchest, Henning du Plooy, Jason Froneman, Malcolm Mitchell, Reinhardt Blaauw, Makhetha Mazibuko, Jack Duthie, Darin de Smidt, Ruan de Smidt, Paul Rodrigues
73 – Romano Saincic, Gerard du Plooy, Gideon van der Vyver, Richard Joubert, Eric Nel, Hans-Jurie Human, Luke Mayo, Carlo Heunis, John McClean (NIR), Leon Visser, Roberto Lupini
74 – Quintin Crause, Jason Rossiter, Zabastian de Jager, Nico du Buisson, Dean du Plessis AMA, Ricki Dembo, Luan Boshoff, Jordan Duminy AMA, Basil Wright, Michael Kok, Altaaf Bux
75 – Paulo Serrao (POR), Keelan Africa, Stuart Smith (BOT), Gerhard Pepler, Jaco van der Merwe, Sipho Bujela, Maritz Wessels, Tumelo Molloyi, Terence Mogapi, Phumlani Maluka
76 – Christiaan Pretorius, Jason Smith, Michael Saunders (ENG), Jeff Inglis (ENG), Michael-James Steyn, Coert Groenewald, Leon Vorster, Ruan Groenewald, Armand van Dyk AMA, Jacques Viljoen AMA, Mike Maile
77 – Carlo O'Reilly, Christopher Scheppel AMA, Dylan O'Leary, Jason Viljoen, Deon Bredenkamp, Tristan Eeles, Mitchell Lightfoot, Mohit Mediratta (KEN), Neal Herman, Byron van der Merwe
78 – James Cleasby AMA, Alpheus Kelapile, Xander Prinsloo AMA, Tyron Taylor AMA, Matthew Spacey, Thabang Simon, Terence Archibald, Pequestro Dyssel
79 – Ruhan van Dijk, Quintin Wilsnach, Tristan Topka, Angus Ellis-Cole
80 – Jonathan George AMA, Jabulane Mabilane, Shalan Govender, Fritz Orren
81 – Louis Botha, Nicholaus Frade, Wynand Potgieter, Alwyn Smith, Teddy Mathebula, Richard Spagnolo AMA, Adam Baker, Morne van der Waltsleben AMA
82 – Caylum Boon, Nhlalenhle Dlamini
83 – Cody Holwill AMA, Duan Nagel, Gary Jutzen AMA, Liam Clinton AMA
84 – Christopher de Beer
87 – Stephane van Neer (COD)
90 – Jared Hall AMA
RTD – Ricardo Towell
Written and released by Lali Stander on behalf of the Big Easy IGT Challenge Tour.
Latest IGT Challenge Tour News