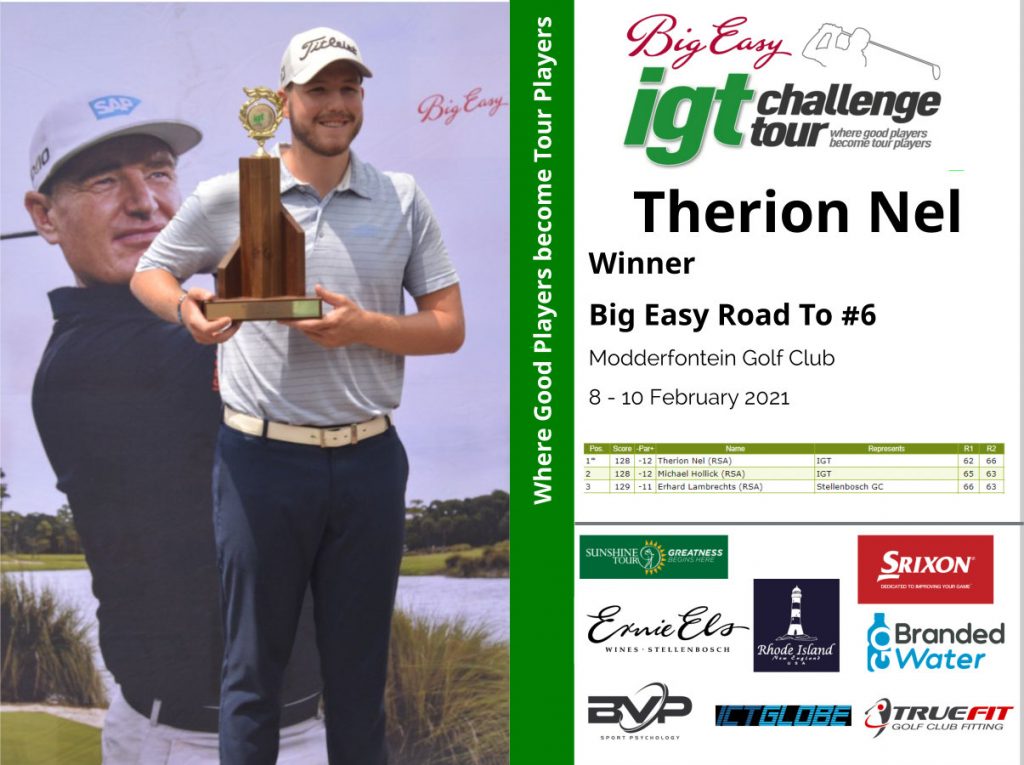 24th February 2021 | IGT Challenge Tour
Hot putter hands Nel maiden Big Easy Tour win in weather-affected Centurion
CENTURION, February 24 – Therion Nel carded unblemished rounds of 62 and 66 to claim a playoff victory over Michael Hollick for his maiden Big Easy Tour win at Centurion Country Club on Wednesday and says it's all down to a sizzling-hot putter."
The biggest thing was my putting," Nel said after claiming his first win on this circuit. "The weather made things tough because even though the course was pretty scorable, it played a bit longer because the fairways and the greens were softer."
The weather was a big factor in this week's Big Easy IGT Challenge Tour Road To #6 at Centurion so that the first round had to be suspended with half the field yet to tee off because of dangerous weather. Nel was in the afternoon field and barely halfway through his round, play was suspended because of an approaching storm. It was Michael Hollick who sat atop the leaderboard after an opening round of five-under-par 65 before play was called and when round one play did eventually finish, it was Nel sitting at the summit after a bogey-free eight-under 62.
Tournament organisers then decided to cut the event short from a 54-hole event to a 36-hole tournament due to the unforgiving weather which continued to hit these parts of the Gauteng region.
In the second and final round, and teeing off before Nel again, Hollick raced to a spectacular seven-under-par 63 to take his tournament total to 12-under and wait for challengers to try and unseat him from the top.
Eight birdies and a bogey characterised Hollick's round as he continues to build confidence but Nel had other ideas on Wednesday. A perfect four-under 66, combined with his opening-round 62, took his total to 12-under, forcing a playoff with Hollick.
"My game plan was not to make any drops," he said, "and after the first round, I saw I was four shots behind and knew I had to play, at least, four-under in the second round. I just told myself to keep doing what I was doing and I was going to give myself chances and luckily it worked.
"Having fallen short of a victory on a few occasions on Tour already this season, the playoff presented Nel with a unique opportunity to claim his maiden title at the expense of a Sunshine Tour winner.
"The first playoff hole, we made pars; I hit it right into the bunker. Not a great chip and made a par-putt. Second playoff hole, he hit a really good drive and I hit it into the bunker again. I knew I had to make a birdie to keep it alive because Hollick only had to two-putt for birdie to win and luckily I hit a better chip and boxed a 10-feet birdie.
"The third playoff hole, he hit it into the woods and hit his third shot on the back edge of the green and I knew all I needed was a par. So, I am happy to get the job done, I've been close a couple of times. It's a big relief to finally get it done; the first one is definitely the hardest and hopefully, I have now opened the floodgates."
Latest IGT Challenge Tour News