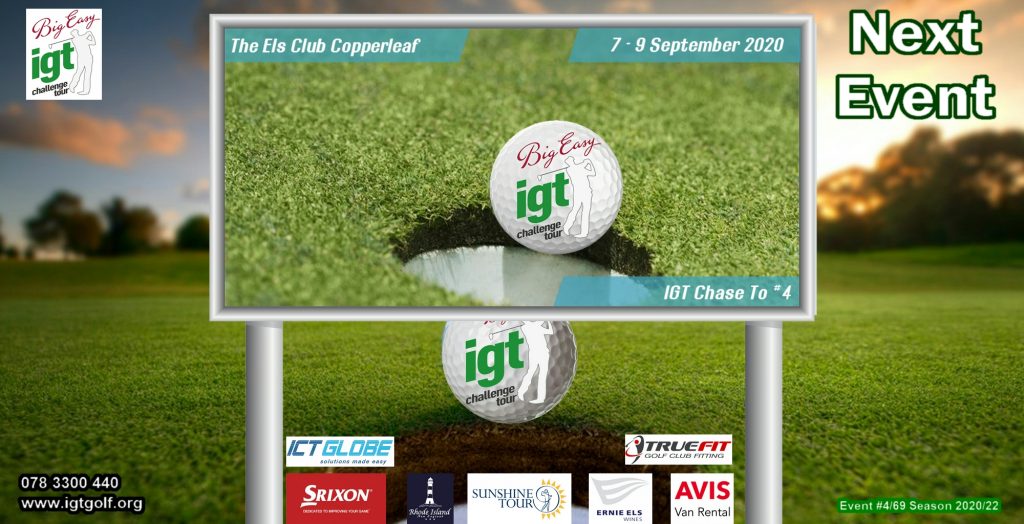 6th September 2020 | IGT Challenge Tour
IGT Chase To #4 at The Els Club Copperleaf
IGT Chase To #4 is played at The Els Club Copperleaf from 7-9 September 2020. A field of 135 players with top quality golfers all playing for our stunning trophy and the bragging rights of being a winner on the Big Easy IGT Tour where good players become tour players.
Sunshine Tour players keeping their game sharp are Cameron Moralee, Dylan Mostert, Gareth Sargent, Jacques Blaauw, Danie van Tonder, Heinrich Bruiners, Derick Petersen, Jason Diab, Jacquin Hess, Alpheus Kelapile, Thato Mazibuko, Tumelo Molloyi, Thabiso Ngcobo & Adriel Poonan.
Danie van Tonder is looking for win #12 on the Big Easy IGT Tour and also the record holder for low 54 round on Big Easy IGT Tour of 22 under par at Houghton GC in 2016.
Jacques Blaauw has a couple of wins and finish consistently in the top 10 on Big Easy IGT Tour.
Heinrich Bruiners is a past winner on the Big Easy IGT Tour.
Jurgens Visser ex Blue Bulls player is trying his hand at Professional golf. Jurgens played full back.
Vaughn Van Deventer will carry his form from last week winning the IGT Chase to #3 at Reading Country Club.
GolfRSA squad members playing this week and definite contenders are Christiaan Burke (AM), Werner Deyzel (AM), Yurav Premlall (AM), Christiaan Maas (AM) & Ryan Van Velzen (AM). Yurav Premlal has won the Big Easy Challenge #2 in 2019 at Observatory CC. Christiaan Maas is making his debut on the Big easy IGT Tour.
Other players to watch is Kyle McClatchie, Matt Saulez, Ryan Tipping, Danie Van Niekerk, Samual Mc Kenzie (AM), Slade Pickering (AM), Herman Loubser, Leon Vorster, Therion Nel, Jason Froneman, James Pennington (SWZ).
We are also looking for that new talent that is not mentioned here to become a star and progress to the main tours.
We are looking forward to another great week on the Big Easy IGT Tour. Please follow your favourite player on www.wp-igt.ocs-sport.com.
Wishing all the players only the best and may it rain birdies galore this week.
Big Thank you to Srixon for supporting the players.
Latest IGT Challenge Tour News