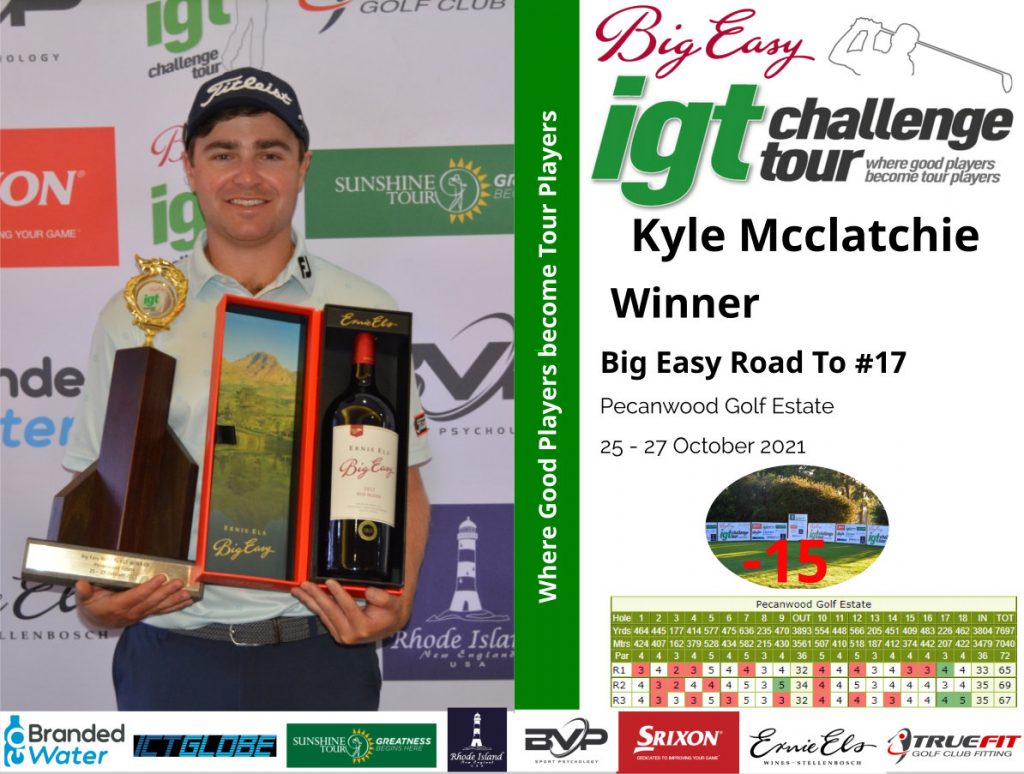 31st October 2021 | Big Easy IGT Golf
Incredible McClatchie wins again; surges to take Pecanwood title
Kyle McClatchie's October record was burnished even brighter on Wednesday when he surged from behind to claim a second victory in three weeks as he won the Big Easy IGT Challenge Tour's Road to the Sunshine Tour #16 at Pecanwood Estate Golf and Country Club.
He started the final round two shots behind 36-hole leader Slade Pickering and carded a five-under-par 67 to move to 15-under-par for the tournament, one clear of Herman Loubser and Pickering who shared second. Gregory Mckay was fourth on 13-under, and Erhard Lambrechts and Ryan van Velzen shared fifth on 11-under.
Not even successive bogeys on 17 and 18 were enough to stop McClatchie's march, which he set up with seven birdies in 14 holes. He took his foot off the pedal, and, although Loubser came charging at him with a homeward nine of six-under-par 30 which included an eagle and four birdies, he had done enough.
"It was strange," said McClatchie of his finish. "Obviously Slade and I were pushing each other all the way, and then he made double on 14 while I made birdie. That made me feel as if I could relax, when I should have been thinking of parring it all the way home. But I had played very well up to that point, and I'm pleased I'd done enough to get home."
Pickering, too, didn't go away either, and although he was able to card just a two-under 70 in his closing round after opening with a 10-under 62 in the first round, two birdies in his final three holes brought him within one of forcing a play-off.
McClatchie's fifth win of 2021 lifted him to third place on the Road to the Sunshine Tour Order of Merit, and with just next week's tournament in the series at Modderfontein left ahead of the play-offs, he looks set to be one of six players earning his Sunshine Tour card that way.
And if that fails to get him back on to the circuit where has already played, then he also tops the Chase to the Sunshine Tour Order of Merit, from which the top three players will win their Sunshine Tour cards.
It's appropriate reward for incredible consistency over the last four months. He has finished outside the top 10 just four times in the 15 starts he's had during that time, and nine of his 11 top-10 finishes have been fourth or better, with three wins and a runner-up finish in that list.
"I feel that I came back from lockdown a much better player," said McClatchie. "I have been able to shut out a lot of the negativity that was part of starting so early on the Sunshine Tour and trying to make in Europe and not succeeding.
"I was burnt out before I even got to Europe, and I was only able to give 20 percent in situations where I should have been able to give 120 percent. Now, I can concentrate on just being the best version of me, and I believe that the IGT has helped hugely in that regard.
"Just playing so many tournaments allows you to work things out in a competitive environment, and, although it's not as intense as the Sunshine Tour, I have learned so much that I can take with me as I go back there."
Latest Big Easy IGT Golf News