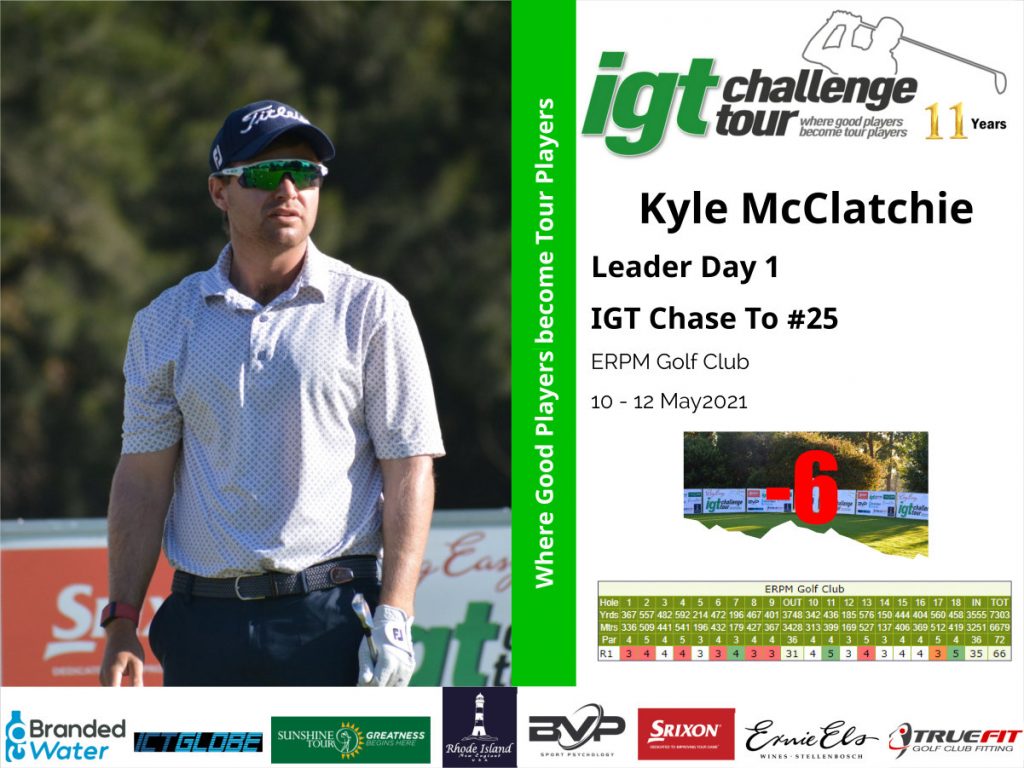 10th May 2021 | IGT Challenge Tour
Inspired McClatchie in a 4-way share of lead at ERPM
Former GolfRSA squad member Kyle McClatchie played himself into a four-way share of the lead on day one of the Big Easy IGT Challenge Tour Chase to the Sunshine Tour #25, courtesy of an eventful six-under-par 66 round at ERPM Golf Club, and he says it was all inspired by the weekend successes of both Garrick Higgo and Wilco Nienaber.
The visionaries who helped form South Africa's premier golf development structure, GolfRSA, would have been forgiven for feeling an extra shot of pride kick in following Garrick Higgo's and Wilco Nienaber's respective showings on the European Tour and the Sunshine Tour and Challenge Tour this past week.
Higgo claimed his third European Tour victory in the Canary Islands while Nienaber finally etched his name among Sunshine Tour winners with his victory at the Dimension Data Pro-Am, an event which is co-sanctioned with the European Challenge Tour.
All the while, McClatchie, who also graduated from that squad before turning pro, was watching with a keen eye to see how his alumni would perform in their respective final rounds on Sunday. Both came out triumphant, filling McClatchie with pride and inspiration to want to achieve the same heights.
"It's always nice to see all South Africans do well," said McClatchie. "But seeing Garrick and Wilco do well just pushes us all; pushes me to want to do better. We all came through the same system and we all know we can do it but it's nice to actually see guys do it. It's always nice to see the guys you grew up playing with achieving great things because it shows you can get there too if you work hard. So, it was really good to see."
McClatchie looked sharp in the opening stages of the round, birdieing four of his first six holes before dropping a shot on seven. He shrugged that bogey off immediately, making two birdies on the bounce to turn in 28.
He dropped another shot on 11 but made up for it with a birdie on 13. Three pars later and an eagle on the par-five 17th found its way onto McClatchie's card but he could not avoid the bogey on the last hole.
"I think I played really well today," McClatchie said, "I hit the ball the best I've hit it in a long time. I've been struggling a little bit with the ball-striking, so today was a real step up and I was happy about that.
"I didn't quite get the pace of the greens and a couple of three-putts cost me a few shots but I holed a few putts myself, so, that was good. Overall, it was really solid and I want to do that for the next two days; make those birdies when I get the chance."
Leon Vorster and amateurs Leon van der Walt and Casey Jarvis also carded 66s to share the top spot with McClatchie. Jarvis is looking for his fourth win this season while both Vorster and McClatchie have won once so far. Van der Walt will be inspired by his opening round and will feel he can hang in there for the next 36 holes.
"I played really well today and I think we only had 11 putts on the front nine," Vorster said, "I think that kept me in the game. My putting was also great today. I'm just happy I started well because it's tough out here. So, it's best to take things one day at a time."
Ricky Hendler and Ryan van Velzen share the fifth spot at five-under, Jason Froneman, Herman Loubser and amateur Kieron van Wyk share seventh at four-under while Sunshine Tour professional Fredrik From and Slenda Sithebe share 10th with amateur Warwick Purchase at three-under-par after the opening round.
Latest IGT Challenge Tour News