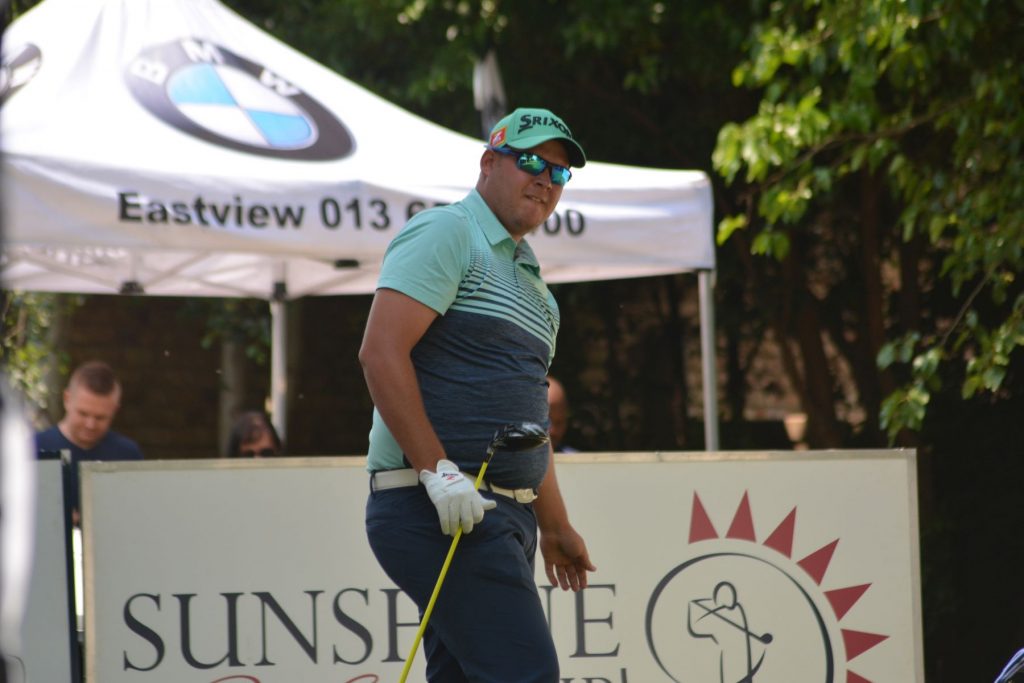 29th September 2018 | IGT Challenge Tour
It's tight at top in IGT Witbank Pro-Am
It's tight at top in IGT Witbank Pro-Am
(PHOTOS – Andrew Burmester; credit CJ du Plooy)
WITBANK, 28 September 2018 – Ruan Groenewald and Andrew Burmester share the first round lead, while no less than four teams share in pole position in the Amateur Competition after action wrapped up in the IGT Witbank Pro-Am at Witbank Golf Club on Friday.
Bloemfontein's Burmester made three birdies on the trot on the trot from the first hole and picked a fourth gain at the par five fifth, while Groenewald reeled in all his birdies on the back nine.
Burmester is still chasing that elusive first win on the IGT Challenge Tour, but Groenewald from Nelspruit enjoyed his maiden success in the 10th event of the season at Irene Country Club in August.
The leading pair will start the second round with a tidy two shot lead over Michael Pfeifer, Leon Visser, amateur Matthew Rossouw and Jeff Inglis from England.
Dylan Kok and Kyle Barker – both winners this season – lie a further shot adrift
Reigning Race to Sunshine Tour leader Dylan Mostert signed for an even-par 72 to finish alongside Brandon Pieters, Gary Daoust from Belgium and England's Neil Cheetham.
Sunshine Ladies Tour champion Nobuhle Dlamini led the women's field with a one-over 73.
The amateur competition teed off with great excitement and the first pair home to set the first round target was Ricardo Towell and his amateur partner Francois van der Merwe.
Stephan du Toit and Lynnette Claase, as well as Divan Marais and Wilna Wilson, matched the magic number to claim a share of the lead and Arno Pretorius with amateur partner Ettienne van Tonder made a four-way tie at the top the late afternoon.
The leading teams have a slender one shot edge over Burmester and Richard Mostert, Cheetham and Hennie Kruger and IGT Challenge Tour winner Daoust, who partnered P. du Toit.
PROFESSIONAL LEADERBOARD (top 20)
All competitors RSA unless otherwise specified; amateurs indicated as AMA
68 Andrew Burmester; Ruan Groenewald
70 Michael Pfeifer; Jeff Inglis (ENG); Leon Visser; Matthew Rossouw AMA
71 Dylan Kok; Kyle Barker
72 Neil Cheetham (ENG); Gary Daoust (BEL); Dylan Mostert; Brandon Pieters
73 Marco de Beer; Peetie van der Merwe; Clinton Grobler; Juran Dreyer; Nobuhle Dlamini (SWZ); Stephan du Toit; Richard Joubert
74 Eric Nel; Shaun van Tonder; Romano Saincic; Stefan Wears-Taylor; Keaton Slatter
AMATEUR LEADERBOARD (top 20)
64 Ricardo Towell & Francios van der Merwe (AMA); Stephan du Toit & Lynette Claase (AMA); Divan Marais & Wilna Wilson (AMA); Arno Pretorius & Ettienne van Tonder (AMA)
65 Neil Cheetham (ENG) & Hennie Kruger (AMA); Gary Daoust (BEL) & P du Toit (AMA); Andrew Burmester & Richard Mostert (AMA)
66 Peetie van der Merwe & Piet van der Merwe (AMA); Tristan Brice (AMA) & WC Sky Riders (AMA); Kyle Barker & Jamie Ferguson (AMA); Albert Visser & Toli van Tonder (AMA); Ruan Groenewald & Hennie Lombard (AMA)
67 Bryce Myburgh & Sarel van Heerden (AMA); Brandon Pieters & Schalk Colabrisk (AMA)
68 Marcus Smal (AMA) & Charl de Witt (AMA); John McClean (NIR) & Carel Krog (AMA); Dylan Mostert & Kirk Mostert (AMA); Hendrikus Stoop & Jasper van der Westhuizen; Clinton Grobler & Anton de Bruto (AMA); Juran Dreyer & Dean Wilson (AMA); Nobuhle Dlamini (SWZ) & A Jenouha (AMA); Zabastian de Jager & Tyrone Zacky (AMA); Matthew Rossouw (AMA) & Darren Neyt (AMA); Jonathan Waschefort & Justin van Dyk (AMA); Leon Vorster & Gert van Dyk (AMA); Divan de Villiers & Lucky Mahlangu (AMA)
Latest IGT Challenge Tour News