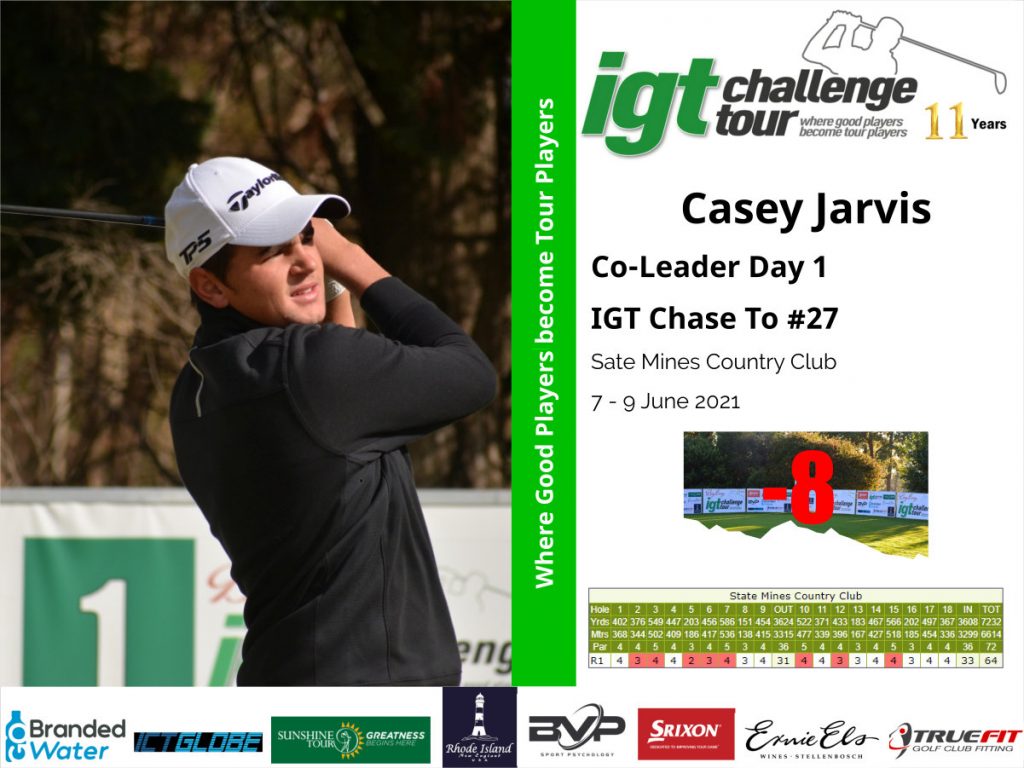 7th June 2021 | IGT Challenge Tour
Jarvis cruises round State Mines home to share early lead
BRAKPAN, June 7 – He hasn't played his home course much recently, but Casey Jarvis had more than enough memory in reserve in the opening round of the Big Easy IGT Challenge Tour's Chase to the Sunshine Tour #27 on Friday to go bogey-free and grab a share of the lead.
The top amateur carded an eight-under-par 64 to take up the top position on the leaderboard together with professional Jason Froneman, who was also bogey-free. The pair had a two-stroke lead over Adriel Poonan, while amateurs Christiaan Burke and Donavan Liddicoat and professionals Makhetha Mazibuko and Fredrik From of Sweden shared fourth on five-under.
"I really know this place so well," said Jarvis. "So even though I have been playing a lot of other tournaments recently, I'm comfortable with what lines to take off the tees, and I know exactly where to miss it if I am going to miss it."
Jarvis laid down his marker with his opening nine, going round in five-under 31. He made birdies on two and three, and then reeled off three in a row from the fifth to the seventh. After the turn, things were a little less dramatic, but he picked up strokes on 10, 12 and 15 to come home in 33.
With birdies on all the par-fives, it really is a question of picking up whatever other opportunities come his way. "I'm hitting the ball really well at the moment," said Jarvis. "My putting hasn't been too great recently, but I putted well today, so I was pleased with that."
Froneman got things going early on with birdies on the second and third. He picked up another shot on the eighth to turn in three-under 33, and then he really turned it on during the homeward nine. He made birdies on 10 and 11, and then picked up three more on 13, 15 and 16 to come home in 31.
Jarvis has won three times this season on the circuit, and, in 12 tournaments, his worst finish is 13th. Every other time, he has finished inside the top 10. "I'm playing for tournament experience," he says. "I'll just keep doing what I'm doing, and I hope that I get another good result after 54 holes." Don't bet against him.
Latest IGT Challenge Tour News