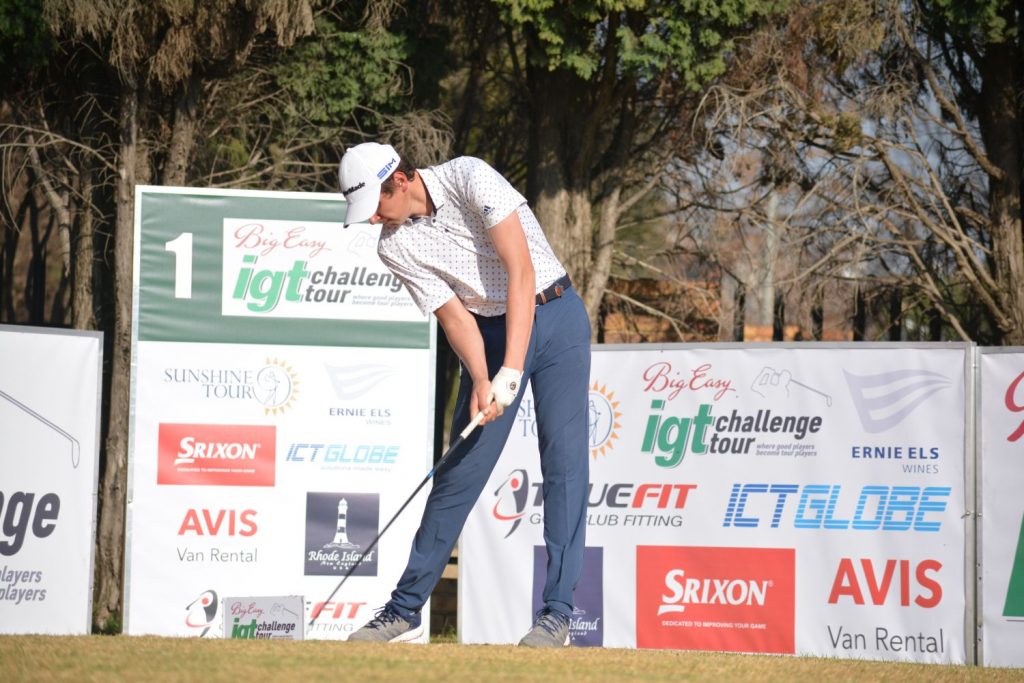 25th August 2020 | IGT Challenge Tour
Jarvis eyeing home victory at State Mines
BRAKPAN, August 25 – The country's number one amateur, Casey Jarvis, made two birdies in his last three holes to sign for a four-under-par 68 second round to see himself into a three-way share of the lead ahead of the final round of the IGT Tour Chase To #2 State Mines.
It was Big Easy Players Therion Nel with his round-two 67 and Brandon Gildenhuys with a near-perfect 66 and Jarvis who stole the show at Jarvis' home course in Brakpan on day two, racing off to a one-shot lead ahead of the final round.
"The round was good, wasn't the greatest," said Jarvis, "I didn't hit the ball too badly. In all fairness, I didn't play too badly. I'm happy to shoot four-under, finishing with two birdies in the last three, I was extremely happy with that."
Jarvis carved his name into the record books as the youngest winner in South African Stroke Play Championship history when he won the title in dominant fashion at Randpark Golf Club in February.
At 16 years old, Jarvis broke a record that had stood for 51 years when he won with a winning aggregate of 25-under-par 263 – a full nine strokes clear of his nearest competitor, Port Elizabeth's Kyle de Beer.
The Boksburg teenager eclipsed the previous mark held by the legendary Dale Hayes, who won the first edition of the flagship event at 16 years and 8 months at Humewood Golf Club in 1969.
In January, Jarvis rose to No 1 in the GolfRSA Open Amateur rankings with back-to-back victories in the Free State and Gauteng North Opens. Now he aims to lift a Big Easy IGT Tour title at his home course.
"Playing State Mines is very familiar to me," Jarvis said in a bullish manner, "I play here at least three times a week, so it's pretty easy for me because I know the course well, I know the lines. That makes it a little easier for me.
"I think knowing the course well will help me tomorrow. I know where not to short-sight myself, where not to hit it on certain holes when the pins are tight like I'm sure they will be tomorrow. I know where to hit it and where not to go, so that should help me a lot tomorrow. There are good players up the leader board so I will have to grind for a good score. But I'm really keen to get the win"
Lurking dangerously and also with the advantage of course knowledge is multiple-club championship winner at State Mines Country Club, Vaughn Van Deventer who signed for a 69 to total eight-under for the week. He has proven himself to be an able competitor and the tussle for the summit will be an interesting affair on Wednesday.
Equally able and equally dangerous amateur, Yurav Premlall, lies fifth at six-under-par and with a three-shot deficit going into the final round.
135 – Therion Nel (RSA) 68 67, Brandon Gildenhuys (RSA) 69 66, Casey Jarvis (AM) (RSA) 67 68
136 – Vaughn Van Deventer (RSA) 67 69
138 – Yurav Premlall (AM) (RSA) 70 68
139 – Werner Deyzel (AM) (RSA) 67 72, Michael Kok (RSA) 71 68
140 – Leon Vorster (RSA) 69 71, Samuel Simpson (AM) (RSA) 72 68
141 – John-William Blomerus (AM) (RSA) 71 70, Jason Gilliver (AM) (RSA) 72 69, Herman Loubser (RSA) 66 75, Ryan Van Velzen (AM) (RSA) 69 72, Ricky Hendler (RSA) 70 71
142 – Christiaan Burke (AM) (RSA) 70 72, Leon Van Der Walt (AM) (RSA) 69 73
143 – Matthew Mortimer (AM) (RSA) 71 72, Casandra Hall (RSA) 68 75, Dawid Opperman (AM) (RSA) 72 71, Jade Buitendag (RSA) 70 73, Kyle McClatchie (RSA) 70 73, Jonathan Waschefort (RSA) 71 72, Drikus Joubert (AM) (RSA) 71 72, Samual Mc Kenzie (AM) (RSA) 70 73
144 – Rigardt Albertse (RSA) 73 71, Brandon-Lee Geere (AM) (RSA) 72 72
145 – Armand Van Dyk (AM) (RSA) 74 71, Bradley Diggeden (RSA) 73 72, Matt Saulez (RSA) 73 72, Michael-James Steyn (RSA) 72 73
146 – Jared Botha (AM) (RSA) 72 74, Jason Froneman (RSA) 73 73, Cameron Gurr (AM) (RSA) 73 73
147 – Fritz Orren (RSA) 73 74, Basil Wright (RSA) 75 72, Angus Ellis-Cole (RSA) 73 74
148 – Slenda Sithebe (RSA) 75 73, Rayne Schlachter (AM) (RSA) 74 74, Chase Paton (RSA) 73 75, Dylan Kok (RSA) 74 74
149 – Francois Blaauw (AM) (RSA) – Cut 71 78, Hendrik Janse Van Rensburg (RSA) – Cut 76 73, Kobus Engelbrecht (AM) (RSA) – Cut 76 73
150 – Darren Slingers (AM) (RSA) – Cut 74 76, Wynand Potgieter (RSA) – Cut 77 73, Jeremy Sharpe (RSA) – Cut 76 74, Gerard Du Plooy (RSA) – Cut 74 76
151 – Xander Prinsloo (AM) (RSA) – Cut 73 78, Wayne Stroebel (RSA) – Cut 79 72, Handre Truter (AM) (RSA) – Cut 77 74, Henning Du Plooy (RSA) – Cut 73 78, Gè-Rico Muller (AM) (RSA) – Cut 76 75, Conner Mackenzie (AM) (RSA) – Cut 74 77
152 – Christopher Scheppel (AM) (RSA) – Cut 77 75, Jonathan George (AM) (RSA) – Cut 75 77, Saul Moss (AM) (RSA) – Cut 75 77, Kai-Alexander Brandkamp (RSA) – Cut 75 77, Lincon Cele (RSA) – Cut 72 80, Pierre Joubert (AM) (RSA) – Cut 78 74, Warwick Purchase (AM) (RSA) – Cut 76 76, Christiaan Pretorius (RSA) – Cut 78 74
154 – Shanren Brienen (RSA) – Cut 80 74, Jacques Van Der Merwe (AM) (RSA) – Cut 76 78, Shaydon Johnson (AM) (RSA) – Cut 78 76
155 – Richard Spagnolo (AM) (RSA) – Cut 78 77, Louis Botha (RSA) – Cut 83 72
156 – Keanu Pestana (RSA) – Cut 80 76, Brandon Moodley (RSA) – Cut 83 73
157 – Pierre Du Plessis (AM) (RSA) – Cut 74 83, Jan-Louis Nel (AM) (RSA) – Cut 76 81, MS Calitz (RSA) – Cut 79 78
158 – Andrej Skrbinsek (AM) (RSA) – Cut 75 83, Juan Diedericks (AM) (RSA) – Cut 78 80, Tudor Bismark (ZIM) – Cut 74 84
160 – Warrick Greentree (RSA) – Cut 81 79
161 – Brandon-Jude Rennie (AM) (SWZ) – Cut 85 76, Johan Milho (RSA) – Cut 80 81
164 – Mchumane Wayiti (AM) (RSA) – Cut 78 86
165 – Nkosikhona Dilla (RSA) – Cut 78 87
166 – Christopher Constantinou (AM) (RSA) – Cut 90 76, Nicholas Souranis (AM) (RSA) – Cut 83 83
167 – Heinrich Bolleurs (AM) (RSA) – Cut 83 84
171 – Tyron Warne (AM) (RSA) – Cut 89 82, Lesego Lekoma (RSA) – Cut 91 80
178 – Peter Lekhoaba (AM) (RSA) – Cut 91 87
WDN – Stefan Eriksson (NAM) – Cut 85 WDN
Latest IGT Challenge Tour News