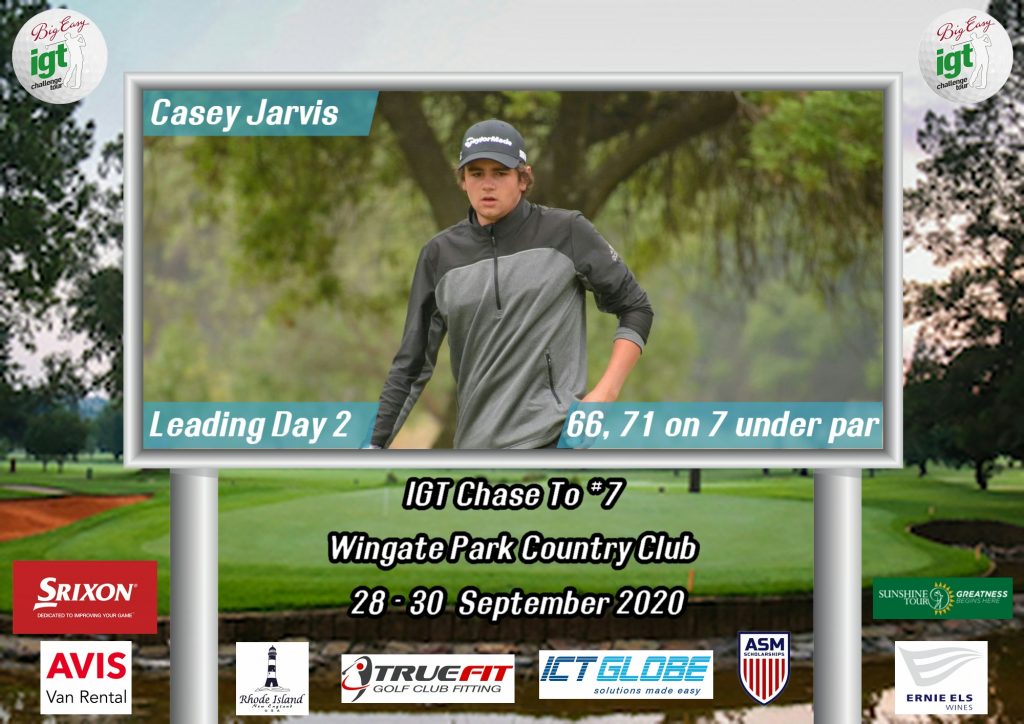 29th September 2020 | IGT Challenge Tour
Jarvis maintains two-stroke lead ahead of final round at Wingate
PRETORIA, September 29 – South Africa's leading amateur and Golf RSA Elite Squad member Casey Jarvis' second-round one-under-par 1 in the IGT Chase #7 at Wingate Park Country Club helped him maintain his two-stroke lead at the top – a position he says he enjoys ahead of the final round.
"Two shots; that's a good lead going into the final round and I'm not going to feel any pressure," said the record-breaking winner of the South African Stroke Play Amateur Championship. "It's just experience. I've got a bit of experience leading in front and I enjoy it. I'm not going to feel much pressure."
One might mistakenly feel that there is a sense of being overly confident in the teenager's tone but with a proven pedigree among his amateur peers in Golf RSA set-up and the professional ranks, Jarvis can walk the talk. His second-round score in Pretoria might have looked tough – as he seemed to have laboured to a 71 – but Jarvis isn't entertaining any of that ahead of Wednesday's outing.
He had an eventful second which started off with him making two pars a birdie in the first three holes, a good enough start. His progress was quickly derailed, however, as a bogey on the same fourth hole he referred to was followed by a double-bogey on the next hole, the par-three fifth.
"I played well today," said Jarvis with assurance. "Yesterday I bogeyed the fourth hole; nothing difficult about those holes and it was just a few silly mistakes. Hitting it long on both holes and I ended up short-sighting myself. I birdied all the par-fives and hit solid shots in there; two-putted each of those holes, so I am pretty happy about how I played today."
Jarvis already boasts a win in the IGT Chase, having claimed a one-stroke victory over Therion Nel at his home club at State Mines Country Club in the East Rand. He entered that tournament as co-leader and despite Nel's efforts to try and force a playoff, Jarvis' experience, even at his young age, held and victory was his.
The trio of Sam McKenzie, Angus Ellis-Cole and Leon Vorster share the second spot at five-under after 36 holes and will feel they have a shot. Meanwhile, Herman Loubser's round-two three-under 69 helped him to the fifth spot at four-under for the tournament.
137 – Casey Jarvis (AM) (RSA) 66 71
139 – Sam Mc Kenzie (AM) (RSA) 70 69, Angus Ellis-Cole (RSA) 70 69, Leon Vorster (RSA) 70 69
140 – Herman Loubser (RSA) 71 69
142 – Matt Saulez (RSA) 70 72
143 – Jason Froneman (RSA) 68 75, Vaughn Van Deventer (RSA) 71 72, Marco De Beer (RSA) 73 70, Fritz Orren (RSA) 71 72
144 – Christiaan Burke (AM) (RSA) 75 69, Wayne Stroebel (RSA) 71 73, Dawid Opperman (AM) (RSA) 73 71, Nikhil Gopal (AM) (RSA) 71 73
145 – Rigardt Albertse (RSA) 75 70, Johan Kriek (AM) (RSA) 71 74
146 – Matthew Dennis (AM) (RSA) 73 73, Gerard Du Plooy (RSA) 75 71, Marcel Steyn Scholtz (RSA) 72 74, Tyron Taylor (AM) (RSA) 72 74, Kyle McClatchie (RSA) 71 75
147 – Dylan Kok (RSA) 74 73, Henning Du Plooy (RSA) 74 73, John-William Blomerus (AM) (RSA) 74 73, Leon Van Der Walt (AM) (RSA) 71 76, Conway Kunneke (RSA) 75 72
148 – Oswin Schlenkrich (AM) (RSA) 73 75, Christopher Bagnall (AM) (RSA) 77 71, Armand Van Dyk (AM) (RSA) 69 79, Brenden Pieters (RSA) 75 73
149 – Warwick Purchase (AM) (RSA) 72 77, Franklin Manchest (RSA) 79 70, Liam Ross (AM) (RSA) 72 77, Cameron Borcher (AM) (RSA) 74 75, Gregg Gilson (AM) (RSA) 78 71
150 – Saul Moss (AM) (RSA) 75 75, Marno Prinsloo (AM) (RSA) 76 74, Kai-Alexander Brandkamp (RSA) 74 76, Basil Wright (RSA) 72 78, Lwazi Gqira (RSA) 75 75, Christopher Long (AM) (RSA) 75 75
Latest IGT Challenge Tour News