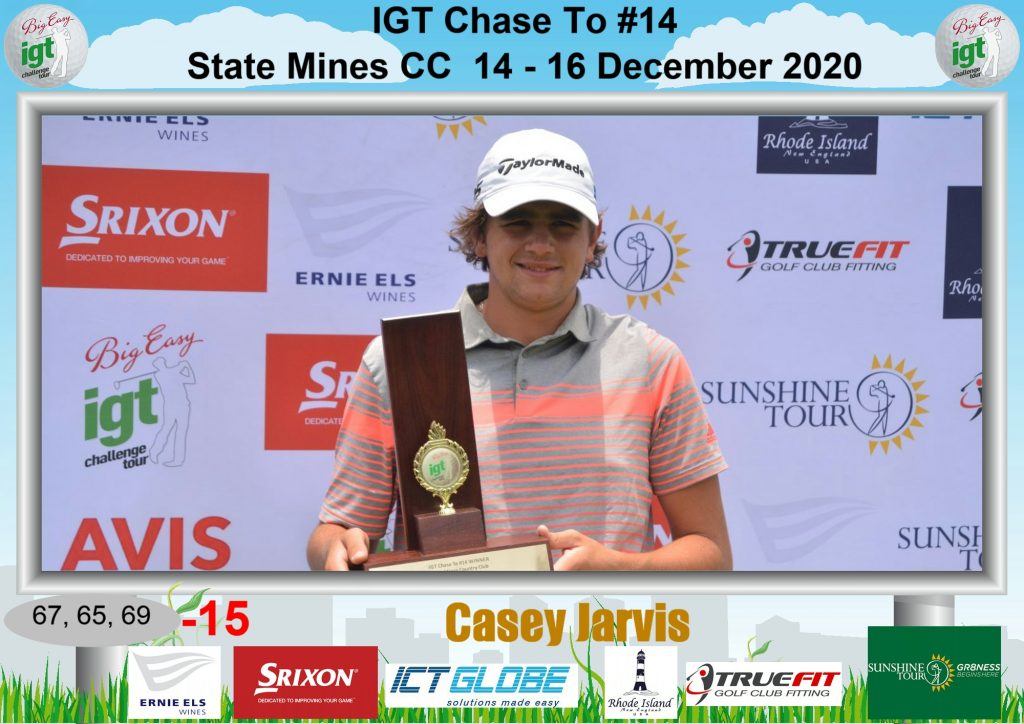 16th December 2020 | IGT Challenge Tour
Jarvis proves too strong at State Mines
BRAKPAN, December 15 – Casey Jarvis said on Tuesday his knowledge of the layout at State Mines Country Club gives him a small advantage over the rest of the field and this turned out to be correct as he dazzled to a two-shot victory over Ricky Hendler on Wednesday.
Coming into the final round of this week's IGT Tour Chase To #14 at State Mines –his home course and the scene of his first IGT Tour title this year – South Africa's record-breaking number one amateur was two-shots clear at the top thanks to opening rounds of 67 and 65. A three-under-par third-round delivered Jarvis' third title on this circuit since the return of golf after the covid-19-enforced national lockdown.
"This one is very pleasing because it's the last event of the year," said Jarvis after his win – his seventh this year if you count the amateur victories he's had. "I'm really happy for the win because it will give me confidence for the year ahead. I am very proud of the way I played this week."
As he has seemed to be all season when he is in the lead, Jarvis looked calm on Wednesday and a front nine of 35 – defined by three birdies and two bogeys – was solid enough to see him leading by a health margin before the turn. Then, in a bullish expression of confidence and dominance, Jarvis birdied four of his first six holes on the homeward stretch. The next three holes consisted of a par and two drops but the Freddie Tait Cup winner was already out of reach.
"There wasn't a point today where I thought I'd lose it," said Jarvis, "When I began to feel really tired on the golf course today, I told myself I needed to focus and when I focused, I made four birdies on the back nine and I had a three-shot lead at that stage. I didn't think I'd lose this one and I'm proud of my performance."
This year alone in the amateur ranks, Jarvis has won the prestigious SA Amateur Stroke Play, the SA Amateur Championship, the Freddie Tait Cup as the highest-finishing amateur in the South African Open Championship, as well as the Gauteng North Open and the Free State Open.
He now sits at the summit of the Chase To The Sunshine Tour standings following a success-filled year and with the season far from being wrapped up, the State Mines player is, naturally, pleased with the progress he has seen this year.
"I am very proud of my achievements this year," said Jarvis. "Winning is not easy and I have won a few IGT Tour titles and the big amateur events, so I'm very proud of myself. "
Latest IGT Challenge Tour News