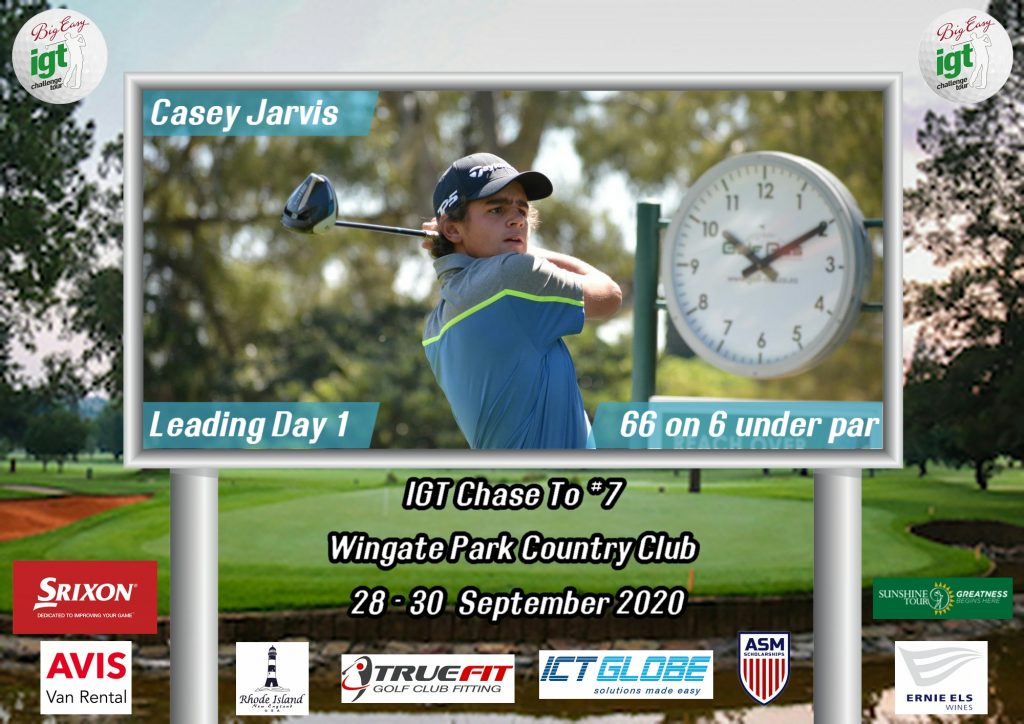 28th September 2020 | IGT Challenge Tour
Jarvis takes a two-shot lead at Wingate Park
PRETORIA, September 28 – South Africa's leading amateur, Casey Jarvis played some brilliant golf at Wingate Park Country Club in Pretoria, as he has done all season long, where his opening round of six-under-par 66 has handed him a two-shot lead of the IGT Chase #7 Wingate Park after Monday's round.
His opening two holes yielded birdies for Jarvis but those were soon to be taken from as back-to-back bogeys followed soon afterwards. His failure to up-and-down on the par-four third hole cost him a shot and a wayward second shot on the next hole meant he must three-putt for a second-successive drop. At level-par after four holes, Jarvis knew he was still in it and after the pars on the fifth and sixth holes, the leading amateur bounced back with two birdies on the trot to turn in 33.
"I started the front nine with birdies; pretty positive start," remarked Jarvis who is targeting his second wins since the restart of golf. "you always want to start the tournament off in the way. Next two holes, I just hit bad second shots and I three-putted the fourth hole and couldn't up-and-down on the third. I was not too upset because a level-par through four holes is not too bad and I brought it back with two nice birdies; on the seven and eight. On eight, I holed a really long putt; may have been a 20-foot putt so I was really pleased with that."
A par on the 10th was enough to steady his resolve, then three birdies one after the other got onto his card and those were followed by an important par-save on the 14th which plays as a par-three.
"I hit all the par-fives on the back nine in two, except for the last hole," said Jarvis of his bogey-free back nine. "I played really nicely on the back nine and I holed good putts on 11 and 12."
Jarvis has been in hot form wherever he has played and his ambition is clear; get as many competitive rounds under his belt as he possibly can.
"I just want to play as many IGT events as possible and try to get more wins. I won at State Mines and it would really nice to get a few more wins in the upcoming events. The amateur events will start again at the end of the year, so maybe win a few of those too."
With the Wingate Park layout looking lush and playing as pure as it was in the opening round – despite a persistent breeze here and there – Jarvis will hope the weather holds up on Tuesday as he prepares to make another push to the title.
"The wind didn't really affect me much," he noted, "It was blowing and we obviously took it into account on a lot of shots but it didn't affect me much because the course is just unbelievably good. The fairways are lush green and the greens are just running so pure. I'm just keen for the next two rounds."
Two shots off Jarvis' lead lies Jason Froneman who carded a four-under 68 on day one in the capital city.
66 – Casey Jarvis (AM) (RSA)
68 – Jason Froneman (RSA)
69 – Armand Van Dyk (AM) (RSA)
70 – Matt Saulez (RSA) , Angus Ellis-Cole (RSA) , Leon Vorster (RSA) , Sam Mc Kenzie (AM) (RSA)
71 – Nikhil Gopal (AM) (RSA) , Vaughn Van Deventer (RSA) , Kyle McClatchie (RSA) , Fritz Orren (RSA) , Herman Loubser (RSA) , Wayne Stroebel (RSA) , Leon Van Der Walt (AM) (RSA) , Johan Kriek (AM) (RSA)
72 – Basil Wright (RSA) , Warwick Purchase (AM) (RSA) , Marcel Steyn Scholtz (RSA) , Tyron Taylor (AM) (RSA) , Liam Ross (AM) (RSA) , Carel Tromp (AM) (RSA)
73 – Marco De Beer (RSA) , Nico Els (AM) (RSA) , Matthew Dennis (AM) (RSA) , Oswin Schlenkrich (AM) (RSA) , Dawid Opperman (AM) (RSA)
74 – Kai-Alexander Brandkamp (RSA) , Dylan Kok (RSA) , Henning Du Plooy (RSA) , John-William Blomerus (AM) (RSA) , Cameron Borcher (AM) (RSA)
75 – Brenden Pieters (RSA) , Clinton Duncan (AM) (RSA) , Conway Kunneke (RSA) , Jurgen Visser (AM) (RSA) , Lwazi Gqira (RSA) , Christopher Long (AM) (RSA) , Rigardt Albertse (RSA) , Saul Moss (AM) (RSA) , Christiaan Burke (AM) (RSA) , Gerard Du Plooy (RSA) , Michael Pretorius (AM) (RSA)
76 – Rees Emanuel (AM) (RSA) , Wynand Potgieter (RSA) , Ricky Hendler (RSA) , Ernest Ludick (AM) (RSA) , Marno Prinsloo (AM) (RSA)
77 – Drikus Joubert (AM) (RSA) , Henning Stander (AM) (RSA) , Martinus Barnard (RSA) , Christopher Bagnall (AM) (RSA) , Ruan Groenewald (RSA)
78 – Connor Wheatcroft (AM) (RSA) , Matthew Mortimer (AM) (RSA) , Simon Du Plooy (AM) (RSA) , Francois Blaauw (AM) (RSA) , Gregg Gilson (AM) (RSA) , Handre Truter (AM) (RSA) , JP Du Rand (RSA) , Peet Lion-Cachet (AM) (RSA) , Pascal Gunther (AM) (RSA) , Carlo Heunis (RSA) , Warrick Moonieyan (RSA)
79 – Slade Pickering (AM) (RSA) , Franklin Manchest (RSA) , Jules Helary (AM) (RSA)
80 – Jonathan George (AM) (RSA) , Phumlani Maluka (RSA) , Llewellyn Barnes (RSA) , Nikki Jonker (RSA) , Daniel Nduva (AM) (KEN) , Lincon Cele (RSA) , Ricco Motsa (AM) (RSA)
81 – Tiaan De Jager (AM) (RSA) , Travis Ladner (AM) (RSA) , Darren Neyt (AM) (RSA)
82 – Alan Buttle (AM) (RSA) , Andrew Inggs (AM) (RSA) , Pierre Du Plessis (AM) (RSA) , Joshua Wiese (AM) (RSA)
83 – Shaydon Johnson (AM) (RSA) , Brandon Moodley (RSA) , Xander Prinsloo (AM) (RSA) , Shanren Brienen (RSA) , SP Mthethwa (RSA)
84 – Christiaan Pretorius (RSA)
85 – Heinrich Bolleurs (AM) (RSA)
86 – Jesse Mc Farlane (AM) (RSA)
87 – Christopher Constantinou (AM) (RSA)
88 – Pierre Le Roux (AM) (RSA) , Bradley Fuchsloch (AM) (RSA)
N/R – Zaid Kara (AM) (RSA)
Latest IGT Challenge Tour News