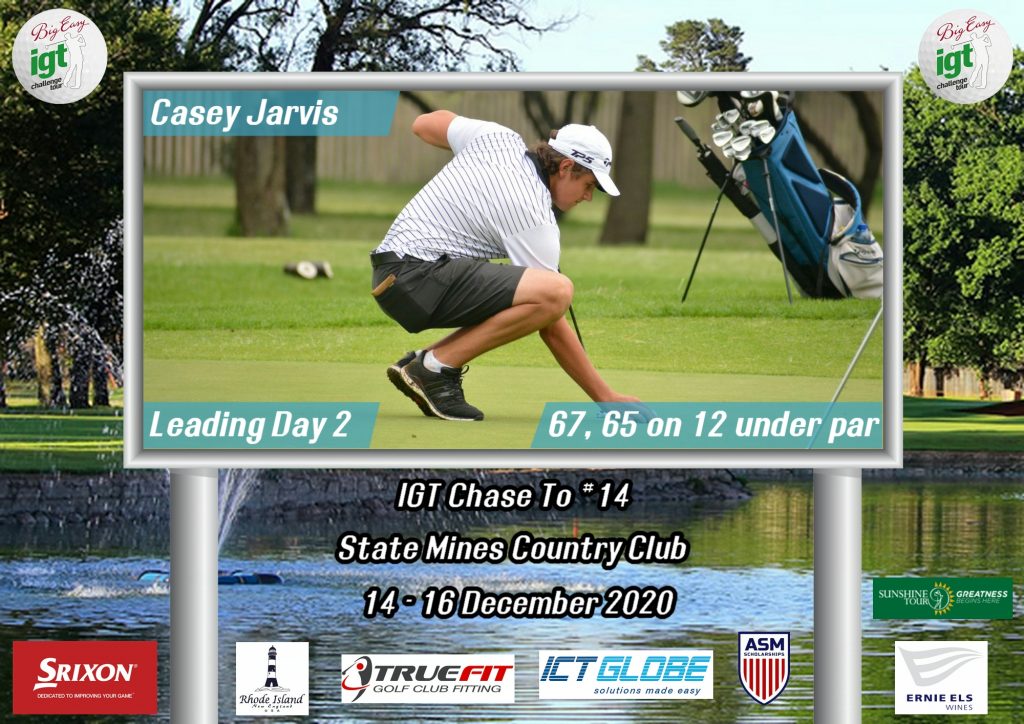 15th December 2020 | IGT Challenge Tour
Jarvis takes control at State Mines
BRAKPAN, December 15 – Despite winning every major amateur tournament in South Africa and the Freddie Tait Cup on top, leading amateur Casey Jarvis aims to end the year by adding another trophy to his ever-growing collection.
He is in pole position to achieve that as he currently holds a two-shot lead over Michael Kok and overnight leader Ricky Hendler, at 12-under-par, following a second-round seven-under 65.
"I couldn't ask for more," said Jarvis, reflecting on the season he has had, "I've won pretty much all the major amateur events in the season, so I'm really proud of myself."
Playing at his home course and a place where he has enjoyed success before, Jarvis has shown no sign of complacency even after all his successes this season. His 65 on day two follows the 67 he carded on Monday.
"The two days have been good and I have played good golf," said Jarvis, "I think I have been solid this week, I've made just one bogey. But I'm familiar with this golf course, it's my home club, so I know pretty much all the lines, where to hit my tee shots. So, that makes it a little bit easier."
That knowledge of the layout paid dividends on Tuesday as the Freddie Tait Cup holder expertly navigated the course to unseat Hendler from the summit. His round was characterised by a bogey-free 32 on the front nine, while four birdies and a drop defined his back nine. Now, and not for the first time this season, Jarvis will enter the final round as a leader, a position he has shown no problems occupying.
"I am familiar with leading a tournament," he admitted, "But I'm just going to go out tomorrow and play my game. It feels good leading because I have had a lead in a lot of tournaments. I'd love to win again this week because it would bring me a lot of confidence for next year. It's been a long couple of months after the lockdown but I'm really happy with how I have performed up to now.
"I have won a lot of events this year but winning again tomorrow will be special because every win is important. I just need to go out there and play my game and hope that it will be good enough."
Indeed, Jarvis will have to bring his very best to the final round because at 10-under for the week, Hendler and Kok are within range to cause an upset in Brakpan. Hendler played brilliant golf this week and it's no fluke he ties second and is within two shots of Jarvis' lead.
Kok, on the other hand, has suffered a few heartbreaks this season where he has lost events in the final round and has had to settle for a runner-up finish. He will want to go one better and will want to avoid another heartbreak. A win here for him is the only way.
Latest IGT Challenge Tour News