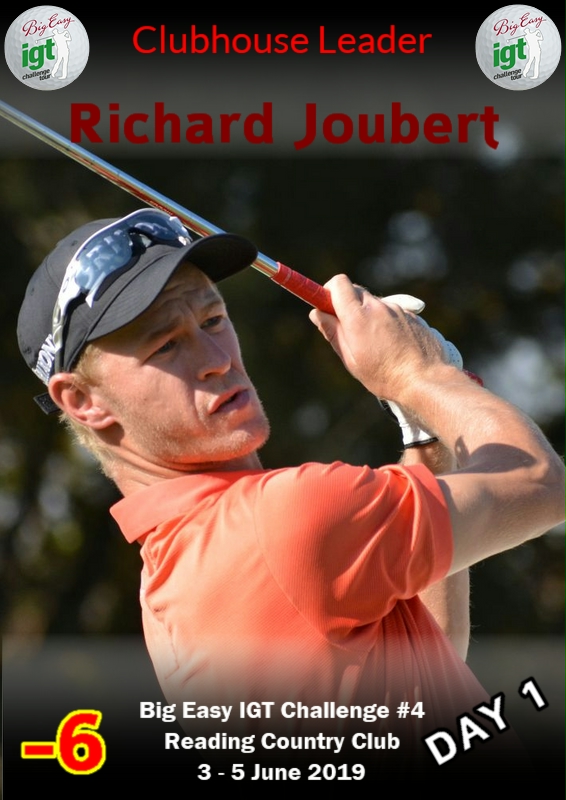 4th June 2019 | IGT Challenge Tour
Joubert surges into Big Easy IGT lead at Reading
Joubert surges into Big Easy IGT lead at Reading
(PHOTO – Richard Joubert; credit CJ du Plooy)
ALBERTON, (3 June 2019) – Richard Joubert scorched his way around Reading Country Club in six-under 65 to forge a one-shot lead in the first round of the Big Easy IGT Challenge Tour #4 on Monday.
The Waterkloof golfer leads the duo of Erhard Lambrechts and Jason Smith, who both carded 66s on the tree-line parkland layout.
Rookie Hans-Jurie Human got himself into the mix with a four-under 67. The Southern Cape golfer grabbed a share of fourth with the experienced trio of Marthin Scheepers, Albert Venter, and Gideon van der Vyver.
Joubert began on the 10th hole, and soon found his stride with a birdie at the short par five 12th, before making three in a row from the tricky par three 15th.
"I made a good up and down from the left bunker on 11 and got some momentum with a nice run of birdies," said the 25-year-old Joubert. "I boxed a long one on 15, a pretty standard one on 16 and hit it close on 17. On 16 I hit five-iron off the tee and I had about 180 in and hit a seven-iron just past the flag."
His only blemish on the outward loop came at the straightforward par four 18th.
Making the turn, he navigated the tight first hole before reeling off four birdies on the bounce from the second before a bogey on six and three pars to close out his round.
"I hit it really close to the green on two and hit a good chip," Joubert said. "On three, I got lucky with my drive and just missed the hazard. I knocked it to six feet. On the par five (fourth) I snapped my drive into the trees, played short and made a great up-and-down for birdie.
"Then on the par three fifth I hit it pretty close and made the putt. The course has a lot of birdies so I hope I can get it going again tomorrow. I played here on the IGT race to Q-School and I really like the course. I finished four-under before, so I'm very excited for the rest of this event.
"I hit two snap hooks off the tee today, but besides that it was good. I didn't do anything badly; the putter was just working well. I changed putters two weeks ago and it's coming on nicely right now. I changed from the Old Odyssey to the Spider Tour. This is my first event and it's behaving so far. I hit 16 greens today, so if I can keep that up I'll do well."
The Pretoria native has been working on his game for much of the year, and his results have slowly begun to reflect his high work ethic.
"I've been improving all areas of my game this year, but it's a slow process," he said. "It showed in the IGT Race to Q-School series when I won one of the events. The game has been feeling pretty good. In nine events, I'm 42-under, so I'm happy with the progress."
Joubert admits that shooting 78 in the first round of the Sunshine Tour Qualifying School Final Stage got to him. "My game was there, and then I shot a first round 78 and missed by a few. That got me down a bit," he said.
Without full playing privileges on the Big Easy IGT Challenge Tour, the equation is simple for Joubert – win and all the doors begin to burst open.
"I don't have a Big Easy card yet, so I have to play a lot of IGTs to make the field. The goals are to win on the IGT, to play as many Big Easy IGT's as possible and finish in the top-six of the Big Easy IGT to guarantee my card for the next year.
"I've been unlucky at the last two Q-Schools at Randpark, but you learn from that. It's how you grow and improve. The Big Easy IGT gives us a great foundation. Its competitive golf with a lot of good golfers."
First Round Scores
All competitors RSA unless otherwise specified and amateurs indicated as AMA.
65 – Richard Joubert
66 – Erhard Lambrechts, Jason Smith
67 – Marthin Scheepers, Albert Venter, Hans-Jurie Human, Gideon van der Vyver
68 – Hennie O'Kennedy, Matthew Spacey, Yubin Jung, Cameron Moralee, Luan Boshoff, Jason Roets, Wayne Stroebel
69 – Hein Dreyer AMA, Dino Capazario AMA, Francois Blaauw AMA, John McClean (NIR)
70 – Coert Groenewald, Andrew Burmester, Jeff Inglis (ENG), Reinhardt Blaauw, Jaco van der Merwe, Maritz Wessels, Michael Kok, Michael Pfeifer, Marco de Beer, Jason Viljoen, Lwazi Gqira, Hendrikus Stoop, Jonathan George AMA, Andrew Williamson AMA
71 – Arno Pretorius, Theunis Bezuidenhout, Karl Ochse, Gareth Sargent, Christopher van der Merwe, Bradley Diggeden, Carlo Heunis, Michiel Bothma, Armand van Dyk AMA
72 – Ruan Botha, Jack Duthie, Phumlani Maluka, Clayton Mansfield, Andrew Carlsson, Jason Rossiter, Quintin Wilsnach, Brandon Gildenhuys AMA
73 – Thabiso Ngcobo, Jason Gilliver AMA, CJ Levey, Ricki Dembo, Neal Woernhard (SUI), Eric Nel, Gerhard Pepler, Neo Mokgatle
74 – Stephan Erasmus, Thabang Simon, Malcolm Mitchell, Hanlo Jacobs, Tumelo Molloyi, Reece Mc Kain AMA, Albert Visser, Keaton Slatter, Divan Marais, Paul Boshoff, Jonathan Waschefort, Alpheus Kelapile, Romano Saincic, Carlo O'Reilly, Evance Vukeya, Teddy Mathebula
75 – Mitchell Lightfoot, Leon Visser, Gary Daoust (BEL), Donovan Pearse, Henning du Plooy, David Toplis, Zabastian de Jager, Shalan Govender
76 – Christiaan Pretorius, Lincon Cele, Leon Vorster, Paul Rodrigues, Basil Wright, Ricardo Towell, Jabulane Mabilane, Tristan Eeles, Maverick Faber (FRA), James Kamte
77 – Fritz Orren
78 – Michael-James Steyn, Dean du Plessis, Christian Basson, Allister de Kock, Caylum Boon
79 – Mike Maile, Liam Labuschagne, Wynand Potgieter, Keegan Mclachlan AMA, Duan Nagel
80 – Nqobani Ndabambi (ZIM)
81 – Byron van der Merwe, Jan-Louis Nel AMA, Louis Botha
82 – Gavin Frazer
85 – Pequestro Dyssel
RTD – Kenneth Dube
DSQ – Terence Mogapi
Written and released by Lali Stander on behalf of the Big Easy IGT Challenge Tour.
Latest IGT Challenge Tour News