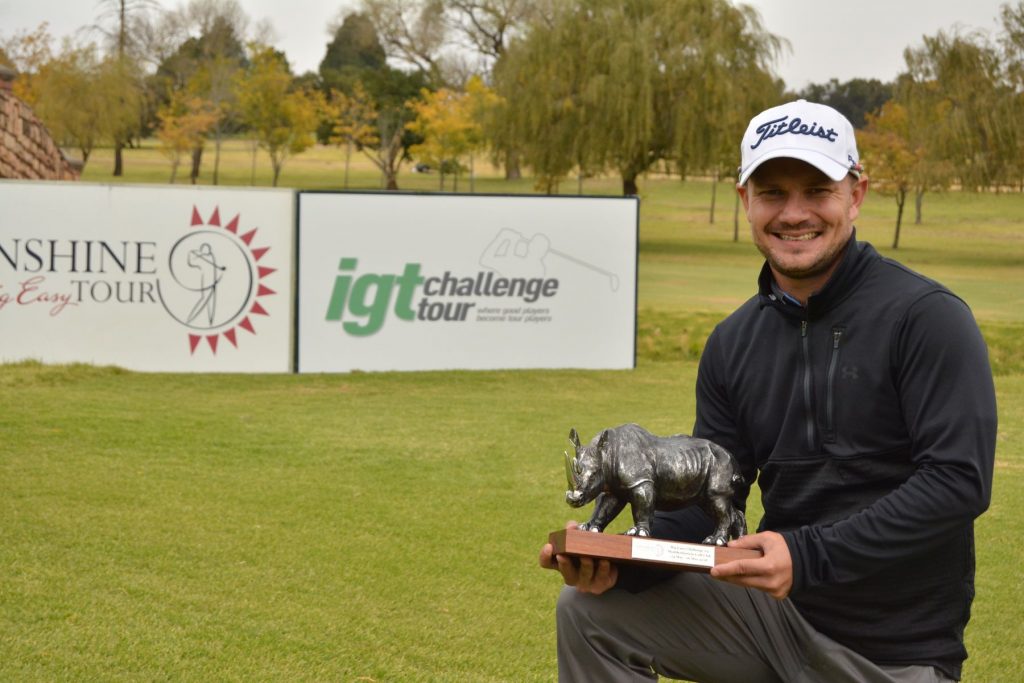 17th May 2018 | IGT Challenge Tour
Keun storms to Big Easy victory at Modderfontein
Keun storms to Big Easy victory at Modderfontein 
(PHOTO – Duane Keun; credit CJ du Plooy)
JOHANNESBURG, 16 May 2018 – Duane Keun fired a final round five-under 67 to claim a two-shot victory in the second event on the Big Easy IGT Challenge Tour at Modderfontein Golf Club on Wednesday.
Keun's eight under total following opening rounds of 73 and 68, helped him to the win ahead of Gary Player School member Allister de Kock, who carded the low round of the day with his seven-under 65 to finish on six-under for the week.
Overnight leader CJ du Plessis struggled down the stretch. The Limpopo golfer made a double bogey on his penultimate hole before a closing bogey, which had him settle for a share of third on five-under after he signed for a 73 alongside Peetie van der Merwe.
Another Gary Player School member, Teboho Sefatsa, was also in contention for the first 10 holes. The 2018 Vusi Ngubeni Q-School champion had moved to six-under, but a disappointing final eight holes played in two-over meant he signed for 72. He tied for fifth on four-under with Marthin Scheepers and Pieter Moolman.
The key to victory for Keun, who began the day three shots behind Du Plessis, was avoiding thoughts of the win and just focussing on the basics.
"I didn't think too much of the lead going into the final round behind today. If I think too much about it or push too much I lose momentum in my round," said Keun.
"All I did was, is keep the same approach as the first two days, I never started watching the scoreboard. If I played well, then I would be happy so I didn't look to far ahead or at CJ's score."
The victory at Modderfontein will aid Keun's confidence, as he hopped straight into his car for a four-hour drive to Royal Swazi Spa Country Club in Mbabane, Swaziland, where he hopes to pre-qualify for the Lombard Insurance Classic.
He tees off at 7.50am in the pre-qualifier on Thursday, ahead of the Sunshine Tour event starting on Friday.
"This win will definitely boost my career, it gives me a lot of confidence to play on the Sunshine Tour. It means a lot to play on the Big Easy, so winning here is a good step forward in the right direction.
"Winning here, it makes me feel like it's the same environment. It's just the guys on the Sunshine Tour that really intimidate you, but if you score the same and bring your game from the Big Easy to the Sunshine Tour you'll do really well."
Keun's final round featured seven birdies – four in the last six holes – and just two dropped shots in the round. A birdie on the par five first set the tone for his successful run to the title.
"It's always nice to start off with a birdie to move things forward. From there on I just tried to hit as many fairways as I could, and every green I could to give myself opportunities."
Though the birdies lit up his scorecard coming home, it was a crucial par-save on the par four 15th which held his round together amid the pressure.
"On 15 the wind was coming hard off the left, and pushing the ball towards the water. I actually hit a good tee shot there, but the wind really took my ball there. I thought my ball was in the water when I was walking down, but when I got there it was about a foot from the hazard. I managed par from there which was a great relief.
"The birdie on 16 was a nice little bonus, I ended up short of the green and played a perfect little bump and run to make the birdie."
His chances, however, took a blow on the par four 17th where a three-putt would have left Keun thinking he had thrown away his chance of victory.
"On 17 I thought I hit a great shot off the tee, when I got to my ball I was a bit blocked off by a tree. The wind wasn't helping so I had no shot at the flag, but I managed to put it on the centre of the green but I still had a long, long putt. I managed to get it to two-metres from there but didn't make the putt so I dropped a shot with the three-putt."
It also seems that Keun has a good team out on the course, as his girlfriend Kay-Lynn Coetzee helps keep her player grounded.
"I had my girlfriend on the bag so she helped a lot just with keeping me calm and telling me what to do."
Final Result
All competitors RSA unless otherwise specified; amateurs indicated as AMA
208 – Duane Keun 73 68 67
210 – Allister De Kock 73 72 65
211 – Peetie Van Der Merwe 72 71 68, CJ du Plessis 69 69 73
212 – Marthin Scheepers 72 70 70, Pieter Moolman 73 68 71, Teboho Sefatsa 75 65 72
214 – Juran Dreyer 76 68 70, Ruan Korb 77 66 71, Matthew Spacey 70 71 73
215 – Dwayne Basson 71 72 72, Stuart Smith (BOT) 75 68 72, Keelan Africa 73 71 71, Michael Pfeifer AMA (a) 72 74 69
216 – Dylan Mostert 73 70 73, Martin Rominger (SUI) 69 74 73, Thabang Simon 68 75 73
217 – Dongkwan Kim (KOR) 73 72 72, Conway Kunneke 75 67 75
218 – Jeff Inglis (ENG) 71 73 74, Jason Rossiter 72 72 74
219 – Jason Roets 72 72 75, Dylan Kok 69 75 75, Sean Bradley 72 70 77, Matt Bright 80 65 74, Heinrich Bruiners 74 71 74
220 – Andrew Burmester 76 67 77, Arno Pretorius 71 71 78
221 – Adriel Poonan 76 70 75
223 – Angus Ellis-Cole AMA (a) 69 74 80, Makhetha Mazibuko 77 68 78, Andi Dill 73 72 78, Sipho Bujela 74 72 77
225 – Tumelo Molloyi AMA (a) 76 70 79
226 – Nico Du Buisson 73 73 80
Written and released by Lali Stander on behalf of the IGT Challenge Tour.
Latest IGT Challenge Tour News