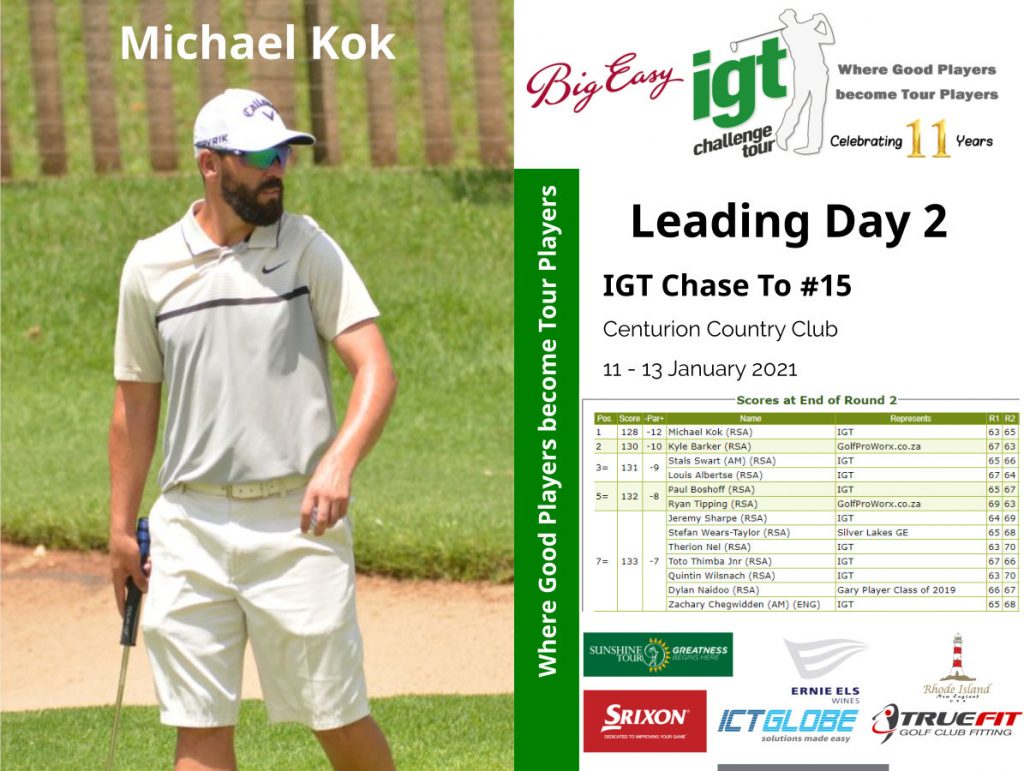 12th January 2021 | IGT Challenge Tour
Kok consolidates lead as Barker charges in Centurion
CENTURION, January 12 – Michael Kok produced another fine round of golf on Tuesday to sign for a five-under 65 which took his total to 12-under for the week to give him a two-shot lead over Kyle Barker ahead of the final round of the IGT Chase To #15 at Centurion Country Club.
Kok was among the leading three players at the start of moving day – others were Quintin Wilsnach and Therion Nel – but his two birdies in the first three holes gave him an edge over both Wisnach and Therion who were one-under-par and one-over-par, respectively, after the same number of holes. He faltered on the par-three seventh hole, dropping a shot there before recovering with a birdie on the next par-three, the eighth hole.
"Yesterday I started off very shaky," said Kok, lamenting the previous round's start. "I had a par and then a bogey but I was able to bring it back. Today was very solid. I enjoyed myself so much today on the course but I feel like I left a lot of putts out there but I am very happy with the way I finished."
It was a strong finish indeed for the Ebotse Golf Links player. Birdies on the 12, 15th (both par-fives) and the last hole sealed off a brilliant back nine to catapult Kok to the summit and two clear of Sunshine Tour campaigner, Barker.
"I've got some top dogs coming for me tomorrow," Kok joked, "I think I'm playing with Kyle Barker and there's Louis (Albertse) in there, and Paul (Boshoff), and they will be hunting me down. It's definitely going to be a strong and competitive round but I'm looking forward to it."
Kok has every right to be cautious of the chasing lot, and particularly Barker who is no stranger to winning on this circuit, and whose seven-under 63 pushed him up to second on the leaderboard. A birdie-bogey start would have disheartened an ill-disciplined golfer but having had his fair share of tough experiences on the course on the Sunshine Tour and the IGT Tour, Barker hung on as a true professional should. Seven straight pars followed before the turn and then Barker let loose.
A birdie on 10 was followed by an eagle on 12 and then back-to-back birdies on the 14th and 15th holes before closing off with another eagle, this time on the par-four 18th. At 10-under for the week and two off the pace, the man from Randpark Golf Club will relish the possibility of unseating Kok at the top.
Lurking dangerously and within three shots of Kok's lead, five-time champion on the IGT Tour, Louis Albertse and amateur Stals Swart will also fancy their chances at the title, and the former will want to use all his experience to achieve this.
Quietly playing himself into contention on moving day was veteran Ryan Tipping whose round-two 63 gave him a tournament total of eight-under-par. He ties fifth with Boshoff.
Latest IGT Challenge Tour News