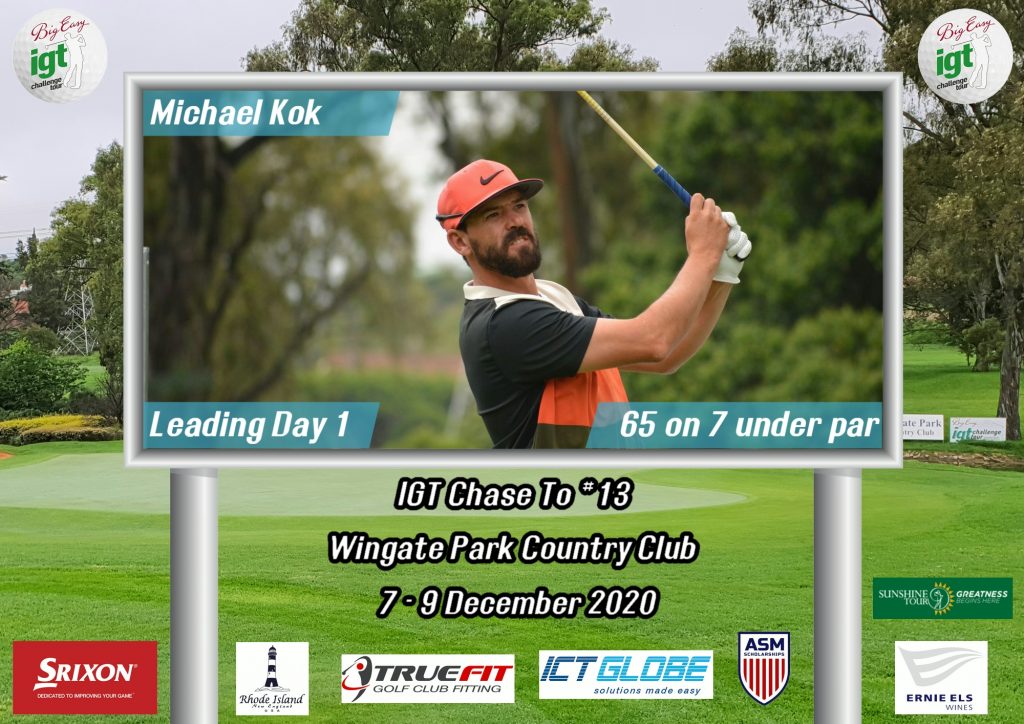 7th December 2020 | IGT Challenge Tour
Kok grabs two-stroke lead at Wingate
PRETORIA, December 7 – Michael Kok signed for an eventful round of 65 on day one of the Big Easy IGT Chase To #13 at Wingate Park Golf Club for a two-stroke lead over Sunshine Tour campaigners Peetie van der Merwe and Louis Albertse.
"The golf course is unbelievable," said Kok, "everything just came together today and I felt really good out there."
A dream start to the round was characterised by an early eagle on the second hole before Kok supplemented that with a birdie on the next hole to go to three-under in the first three holes. He played solid golf to avoid any big numbers creeping onto his card and was eventually rewarded with gains on the par-four seventh. He was four-under and bogey-free at the turn before dropping his first shot of the day, on the 10th.
He overcame that heartbreak effortlessly, with birdies on the 12th and the par-five 13th but another unwanted bogey got onto his card on the par-three 14th.
"I under-clubbed on the par-three and just short-sighted myself," he said of the drop.
Kok didn't let that drop get in his head, however, and the birdie on 15 got him going again. He parred the 16th, a little par-three, before closing off with a brace of birdies to sign for a strong 65 in round one.
After a fine morning of golf which yielded a 67, Van der Merwe was leading for a while in the clubhouse before being joined by Albertse on that score. A shot further from the second spot they share lies Ricky Hendler, Herman Loubser, Vaughn Van Deventer, veteran campaigner Allister De Kok and amateur, Sam McKenzie at four-under.
"I know these oaks are going to be hunting me down like a dog," Kok said of what he expects in the second round, "the talent is really strong out here. But I work my socks off to put myself in these positions so my main focus is to stay patient and consistent."
He will need to be very consistent because amateur John-Willam Blomerus pieced together a three-under 69 round which sees him in a share of ninth with Tumelo Molloyi. They are only four shots off the pace but as solid a lead as that sounds, it's been overturned many times in the history of golf and complacency in Pretoria this week might hurt an unsuspecting golfer.
Latest IGT Challenge Tour News