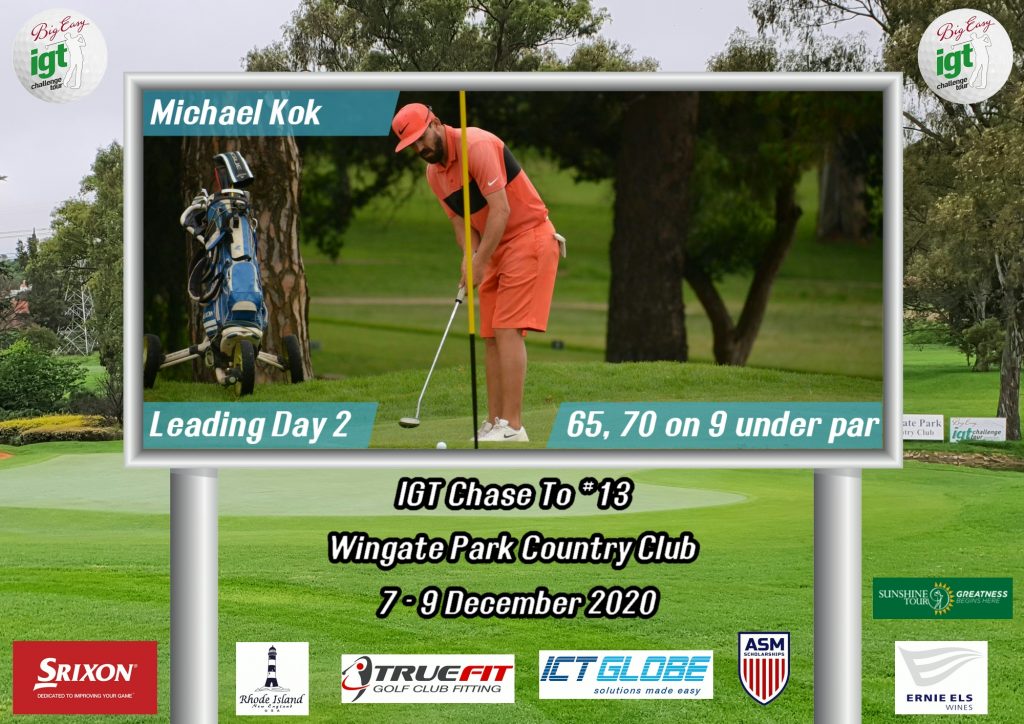 8th December 2020 | IGT Challenge Tour
Kok maintains lead as he eyes victory in Pretoria
PRETORIA, December 8 – Michael Kok says thinking about how many times he's been in contention and not getting the job this season might have had a lot to do with his colourful round-two scorecard in the IGT Tour Chase to #13 where he shot a 70 on Tuesday.
That score, added to his opening round of 65, catapulted him to the top, two shots clear of Vaughn Van Deventer, Peetie van der Merwe and veteran Ryan Tipping at nine-under with one round to go.
"I think I started to think a lot out there, especially about how many times I have been in contention," he said of his shaky start which was marked by back-to-back bogeys after the birdie he made on the first hole. "I pulled myself together and bounced back with a couple of birdies after my dropped shots. I have been in contention a lot, lately, and I think that played on my brain a little bit."
Kok made up for those dropped shots with birdies on the sixth and eighth holes to turn in 34. He kept that momentum going, birdieing the 11th and 13th holes in rapid succession, and kept things solid with pars on 14 and 15.
Another lapse in concentration, however, cost the Ebotse Links player a shot as he dropped on the par-three 16th, and as if that was not a nervous moment for Kok who faced a stiff challenge from the rest of the field, he failed to birdie 17 too. But, again, and as he has proven this week, Kok shrugged that dropped shot with a closing birdie on 18 for a two-under 70 on day two.
"This morning the conditions were calm," he said after his round, "but as the round progressed, we felt the wind coming through but it was a good day all round. Good track and a real mental test."
Kok has done well to consolidate and maintain his two-stroke lead but he will not rest on his laurels going into the final round. A strong field is chasing and of the three players sharing the second spot, both Tipping and Van Deventer have tasted victory this season, and they will feel they are within range to unseat Kok on Wednesday.
"The game plan for tomorrow is simple; have fun." he said, "Some big-name players are chasing behind me but what matters is to have fun. I have to make sure I get the pars going and take full advantage of any birdie opportunities out tomorrow. But I am excited to be in the final group, very excited."
Latest IGT Challenge Tour News