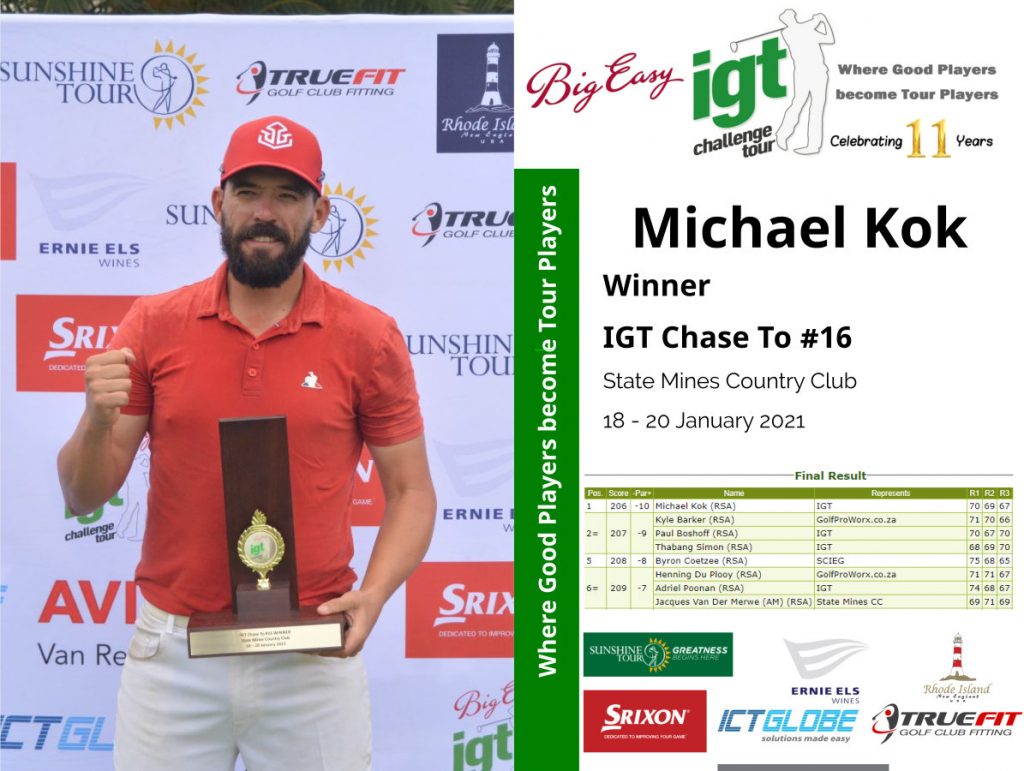 20th January 2021 | IGT Challenge Tour
Kok returns to winning ways with State Mines victory
BRAKPAN, January 20 – Michael Kok masterminded a brilliant final round of five-under-par 67 in the IGT Chase To #16 at State Mines Country Club to claim an emotional come-from-behind victory on Wednesday.
A tournament total of 10-under-par 206 earned Kok his long-awaited second title since his 2019 breakthrough win. In a season when the Ebotse Golf Links player has been in scintillating form – notching up three runner-up finishes and a top-five in his last five events – Kok has not gone without disappointment.
"It's very tough to win in this game," Kok remarked. "These guys play unbelievable golf and the rough was up this week. I'm really grateful for this win because I was starting to doubt myself, to be honest. All the disappointment, I didn't think I could win again, you know. But I'm glad I kept working hard and kept things together."
Kok came into the week in Brakpan at the back of a playoff defeat at the hands of Kyle Barker last week and wasn't at his highest point in terms of confidence. With no lofty expectations this week, Kok got to work. He raced through the front nine spectacularly, birdieing every other hole on that stretch to turn in 31 and bogey-free.
"After yesterday's round, I knew that if I just made some putts, I could build some confidence and get in contention," Kok said about his mindset coming into the final round. "Then I got off to a flyer this morning."
Kok's momentum, built on the homeward stretch, was halted by the drops he made on 11 and 13, but those were soon forgotten as birdies on the 15th and 16th holes followed.
"I played well today and I was five deep on the front nine," he noted, "but I fell asleep and made bogeys out of nowhere at the back. But I've been playing this course with Casey Jarvis after the lockdown and it's unbelievable how he just pushed me. His ability and just how he plays this course just pushed me and that helped me today."
Kyle Barker – who was responsible for Kok's heartbreak in Centurion last week – tastes defeat this week as he, Paul Boshoff and veteran Thabang Simon finished in a three-way share of the second spot at nine-under-par.
Kok now moves to second on the Chase To Sunshine Tour standings.
Latest IGT Challenge Tour News