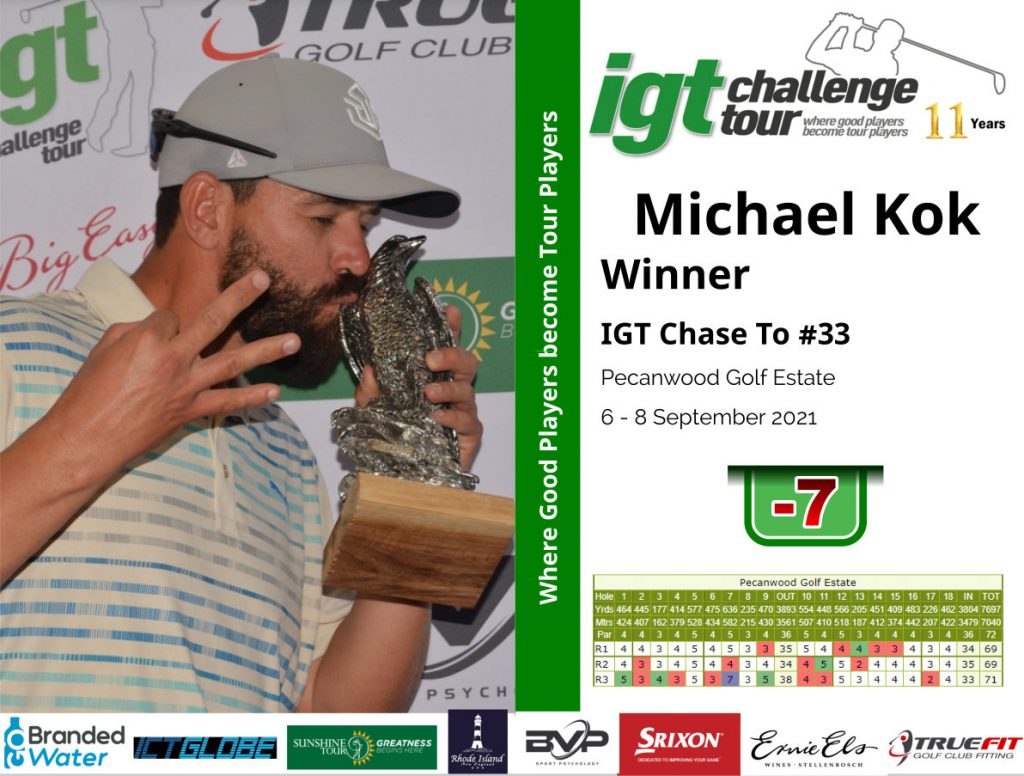 23rd September 2021 | IGT Challenge Tour
Kok wins 3rd title with play-off win at Pecanwood
Michael Kok won his third Big Easy IGT Challenge Tour title on Wednesday on the first extra hole in a sudden-death play-off after he and Herman Loubser were all tied up at seven-under-par in regulation play in the Chase to the Sunshine Tour #33 at Pecanwood Golf Estate.
Kok birdied the 17th to draw level with Loubser who had led throughout, after both players had struggled on the front nine, and then, after each made par on the closing hole, they went off down number 18 one more time. This time, Kok made birdie to Loubser's par, and that gave him the win after a long period where his hot early season form seemed to have deserted him.
"Actually, 17 was the turning point for me today," said Kok. "It's a long par-three, about 210 metres, and I saw Herman get it wrong off the tee with a four-iron. So I took a gamble, and hit a two-iron in, trying to use a big cut. And it came off perfectly, with my ball ending up five feet from the pin for me to make birdie and tie things up."
The opening nine gave both players headaches as they pushed each other for the win: Kok made a double-bogey seven on the seventh and bogeys on one, three and nine. Loubser made two doubles, on the par-four sixth and the par-three eighth, as well as a bogey on the first. But Kok made three birdies to Loubser's two, and that gave him the impetus to push for victory down the back nine.
They exchanged birdies on the 10th, and then Kok drew level for the lead with a birdie on 11. It was par for par after that until Loubser hit the front again with a birdie on the par-four 15th. Then came the fateful 17th.
"The course really seemed to be playing difficult today," said Kok. "I couldn't tell you what it was, but thank goodness I was putting well, especially on that back nine."
His was one of only three scores under par in the final round, his one-under 71 one more than the two-under 70 from Ryan Tipping which gave him fourth place on four-under for the tournament. That was one behind Kyle McClatchie in third, who matched Kok's one-under 71 in the closing round.
Kok last won in January, and since then has missed nine cuts. But the win this week has him at the top of the table in the Chase to the Sunshine Tour, and well on his way to earning his Sunshine Tour card.
Latest IGT Challenge Tour News