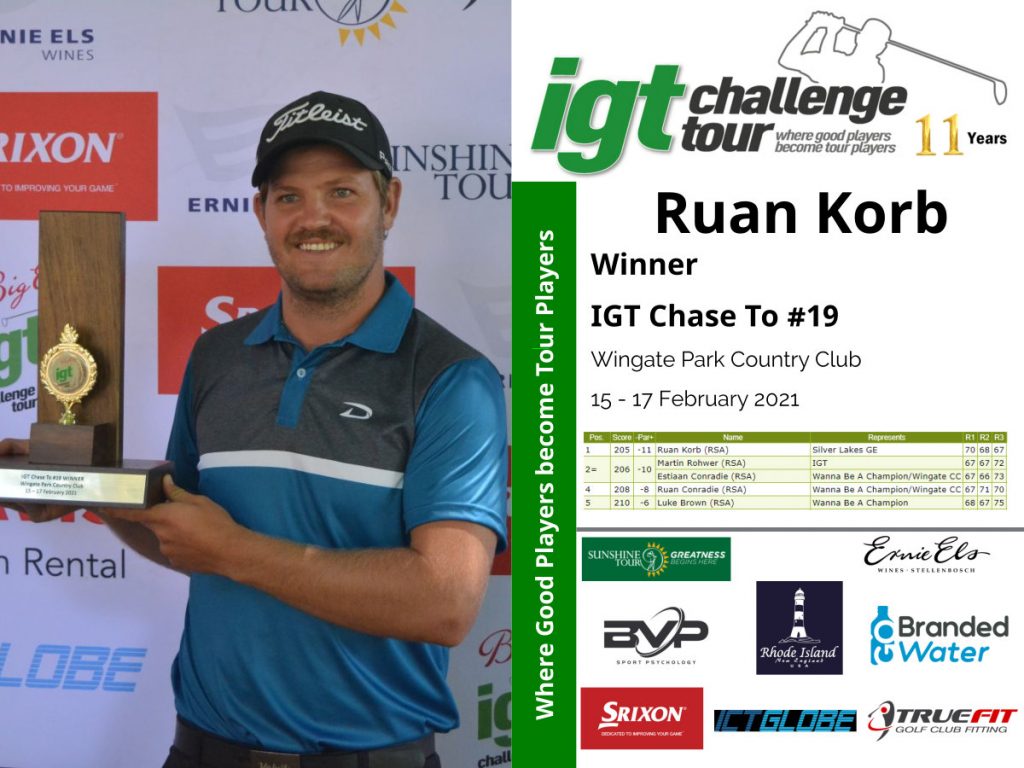 17th February 2021 | IGT Challenge Tour
Korb saves best for last as he dazzles to Wingate victory
PRETORIA, February 17 – It was a classic case of saving the best for last for Ruan Korb as his bogey-free final round of 67 in the IGT Tour Chase To #19 Wingate proved to be the best round of the day while also earning him a come-from-behind one-shot victory on Monday.
The Wingate Park track is by no means a walkover of a golf course and with constantly gusting winds causing uncertainty and influencing many to alter their game plans for the most parts of the first 36 holes of this event, the final round was always going to be a tough contest.
The Conradie brothers – Ruan and Estiaan – along with Martin Rohwer had taken charge of proceeding after they all carded 67s on day one. By the end of round two, it was the younger Conradie – Estiaan – leading the way after a dominant 66 score to take his tournament total to -11, with Rohwer lurking ever so dangerously at -10 while Ruan had slipped down the leaderboard.
A slow start on Monday saw Korb sign for a 70 but he recovered well on day two to sign for a 68 to lie five shots adrift and in a share of fifth at six-under-par.
"I got new clubs and the first two rounds were my first competitive rounds with the clubs," reveals Korb, accounting for his work this week. "I didn't have any high expectations this week but I knew coming in that my game was sharp.
"I know the Conradies well and I thought Estiaan was going to run away with it because he knows this place so well and you could see in the first 36 holes. Maybe it was not his day but I am happy I pulled it off.
"Korb was three-under and bogey-free through the front nine while Estiaan Conradie and Rohwer were even-par. Rohwer dropped on the seventh hole to cancel out the birdie he'd made on the sixth hole, while Estiaan made a double on the second to surrender the two birdies he'd made on the front.
Rohwer struggled to piece together a low score on Wednesday and finished on a tournament total of 10-under, a shot back of Korb. A tough day for Conradie yielded a one-over-par round for a share of second with Rohwer.
While he doesn't like chasing, and didn't have huge expectations of himself, perhaps it was a good thing that Korb got off to a slow start this week. The old wisdom which states that it's not how you start but how you finish that matters the most, seems to have been proven true. Now he walks home a champion for the second time this season after claiming the Time Square Championship on the Sunshine Tour last year.
"I don't like chasing," he joked, "but when the opportunity is there, you have to take it. This win means a lot to me because it's my second win in two different circuits this season, so it's special.
"Ruan Conradie finished fourth at eight-under, Luke Brown finished fifth at six-under-par while Heinrich Bruiners, Andrew Van Der Knaap and Ryan Tipping placed in a share of sixth at five-under-par this week.
Latest IGT Challenge Tour News