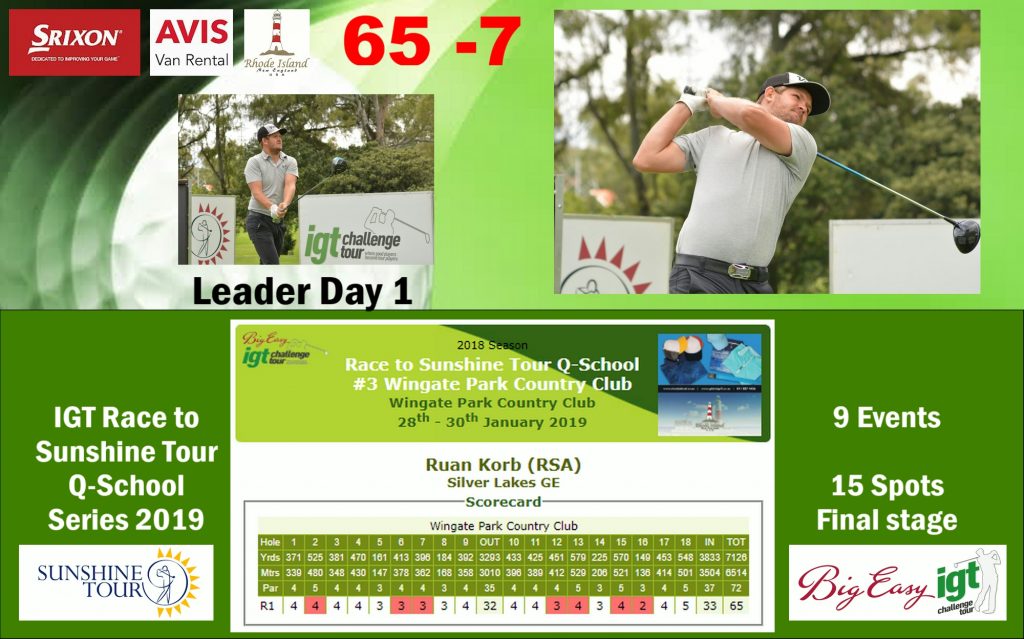 28th January 2019 | IGT Challenge Tour
Korb, Van Wyk set blistering pace at Wingate Park
Korb, Van Wyk set blistering pace at Wingate Park
PRETORIA, 28 January 2019 – Ruan Korb from Silver Lakes fired a bogey-free opening round of 65 to take a one shot lead on the third Race to Q-School on the IGT Challenge Tour on Monday.
The Big Easy IGT Challenge Tour graduate made the most of the sunny conditions at Wingate Park Country Club to better the earlier 66 by Ruimsig amateur Keelan van Wyk with seven birdies.
Korb turned three-under after gains at the second, sixth and seventh holes.
"I holed a two-footer at 12 for birdie and birdied the par five (13) after a poor drive left," said the 25-year-old. "I chipped out with a 9-iron to 10 foot and boxed the putt. I hit a good drive and a solid 5-iron in at 15 and just missed the eagle change.
"I tapped in for birdie to tie Keelan on six-under for the lead. At the next hole, I hit a gap-wedge to 15 foot and rolled in the putt. It was a solid ball-striking round and I putted really well. I was happy to hand in a clean card. That always sets you up nicely for the next round."
Korb cut his teeth on the IGT Challenge Tour.
Having earned a card on the Sunshine Tour with a top 10 finish in the final Road to Sunshine Tour Order of Merit on the Big Easy IGT Challenge Tour last December, he is keeping tournament fit on the country's premier golf development circuit until the start of the 2019/2020 season.
"Hopefully I can go one better this week here at Wingate Park than the runner-up finish on the IGT Challenge Tour last May," he said.
"My biggest goal until I start the Sunshine Tour is put myself in contention every week and produce sub-par rounds under pressure. Everyone knows it is one long qualifying battle in the first season for the rookies, so it will be to my advantage if I can start the season fit and ready to fight."
Twenty-year-old Van Wyk turned four-under and birdies at seven and eight for a 66.
"I was really hitting the ball well, especially on the front nine and I didn't miss a fairway, but I had to scramble a bit on my back nine," Van Wyk said. "It was a much more consistent performance off the tee and I putted really well.
"I made birdies at 13, 15, 16 and 18 and started my back nine with six straight pars. At seven, I hit a bad tee shot into the trees up the left-hand side of the fairway. I had no shot, so I punched out to the front of the green and holed the chip. At eighth, I hit a controlled 8-iron from 156 metres into the wind to 20 foot and boxed the putt for birdie."
The Ruimsig golfer is a final year B.Com Business Administration student at Regenesys Business School and has to put in lots of hours behind the books, but with the African Swing teeing off in two-weeks, he is also trying to get his game in the best shape possible.
"We kick off with the African Amateur at Leopard Creek in two weeks and then I'm also playing the Sanlam SA Amateur at King David Mowbray," said the former Ernie Els and Fancourt Foundation member.
"You want to tee it up in the premier events in the best form possible because those tournaments carry a lot of world ranking points. Needless to say, I'm really pleased with a flawless start and hopefully I can build on that over the next two rounds."
Andrew Carlsson and Ivan Mare carded rounds of 67 to stay in touch, with Michael-James Steyn, Richard Joubert and amateur trio Christian Basson, Darin de Smidt  and Malcolm Mitchell a further stroke back.
First Round Scores
All competitors RSA unless otherwise specified; amateurs indicated as AMA
65 – Ruan Korb
66 – Keelan van Wyk AMA
67 – Andrew Carlsson, Ivan Mare AMA
68 – Michael-James Steyn, Christian Basson AMA, Darin de Smidt AMA, Malcolm Mitchell AMA, Richard Joubert
69 – Gerhard Pepler AMA, Jason Diab, WM Coetzee AMA, Paul Rodrigues AMA, Ruan Groenewald
70 – Bradley Diggeden AMA, Luke Brown, Jonathan Waschefort, Peetie van der Merwe
71 – Leon Vorster, Donovan Liddicoat AMA, Kyle Barker
72 – Leon Visser, Zander Gous AMA, Blain Sansom, Emilio Pera AMA, Riaan Swart AMA, Jay Fourie
73 – Hayden Griffiths, Reinhardt Blaauw AMA, Luke Mayo AMA, Ricardo Towell, Michael Saunders (ENG), Lance Ellerbeck AMA, Dawid Opperman AMA, Marco de Beer, Jaco van der Merwe AMA, Clayton Mansfield AMA, Carlo Heunis AMA, Duan Nagel AMA, Nicholas Souranis AMA
74 – Hendrikus Stoop, Albert Venter, Gareth Sargent AMA, Gary Daoust (BEL), Stephan Erasmus, Keanu Pestana AMA
75 – Neal Woernhard (SUI), Maritz Wessels, James Mack (ENG), Herman Anderson AMA, David Rebelo, Christopher van der Merwe AMA, Albert Visser, Thabiso Ngcobo, Tumelo Molloyi, Alwyn Smith
76 – Nico du Buisson, Deon Bredenkamp, Paulo Serrao (POR), Ray Janse van Rensburg AMA, Mitchell Lightfoot, Cody White (CAN), Lincon Cele, Alex Pienaar AMA, Hermanus Prinsloo AMA, Louis Calitz, Andi Dill
77 – Nqobani Ndabambi (ZIM), Christoff Enslin AMA, Henning du Plooy AMA, Warric Dyers, Angus Ellis-Cole AMA, Adam Baker, Elmo Barnard AMA, Zabastian de Jager
78 – Eric Nel, Juran Dreyer, Luke Kelly, Tristan Topka AMA, Divan de Villiers, Jack Duthie, Xander Prinsloo AMA
79 – Dean du Plessis AMA, Jancarel Rossouw AMA, Neal Herman, Hanlo Jacobs
80 – Kyle Murphy AMA, Tyron Taylor AMA
81 – Francois Nel AMA, Andrew Plint AMA, Divan Marais, Richard Spagnolo AMA, Stef Visage
82 – Aaron Lugtenburg, Ka Lok Ho (CHN), Willie Nel AMA
84 – Neo Mokgatle AMA, Andrej Skrbinsek AMA, Byron Fichardt AMA
88 – Hanro Booysen
89 – Chris Marrs
91 – Dwayne Mitchell AMA
PHOTOS – Ruan Korb and Keelan van Wyk; credit CJ du Plooy.
Written and released by Lali Stander on behalf of the IGT Challenge Tour.
Latest IGT Challenge Tour News