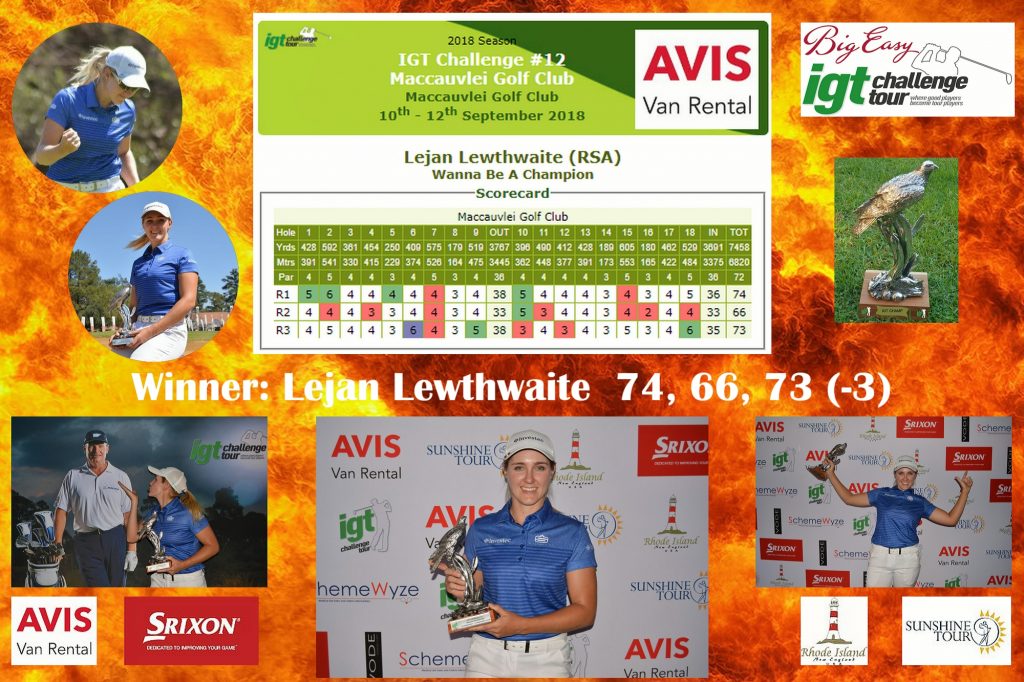 12th September 2018 | IGT Challenge Tour
Lewthwaite makes history on IGT Challenge Tour
Lewthwaite makes history on IGT Challenge Tour
(PHOTO – Lejan Lewthwaite; credit CJ du Plooy)
VEREENIGING, 12 September 2018 – Women golfers have played the top men's pro circuits around the world since Babe Zaharias' debut on the PGA Tour in 1938. Dame Laura Davies did it. Annika Sorenstam did it. Michelle Wie and Brittany Lincicome did it. Even SA Women's Open champion Ashleigh Buhai played in a Tour Championship on the Sunshine Tour.
But no woman ever beat the men at their own game until Lejan Lewthwaite from Benoni wrote her name in the South African golfing annals with a maiden win on the IGT Challenge Tour on Wednesday.
The Benoni golfer broke ground for local sportswomen when she won the IGT Challenge #12 in a play-off at Maccauvlei Golf Club and became the first female champion of South Africa's premier golf development circuit.
"I lost out twice in 2016, but this time, I believed I could win," said the 27-year-old from Farramere. "It was really close, but I never doubted myself.
"It great to be the first woman champion and to finally have a win under my belt. More than anything, I conquered my demons. I always threw it away because I got to quick down the stretch. When we went into a sudden-death play-off, I calmed myself down. Doing that kept me focussed, gave me the win. That, and some damn good golf."
Lewthwaite shared the overnight lead with local favourite Garth Wolter on four-under.
"I knew it would be a battle," Lewthwaite said. "Garth came into this week on the back of his maiden win in the IGT Challenge Tour #11 at State Mines last week. And it's his home course."
Ironically, Wolter faltered first, splitting bogeys at the first and third with a birdie at the second, but Lewthwaite ran into her own share of trouble with a double bogey at six.
She birdied seven but another drop at nine saw Wolter lead by one shot through the turn.
"I got a bit too aggressive with my tee shot at six and I finished under the trees," said Lewthwaite. "I hit my second into the trap, teethed it out and three-putted. At nine, I hit a good tee shot and had 179 metres flag, the perfect distance for a 4-hybrid.
"It pitched on the front, caught a big bounce ran right through to the back of the green. I pushed a tricky downhill putt eight feet past, misread the line on the return and three-putted for bogey."
Both players birdied 10, but Lewthwaite drew level with a birdie at 12 and moved two clear on four-under when Wolter had successive bogeys at 12 and 15. The Maccauvlei gained a shot with a birdie at 16 and a Lewthwaite bogey at the final hole sent the tournament into overtime.
The duo tied on three-under 213 in regulation play with rounds of 73.
"I played 18 the same way I did the first two rounds…driver off the tee, 3-wood into the green, but I caught my second fat, and found the front bunker," said Lewthwaite.
"I could feel the sand was really hard under foot. I committed to the shot, but it went straight over the pin. I lagged it to nine foot, but my par putt just skimmed the hole."
Lewthwaite produced a grand stand finish in the play-off, though.
"I shut everything out and just focussed on my processes," she said. "We both hit solid drives. His second flew the green and I hit my approach with a low trajectory. It landed eight metres into the green and rolled up to 15 feet. He chipped it close, but I looked at the dot on my ball, put a good stroke on the putt and nailed it. I knew as soon as I hit it that it was good.
"I'm so happy with this result. I'm going to the Ladies European Tour Q-School in December and I've done a lot of work on my short game with Robbie Stewart. I've only been working with Mark Fairbank, a sport psychologist with The Golf School of Excellence, for a short while, but his advice has been solid.
"This win is proof positive that I'm doing the right things. I hope this will inspire amateurs and young pros to follow my lead and to use the IGT Challenge Tour to gain experience before they head to Europe or the USA."
Final Result
All competitors RSA unless otherwise specified; amateurs indicated as AMA
213 – Lejan Lewthwaite 74 66 73
213 – Garth Wolter 73 67 73
217 – Ruhan van Dijk 78 70 69, Leon Vorster 73 74 70, Jaco van der Merwe AMA 73 73 71, Jonathan Waschefort 75 71 71, Almero Theron 71 72 74
218 – Jack Duthie 75 69 74
220 – Shaun van Tonder 73 73 74, Jason Diab 72 69 79
221 – Tristen Strydom 73 74 74
222 – Marco de Beer 74 75 73, Warric Dyers 72 76 74, Ruan Groenewald 75 69 78
223 – Blain Sansom 78 72 73, Luke Mayo AMA 75 73 75, Juran Dreyer 76 77 70, Stephan Erasmus 81 74 68
224 – Keaton Slatter 71 78 75, Tumelo Molloyi 73 80 71, Tristan Topka AMA 72 82 70
226 – Romano Saincic 80 72 74, Matthew Hands AMA 75 73 78
227 – Byron Sampson AMA 72 78 77, Mitchell Lightfoot 75 76 76, John McClean (NIR) 74 77 76
228 – Hanish Nagrani (ZIM) 78 73 77, Lincon Cele 78 73 77, Nqobani Ndabambi (ZIM) 70 77 81
229 – Aneurin Gounden AMA 73 76 80, Quintin Crause 74 79 76, Divan Marais 82 73 74, Jonathan George AMA 76 79 74
230 – Letsoso Letsai AMA 78 73 79
231 – Jihwan Yeom AMA 77 75 79, Ricardo Towell 76 78 77
232 – Patric Dowling AMA 76 77 79, Divan de Villiers 78 77 77, Patrick Thompson 79 76 77
233 – Karl Lehmacher 78 75 80, Lloyd Herbst AMA 74 80 79
235 – Stephan du Toit 76 77 82
Ends
Written and released by Lali Stander on behalf of the IGT Challenge Tour.
Latest IGT Challenge Tour News