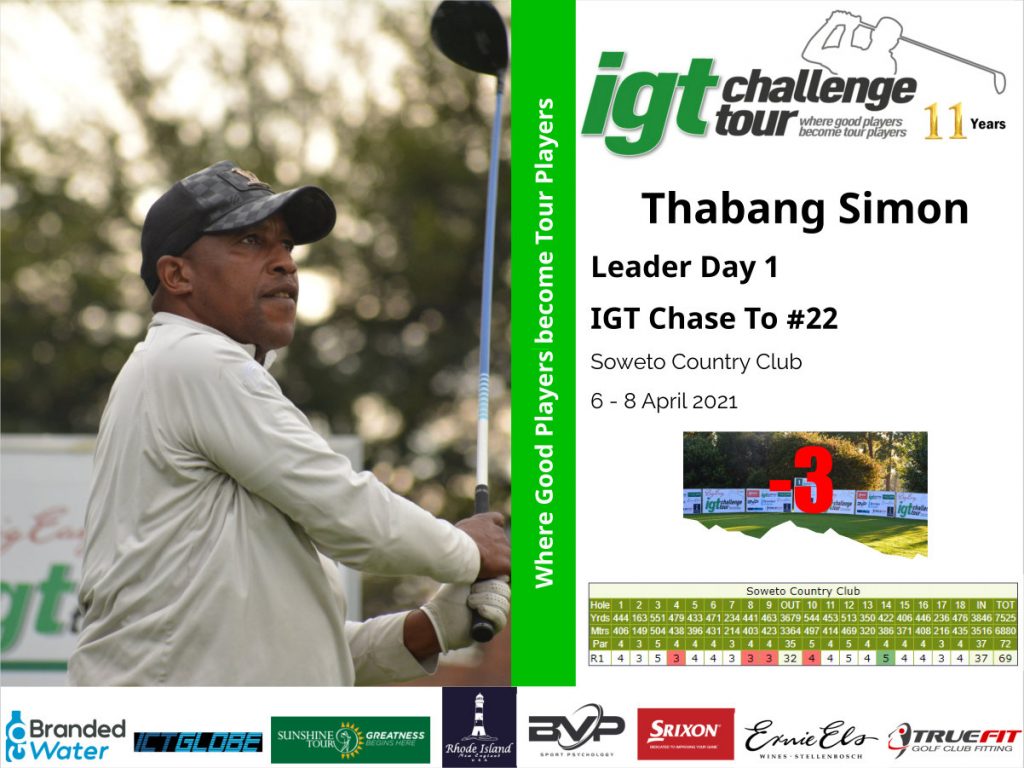 7th April 2021 | IGT Challenge Tour
Local man Simon warns of Soweto CC bite as round two gets underway
SOWETO, April 6 – His three-under-69 opening round of the Big Easy IGT Tour Chase To #22 at his weather-stricken home course in Soweto was enough to hand Thabang Simon a slender lead over Franklin Manchest but the veteran campaigner has warned unsuspecting golfers of the dangers of this layout as round two begins on Wednesday.
"I play here every day; Monday to Sunday, no weekends spared," he said on Wednesday as he sat in the clubhouse waiting for the rest of the field to wrap up the first round. "This course is not easy, hey. People might think it's easy because it looks so good on the eye but from the back nine, it's more challenging. It's longer on the back nine so it requires a little bit more out of you."
Simon showed great knowledge of this Gary Player-designed layout Tuesday before the round was called a halt due to the bad weather that had affected the area. His front nine was bogey-free and while he managed to make a birdie on that stretch, but surrendered those gains on 14.
"That bogey on 14, I just hit a bad tee shot there," he said. "I've been playing well here and I think my worst round here in the last couple of months is a 73. I know if my putter gets right before round two, I can shoot a low one here. I missed opportunities on the par-fives yesterday but I know the course well and I will try to manage myself.
"But I don't want to think about previous rounds because today is a new day. I want to forget about yesterday and treat this as a new round and try to enjoy myself because golf is meant to be enjoyed. So, we will see what happens."
Weather conditions aside, amongst other indicators that this layout is championship-worthy as it is as challenging as it is fun, is the fact that of the top 10 players and ties after round one, only three players went under par –Simon (69), Manchest(70) and Irvin Mazibuko(71).
Ryan Tipping, Makhetha Mazibuko, Calvin Maia, Jason Froneman and Tumelo Molloyi share the fourth spot after they all signed for an even-par opening round. Musiwalo Nethunzwi who has won here before when the Sunshine Tour-sanctioned Vusi Ngubeni Stroke Play Tournament came here, is over-par and in a six-way share of the ninth spot on the leaderboard.
Latest IGT Challenge Tour News