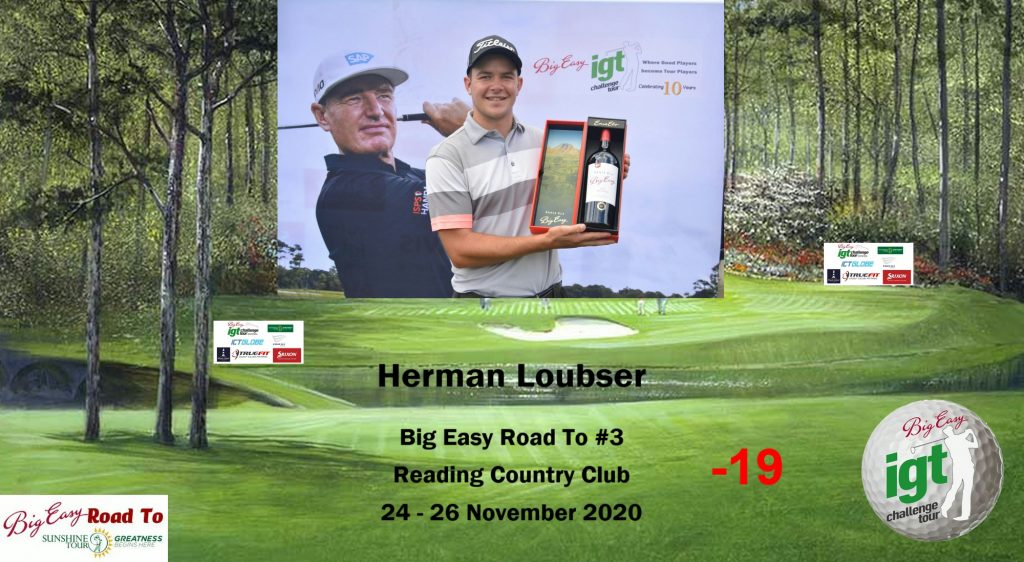 26th November 2020 | IGT Challenge Tour
Loubser goes wire-to-wire for his maiden win
ALBERTON, November 25 – Herman Loubser says he was never too worried about his score in the final round of the Big Easy Tour Road To #3 at Reading Country Club, after his round-three score of 66 marked his third straight round in the 60s, to claim a four-stroke victory, at 19-under-par 194, over Keagan Thomas on Thursday.
Having led from day one after a brilliant nine-under 62, Loubser produced a fine round of golf on day two to sign for a five-under 66, a score he replicated in the final round en route to his first win as a professional.
"I just focused on making good swings," Loubser revealed. "This was one of those where I wasn't too worried about the scores. I just went out there and tried to continue making birdies, which I did nicely on the front nine. My playing partners made it tough for me because even though I was playing well, my lead was getting smaller and smaller. It was a bit scrappy on the back nine but luckily, a good couple of up-and-downs saved me."
Loubser birdied the third and fourth holes before making another birdie on the par-fice eighth in what was a strong front nine. Coming home, Loubser made two more birdies –on 13 and 14 – to seal a bogey-free 66 to hand him his long-awaited victory.
"First win as a pro and it feels great," he said, " it's been a long time, so it's nice to have this feeling back. In the context of my career, hopefully, it's just onwards and upwards from here. To finish 19-under-par is a lot better than I thought I would do coming into this week."
Loubser joins a long list of first-time winners this season including Franklin Manchest to whom he lost in a playoff a couple of weeks ago, Ian Snyman, Ryan Van Velzen and Vaughn Van Deventer to mention a few.
Latest IGT Challenge Tour News