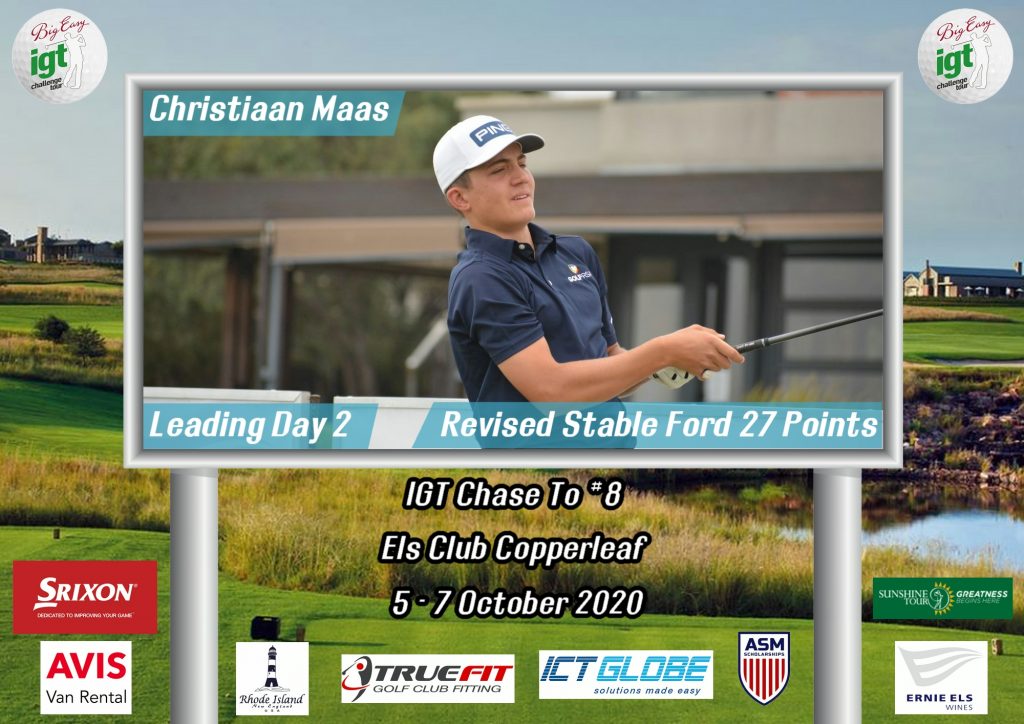 6th October 2020 | IGT Challenge Tour
Maas holds onto lead in Stableford tournament
CENTURION, October 6 – Amateur Christiaan Mass fired his second-successive five-under-par 67 on Tuesday as he moved into a strong five-point lead after the second round of the IGT Tour's Chase #8 Revised Stableford at the Els Club Copperleaf.
Players have swapped the usual stroke-play with a revised Stableford format which awards points for under-par scores and deducts points for over-par scores. Under this format, which promotes attacking golf, a birdie earns you two points, an eagle earns five and an albatross is an eight-pointer. A par earns you a zero. On the other hand, a bogey means minus one point and a double-bogey will be a minus three.
Maas made an eagle, five birdies and two bogeys to rack up 13 points. Together with the 14 he made in the first round, his 27 put him five clear of Kyle McClatchie, who made just one bogey on his way to a 67 of his own.
"I like this format because lately I've been making a lot of birdies which is ideal," said Maas. "It's fun to play, especially as I've hit the ball really well and my driver was going very straight but my putting wasn't the best."
Round of the day belonged to Louis Albertse, who made nine birdies and just one bogey on his way to a superb 64. That gave him 17 points, moving him to 20 for the tournament and into third spot, poised to try and strike in the final round.
Maas will try and keep doing what he has been doing in an attempt to keep his grip on the lead. "I'll just play the course like I play it normally and stick to what I have been doing and stay aggressive," he said. "My driving and my irons were solid the past two rounds, and, if I can make some putts, it should go well."
27 – Christiaan Maas (AM) (RSA) 14 13
22 – Kyle McClatchie (RSA) 11 11
20 – Louis Albertse (RSA) 3 17
19 – Adriel Poonan (RSA) 7 12, Matt Saulez (RSA) 11 8, Kyle Barker (RSA) 10 9
18 – Toto Thimba Jnr (RSA) 14 4
17 – Thanda Mavundla (RSA) 3 14
16 – Casey Jarvis (AM) (RSA) 10 6, Therion Nel (RSA) 3 13, Werner Deyzel (AM) (RSA) 9 7
13 – DK Kim (KOR) 6 7, Warwick Purchase (AM) (RSA) 8 5, JP Du Rand (RSA) 6 7
12 – Breyten Meyer (RSA) 1 11, Herman Loubser (RSA) 7 5
11 – Callum Mowat (RSA) 4 7, Stals Swart (AM) (RSA) 5 6
10 – Christiaan Burke (AM) (RSA) 8 2, Sam Mc Kenzie (AM) (RSA) 11 -1, Rigardt Albertse (RSA) 4 6, Ryan Van Velzen (AM) (RSA) 8 2
9 – Ricky Hendler (RSA) 3 6
8 – Nikhil Rama (RSA) 5 3, Leon Vorster (RSA) 5 3, Letsoso Letsai (AM) (RSA) 2 6
7 – Conner Mackenzie (AM) (RSA) 3 4, Rees Emanuel (AM) (RSA) 2 5
6 – Tristan Leonard (AM) (RSA) 3 3, Kai-Alexander Brandkamp (RSA) 7 -1
5 – Ryan Tipping (RSA) 3 2, Travis Procter (AM) (RSA) 2 3, John-William Blomerus (AM) (RSA) 4 1
4 – Wayne Stroebel (RSA) -1 5, Matthew Dennis (AM) (RSA) -5 9, Lindi Coetzee (RSA) -3 7, Lincon Cele (RSA) 5 -1, Bradley Diggeden (RSA) 6 -2
3 – Evance Vukeya (RSA) 3 0, Irvin Mazibuko (RSA) 0 3, Divan De Villiers (RSA) 1 2, Thabang Simon (RSA) 4 -1, Keanu Pestana (RSA) 3 0, Shanren Brienen (RSA) -4 7, Jade Buitendag (RSA) -2 5, Adam Gamsy (AM) (RSA) 3 0
2 – Vaughn Van Deventer (RSA) – Cut 3 -1
1 – Andrej Skrbinsek (AM) (RSA) – Cut -1 2, Jeremy Sharpe (RSA) – Cut -1 2, Francois Blaauw (AM) (RSA) – Cut -2 3, Jancarel Rossouw (RSA) – Cut -5 6, Tumelo Molloyi (RSA) – Cut -1 2, Keaton Slatter (RSA) – Cut -3 4
0 – Liam Ross (AM) (RSA) – Cut -8 8, Tyron Taylor (AM) (RSA) – Cut -4 4, Gerhard Henning (AM) (RSA) – Cut -1 1
-1 – Michael Kok (RSA) – Cut -3 2, Henning Du Plooy (RSA) – Cut -3 2, Jason Froneman (RSA) – Cut -4 3, Fritz Orren (RSA) – Cut -1 0
-2 – Leon Scheepers (RSA) – Cut -3 1, Handre Truter (AM) (RSA) – Cut -1 -1, Branus Viljoen (AM) (RSA) – Cut 1 -3, Tiaan De Jager (AM) (RSA) – Cut -3 1
-4 – Ruben Van Der Berg (AM) (RSA) – Cut 3 -7, Luke Barblan (AM) (SUI) – Cut -5 1, Daniel Lee (AM) (RSA) – Cut -6 2
-5 – Tara Griebenow (RSA) – Cut -4 -1, Leon Van Der Walt (AM) (RSA) – Cut -7 2, Gerard Du Plooy (RSA) – Cut 1 -6, Xander Prinsloo (AM) (RSA) – Cut -5 0
-6 – Tiger Malabie (RSA) – Cut -3 -3, Andrew Inggs (AM) (RSA) – Cut -9 3
-7 – Brenden Pieters (RSA) – Cut -4 -3, Travis Ladner (AM) (RSA) – Cut -7 0
-8 – Marno Prinsloo (AM) (RSA) – Cut -6 -2, Cameron Borcher (AM) (RSA) – Cut -10 2, Joshua Wiese (AM) (RSA) – Cut -1 -7, Lwazi Gqira (RSA) – Cut -5 -3, Clinton Duncan (AM) (RSA) – Cut -5 -3
-9 – Donald Makhafola (RSA) – Cut -9 0, Terence Archibald (RSA) – Cut -6 -3, Nkosikhona Dilla (RSA) – Cut -5 -4
-10 – Christiaan Pretorius (RSA) – Cut -11 1, Phumlani Maluka (RSA) – Cut -7 -3
-11 – Nikki Jonker (RSA) – Cut -8 -3, Slenda Sithebe (RSA) – Cut -8 -3
-13 – Keyan Loubser (AM) (RSA) – Cut -11 -2
-15 – Brandon Moodley (RSA) – Cut -2 -13, Jurgen Visser (AM) (RSA) – Cut -11 -4
-16 – Dylan Foster (AM) (RSA) – Cut -6 -10
-17 – Phillip Degenaar (RSA) – Cut -8 -9, Neo Mokgatle (RSA) – Cut -7 -10, Johan Milho (RSA) – Cut -8 -9
-18 – Dylan Underwood (AM) (RSA) – Cut -11 -7
-20 – Jason Hale (RSA) – Cut 0 -20
-21 – Dechlan Bennett (AM) (RSA) – Cut -8 -13
-23 – Stefan Eriksson (NAM) – Cut -7 -16
-25 – Jaun Strydom (AM) (RSA) – Cut -19 -6
-35 – Mchumane Wayiti (AM) (RSA) – Cut -20 -15
RTD – Eugene Schwartz (RSA) – Cut 2 RTD
Latest IGT Challenge Tour News