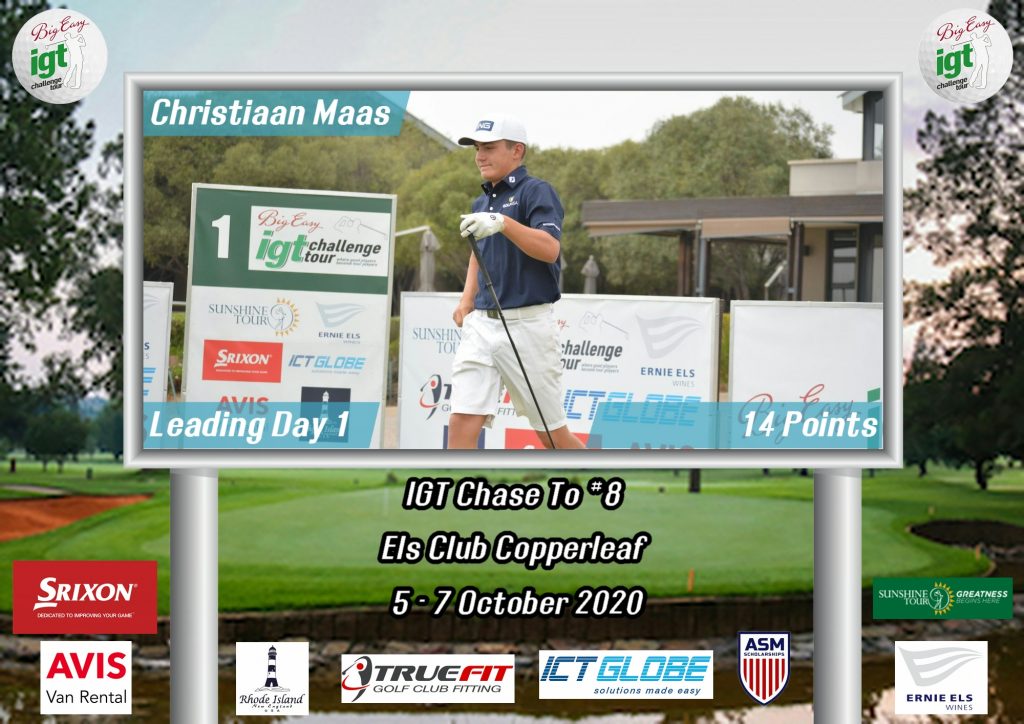 5th October 2020 | IGT Challenge Tour
Maas leads as play gets suspended at Copperleaf
CENTURION, October 5 – The opening round of the IGT Tour's Chase #8 Revised Stableford at The Els, Copperleaf Club was suspended due to dangerous lightning but not before amateur Christiaan Maas shot to the summit of the leaderboard with 14 points.
In a historical first for the IGT Tour, players have swapped the usual stroke-play format with the innovative revised Stableford format which awards points to players for under-par scores and deducts points for over-par scores.
Under this format, which is hailed the world over as promoting a fast-paced all-out attack-type of golf, a birdie earns you two points, an eagle earns you five points and an albatross is an eight-pointer. A par earns you a zero.
On the other hand, a bogey will mean minus-one point and a double-bogey will be a minus-three.
Maas started his round with back-to-back birdies to earn himself four points but one was quickly deducted after he made bogey on the third hole. He lost another point on the par-three fifth for a bogey there and from there he didn't look back. Four straight birdies brought his points tally for the front nine to 10, a healthy return in a strong field such as this one here in Centurion. He collected six more points on the homeward stretch but dropped two points there, because of the bogeys he made on the 11th and 18th holes.
Tied for second, as things stood at the suspension of play, Matt Saulez, Sam McKenzie and Kyle McClatchie are all on 11 points. Toto Thimba Jnr, Kyle Barker and last week's winner Casey Jarvis are on 10 points and share the fifth spot.
Round One will resume at 07H30 Tuesday morning.
Latest IGT Challenge Tour News