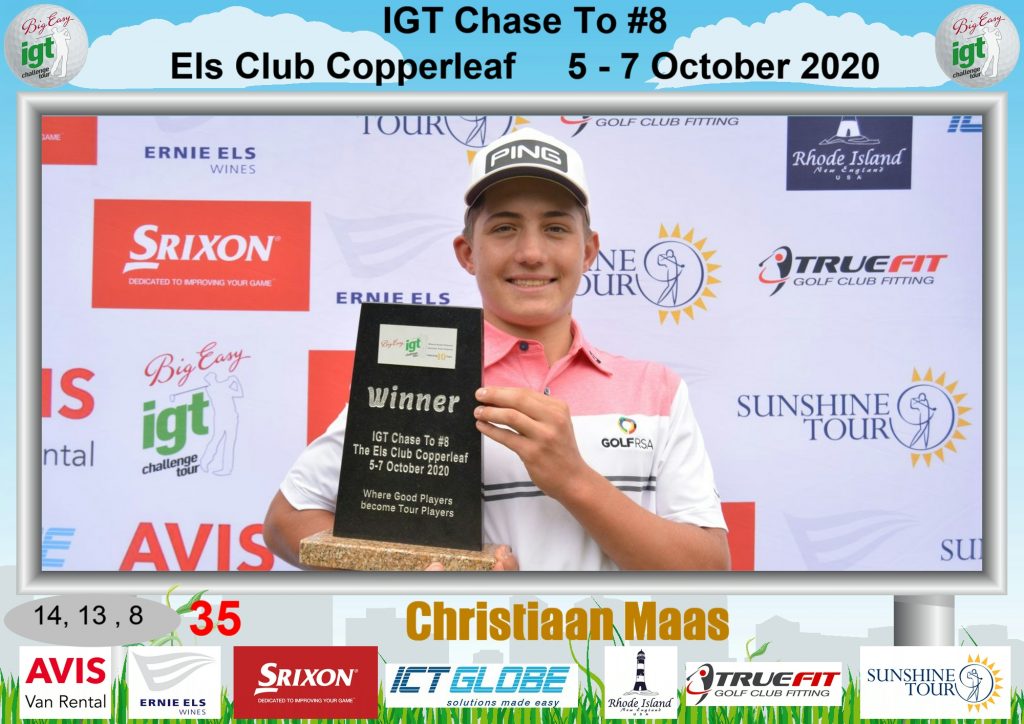 7th October 2020 | IGT Challenge Tour
Maas marches to victory at Copperleaf
CENTURION, October 7 – Amateur Christiaan Maas claimed his second IGT Tour win in just his third start as his three-under-par 69 final round of this week's Chase To #8 Revised Stableford format event at the Els Copperleaf Club earned him eight points to claim victory on 35 points, and seven points clear of Louis Albertse, on Wednesday.
Having led from day one when weather-enforced delays forced the round to be concluded on Tuesday before the start of the second – and while he was not affected by the delays because he'd already signed for a 67 – Maas needed a solid second round to hold onto the lead, and he did exactly that when he carded a second-successive 67 on Tuesday.
"I didn't feel a lot of pressure," said Maas after his win in Centurion, his second after his triumph at Services in September. "I knew if I played like I did in the first two days I would win it. So, I just played my game."
Maas was quick off the mark in the final round, going two-under-par 34 on the front nine, thanks to the four birdies he made in his first five holes. It was the double-bogey on the par-four ninth that took from his gains and he struggled to make any more birdies for the next five holes. Finally, and in some emphatic fashion, Maas picked up two birdies one after the other, on 15 and 16. Once again, an unwelcomed bogey got onto his card, and Maas admits there were some nervy moments out there.
"On 15, where Louis had a massive horseshoe for eagle," he said, "that was a bit scary. But I made a lot of clutch four-footers on the back nine and those kept me in it. I am very happy to have pulled it off."
Maas, a Golf RSA member becomes the second member of that developmental structure, in as many weeks, to claim an IGT Tour title after South Africa's number one amateur, Casey Jarvis, won at Wingate Park last week.
"It means I can compete with the pros and that my game is on the right track," he says of what it means to come out victorious in a field that boasted Sunshine Tour and Big Easy Tour winners. Albertse, a member of the Sunshine Tour will feel a little gutted not to have won today after a solid three-under 69 brought his total tally of points to 28.
Jarvis claimed the third spot on 27 points while Kyle McClatchie came fourth, with Toto Thimba Jnr and Matt Saulez in a share of fifth with 21 points.
35 – Christiaan Maas (AM) (RSA) 14 13 8
28 – Louis Albertse (RSA) 3 17 8
27 – Casey Jarvis (AM) (RSA) 10 6 11
25 – Kyle McClatchie (RSA) 11 11 3
21 – Toto Thimba Jnr (RSA) 14 4 3, Matt Saulez (RSA) 11 8 2
20 – Warwick Purchase (AM) (RSA) 8 5 7, Therion Nel (RSA) 3 13 4, Kyle Barker (RSA) 10 9 1
19 – Breyten Meyer (RSA) 1 11 7
18 – Ryan Van Velzen (AM) (RSA) 8 2 8, Werner Deyzel (AM) (RSA) 9 7 2, Adriel Poonan (RSA) 7 12 -1
17 – Sam Mc Kenzie (AM) (RSA) 11 -1 7, Thanda Mavundla (RSA) 3 14 0
13 – DK Kim (KOR) 6 7 0
12 – Ricky Hendler (RSA) 3 6 3
11 – Callum Mowat (RSA) 4 7 0
10 – Leon Vorster (RSA) 5 3 2, Herman Loubser (RSA) 7 5 -2, John-William Blomerus (AM) (RSA) 4 1 5, Keanu Pestana (RSA) 3 0 7
9 – Rigardt Albertse (RSA) 4 6 -1, Rees Emanuel (AM) (RSA) 2 5 2, Kai-Alexander Brandkamp (RSA) 7 -1 3
8 – Nikhil Rama (RSA) 5 3 0
7 – Travis Procter (AM) (RSA) 2 3 2, Shanren Brienen (RSA) -4 7 4
4 – Letsoso Letsai (AM) (RSA) 2 6 -4, Stals Swart (AM) (RSA) 5 6 -7, Jade Buitendag (RSA) -2 5 1
3 – Christiaan Burke (AM) (RSA) 8 2 -7
2 – Thabang Simon (RSA) 4 -1 -1
1 – JP Du Rand (RSA) 6 7 -12
0 – Ryan Tipping (RSA) 3 2 -5, Matthew Dennis (AM) (RSA) -5 9 -4, Irvin Mazibuko (RSA) 0 3 -3
-1 – Conner Mackenzie (AM) (RSA) 3 4 -8, Bradley Diggeden (RSA) 6 -2 -5, Evance Vukeya (RSA) 3 0 -4
-2 – Wayne Stroebel (RSA) -1 5 -6
-3 – Lincon Cele (RSA) 5 -1 -7, Adam Gamsy (AM) (RSA) 3 0 -6
-8 – Tristan Leonard (AM) (RSA) 3 3 -14, Lindi Coetzee (RSA) -3 7 -12
-11 – Divan De Villiers (RSA) 1 2 -14
Latest IGT Challenge Tour News