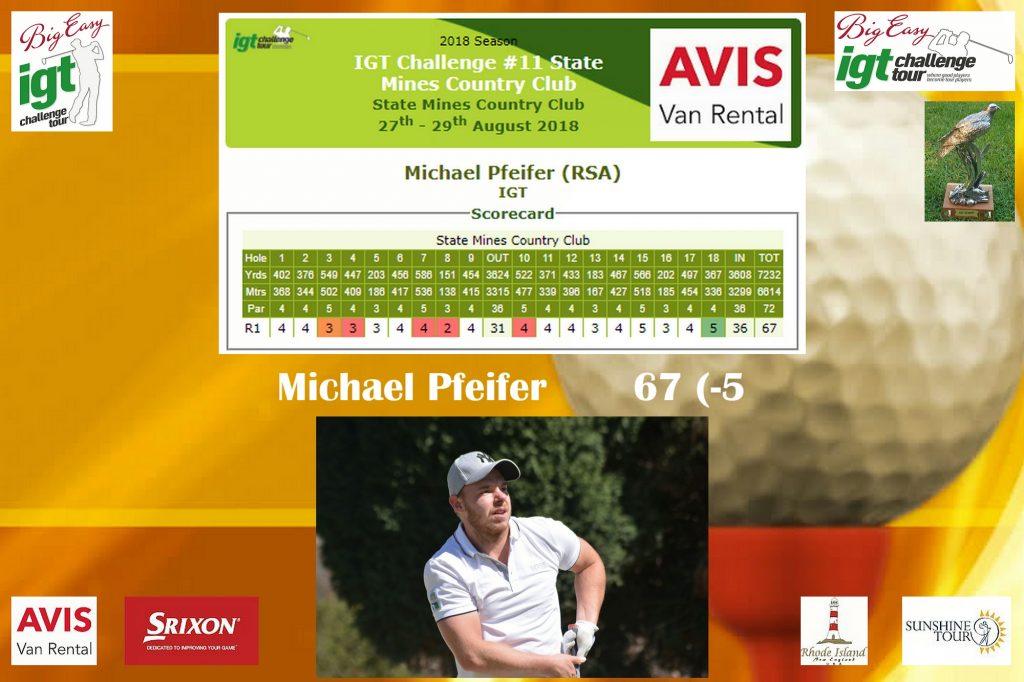 27th August 2018 | IGT Challenge Tour
Magnificent 67 propels Pfeifer to IGT State Mines lead
Magnificent 67 propels Pfeifer to IGT State Mines lead
(PHOTO – Michael Pfeifer; credit CJ du Plooy)
BRAKPAN, 27 August 2018 – An eagle at his third hole of the day and a trio of birdies on the front nine at State Mines Country Club sent Michael Pfeifer hurtling straight to the top of affairs in the opening round of the IGT Challenge #11 on Monday.
The explosive opening salvo kept the German-born South Africa at the top of the pile and he held on to the lead with a first round five-under-par 67.
Only five more players managed to break par on a bitterly cold and windy day in Brakpan.
Pfeifer leads by one shot from Garth Wolter from Maccauvlei and is two shots clear of seasoned campaigner John McClean from Ireland. Gary Player Class of 2018 member Warric Dyers, Leon Vorster from North West and Peetie van der Merwe from Mpumalanga rounded out the top five on one-under 71.
Sunshine Ladies Tour campaigner Lejan Lewthwaite led the ladies on one-over 73.
Pfeifer backed up his eagle with a trio of birdies to turn five-under and cemented the lead with another gain directly after the turn.
"I am really stoked to be leading after that fast start, because the putter cooled down a little down the back," said Fancourt-based Pfeifer.
"I thinned my drive at the third and the finished in the first cut on the left. I cut a 7-iron in and boxed a 12-footer for eagle. I laid up over the bunker at four, hit a soft pitching-wedge to five foot and made the birdie putt.
"After a birdie at seven, I made a big swinging putt at eight for another birdie. I hit a soft 9-iron pin high right and drained a 25-foot left to right putt. But I did leave a few out there. I didn't birdie the last par five (15) and I missed three short birdie putts under 10 foot.
"At 18, my tee shot finished in the trees on the left. I thought I could squeeze it through a gap in the trees, but it hit the tree and I had a long third shot in. I was happy to walk off with a bogey."
Pfeifer learned his golf at Fancourt and pursued the game when the family moved to Germany. He returned to South Africa to take his game to the next level.
"I played on the German Junior National Team in 2014/2015 and I knew then already that I wanted to play pro golf," he said. "That's the main reason why I came back to South Africa.
"You can only play competitive golf in Europe for five or six months on the mini-tours out there. Here I can play all year on great courses and longer courses, too. We also play different kinds of courses on the IGT Challenge Tour, so you get good experience in club and course management. It's a competitive circuit and I find the standard here much higher than in Germany."
Pfeifer believes he is making the transition into the pro ranks the right way.
"I joined the IGT Challenge Tour end of last year and turned pro in May," he said. "I realised we earn world ranking points on the Big Easy IGT Challenge Tour, so I made the switch about five months earlier than I planned but I'm happy about my decision.
"Over the last five months, my iron-game has improved dramatically. And my putting has vastly improved. That used to be the weakest link in my game, but I've been working with Mr Kramski at Fancourt and it is improving all the time. My main goal this season is to get more consistent. I want to finish in the top five more so I can experience that pressure more frequently. I've loving it out here."
First Round Scores
All competitors RSA unless otherwise specified; amateurs indicated as AMA
67 – Michael Pfeifer
68 – Garth Wolter
69 – John McClean (NIR)
71 – Warric Dyers, Leon Vorster, Peetie van der Merwe
72 – Leon van der Walt AMA, Bryce Myburgh, Patrick Thompson, Byron Sampson AMA, Clinton Grobler, Matthew Hands AMA, Ruan Korb
73 – Willie Olivier AMA, Paulo Serrao (POR), Keanu Pestana AMA, Shaun van Tonder, Lejan Lewthwaite
74 – Mitchell Lightfoot AMA, JP Rousseau AMA, Jack Duthie, Stefan Wears-Taylor
75 – Henning du Plooy AMA, Dean du Plessis AMA, Stephan Erasmus, Gary Daoust (BEL), Adrian Brabson AMA, Thabiso Ngcobo, Blain Sansom
76 – Jason Diab, Michael Kok, Ruhan van Dijk, Tiaan Greyvenstein AMA (AUS)
77 – Kyle Murphy AMA, Francois van Rensburg AMA, Dino Capazario AMA, Michael van Rooyen
78 – Tristan Brice AMA, David Rebelo, Gareth Sargent AMA, Hanish Nagrani (ZIM), Leon Visser
79 – Vickus Fleischman AMA, Jared Hall AMA, Kyle Opperman AMA, Marcus Smal AMA
80 – Jihwan Yeom AMA, Terence Mogapi, Quinton Coleman, Matthew Holland AMA, Alrich Labuschagne, Leslie Grandet (MDG), Luke Mayo AMA, Handre Truter AMA
81 – Stephan du Toit, Llewellyn Grobbelaar AMA, Michael Louth, Divan Marais
82 – Eric Nel, Lincon Cele, Marnus Barnard AMA
83 – Donneo Catanho AMA, Neville Mitchell AMA, Dominique Jacobs, Nicholas Souranis AMA
85 – Alwyn Smith, Tyler Johnston AMA, Andrej Skrbinsek AMA
86 – Bradley Diggeden AMA
90 – Louiz Pereira
98 – Dylan Morton AMA
Written and released by Lali Stander on behalf of the IGT Challenge Tour.
Latest IGT Challenge Tour News