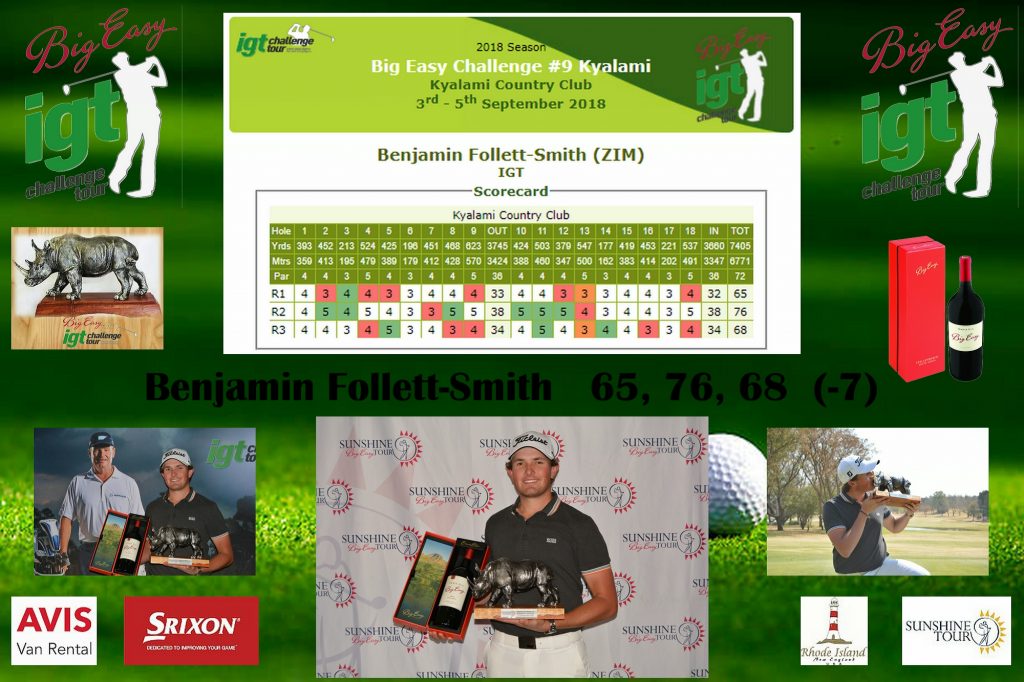 5th September 2018 | IGT Challenge Tour
Maiden Big Easy IGT success for Follett-Smith
Maiden Big Easy IGT success for Follett-Smith
(PHOTO – Ben Follett-Smith; credit CJ du Plooy)
JOHANNESBURG, 5 September 2018 – Zimbabwean rookie Ben Follett-Smith sealed a sensational maiden Big Easy IGT Challenge Tour victory in just his second start on the new development tour after a dramatic finale at Kyalami Country Club on Wednesday.
Follett-Smith fired five birdies and an eagle for a four-under-par final round 68 and a one shot win on seven-under over Dainfern rookie Cameron Moralee, DK Kim from Korea and Ruan Korb from Pretoria, another first-season professional.
"I couldn't have asked for better preparation for my upcoming trip to Austria for the first stage of the European Tour Qualifying School," said the Royal Harare golfer. "I was five-under in the first round with a four shot lead, but I fell right off pace with a 76 in round two. Golf is not easy and that taught me not to get too comfortable. Today I played to win."
The 24-year-old trailed by four going into the final round and still lagged only two shots behind at the turn.
Korb started with three bogeys in a row, but the Pretoria golfer surged to seven-under with birdies at seven and eight and an eagle at the par five nine. He made some great pars on the back nine to stay in front, but a bogey at 14 left the the door open for Follett-Smith to pounce.
The Sunshine Tour rookie cancelled drops at 12 and 14 with an eagle at the par five 13th, and set the clubhouse lead with gains at 16 and 18. Kim and Korb both had chances at 18 to force a play-off, but failed to capitalise at the closing par five.
"I figured out what was wrong with my alignment at the turn and I drove the ball a lot better going down the stretch," said Follett-Smith.
"I hit a great drive at 13 down the left and I was just a foot off the fairway. My second landed pin-high left on the edge of the green. My playing partners chipped from the same side. I got a good read on the line and drained a 48-footer for eagle.
"I cleared the bunkers at 16 with another great drive and had 80 yards flag. I hit a 56-degree wedge to 12 foot and holed the putt. At 18, my tee shot went down the right-hand side. It took a hard bounce and I was worried about the water right, but it kicked forward and stopped just five foot short of the water in front of the green.
"I had the perfect number for a 6-iron and I just aimed for the centre of the green, hoping it would release to the back pin. I landed it 16 feet short, and left the eagle putt in the mouth. As it turned out, birdie was good enough for the win.
"I had 11 birdies and two eagles in the first and final rounds, which shows I was playing good approaches and I landed some good putts. I played some really good golf in the final round. It felt like I didn't make any mistakes out there.
"After two good finishes recently on the Sunshine Tour recently, it's a good feeling to bag my third trophy. It's been less than a year since I turned pro, so it feels like I'm trending in the right direction."
Moralee finished birdie-birdie for a fine 69, Kim shot of 70 and Korb 72 to tie for second.
Wingate Park golfer Stefan Wears-Taylor fired an unmatched five-under-par 67 for the low round of the day and shared fifth on five-under with overnight leader Kyle Barker, who posted 74.
Gary Player School of 2017/2018 member Derick Petersen registered a final round 72 to seal his best finish of the season with a tie for seventh. Also on four-under was Duane Keun, Jason Smith and Rupert Kaminski, who fired two eagles on the back nine to start his pro career with a top 10 finish.
Final Result
All competitors RSA unless otherwise specified and amateurs indicated as AMA.
209 – Benjamin Follett-Smith (ZIM) 65 76 68
210 – Cameron Moralee 71 70 69, DK Kim (KOR) 70 70 70, Ruan Korb 69 69 72
211 – Stefan Wears-Taylor 74 70 67, Kyle Barker 70 67 74
212 – Rupert Kaminski 71 71 70, Duane Keun 70 71 71, Derick Petersen 71 69 72, Jason Smith 71 67 74
213 – Juran Dreyer 71 71 71
214 – Dylan Kok 70 72 72, Paul Boshoff 71 67 76
215 – Heinrich Bruiners 69 70 76
216 – Dayne Moore (ZAM) 72 72 72, Jeff Inglis (ENG) 70 74 72, Wayne Stroebel 69 71 76
217 – Luke Brown 72 70 75
218 – Marco de Beer 74 71 73, Neil Cheetham (ENG) 72 67 79
219 – Conway Kunneke 74 72 73, Matt Bright 75 71 73, Greg Bentley (ZIM) 74 71 74
220 – Makhetha Mazibuko 72 68 80
221 – Jabulane Mabilane 73 73 75, Dwayne Basson 73 73 75
222 – Maritz Wessels 69 75 78, Karl Lehmacher 73 70 79
223 – Liam Clinton AMA 72 74 77, Matthew Spacey 74 72 77, Mitchell Lightfoot AMA 73 73 77, Tyran van Lieshout 73 72 78
Ends
Written and released by Lali Stander on behalf of the IGT Challenge Tour.
Latest IGT Challenge Tour News