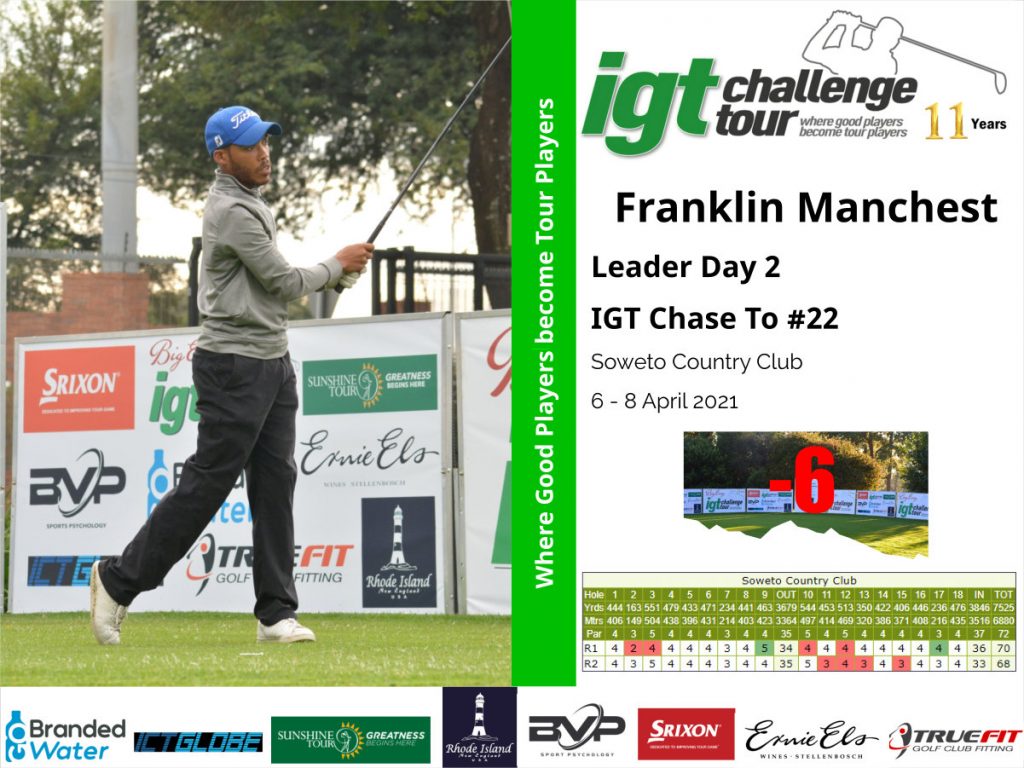 7th April 2021 | IGT Challenge Tour
Manchest banking on mental strength as he chases Soweto glory
SOWETO, April 7 – Franklin Manchest says he does not doubt that he will give a good account of himself in the final round of the Big Easy IGT Tour Chase To #22 at Soweto Country Club where he currently leads by one ahead of the last round of this 54-hole event.
Coming into the second round only one shot behind local man Thabang Simon, Manchest weaved together a bogey-free round of 68 on day two to unseat the veteran from the summit and set himself up for his second IGT Tour title of this season and his career.
"My mental strength these days is on another level," he said on Thursday. "I'd like to think that today's 68 comes from yesterday's momentum. I played really solid golf yesterday and I thought to myself, if I could avoid making drops today, then I'll be fine."
Manchest made 10 straight pars as he avoided the big numbers in the opening stages of the round and then a hat-trick of birdies from 11 to 13. He made further gains on 15 to seal an untainted round and secure his place atop the leaderboard ahead of what is to be an exciting final round.
"I just thought I should stick to my game-plan," he said of his thinking on Thursday. "I thought to myself I didn't need to go out there and try to break the course record or whatnot and as a result, I made a few extra putts than I expected to make. This course is tough so I had to be very sharp, mentally.
"I didn't think the course was set up too difficult because when we last played a Vusi Ngubeni tournament here, it was just too tough. This week I could stand on the tee and feel comfortable knowing that I could still hit it skew and salvage something because, as I said, I feel like I'm tougher mentally than when I last came here."
The mental strength he speaks of will be challenged thoroughly tomorrow as a host of experienced and yet-to-win campaigners will be gunning for the top spot. Leading that charge will be Simon whose 70 in round two has him tied for second spot with Ryan Tipping at five-under and one off the pace. Tipping carded a 67 on day two.
Hometown favourite, Musiwalo Nethunzwi is also lurking dangerously at two-under-par this week and will be buoyed by the recent examples on Tour that any leading score can be overturned when the determination is right. He shares fourth with Adriel Poonan while Siyanda Mwandla and Jason Froneman share sixth at one-under for the week.
Latest IGT Challenge Tour News