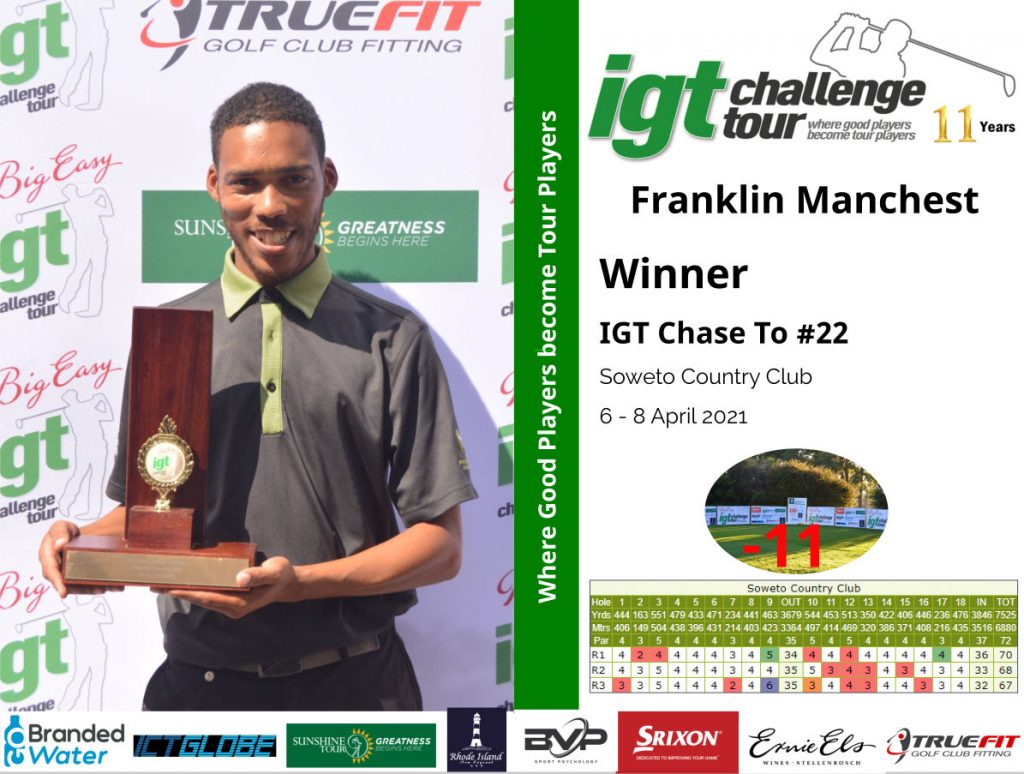 8th April 2021 | IGT Challenge Tour
Manchest gets redemption with Soweto victory
SOWETO, April 8– Franklin Manchest says his four-stroke victory in the Big Easy IGT Tour Chase To #22 at Soweto Country Club is redemption for the pain he suffered the last time he teed it up around this track.
It was early in March last year – before the pandemic struck – when Manchest's hopes of retaining his Sunshine Tour playing privileges were dashed in some spectacular fashion. Manchest had made the cut after 36 holes, but his eight-over-par total up to that point was a long way from the pace-setting Jacquin Hess who was four-under at that time.
The long and the short of it is that a total of 11-over-par at the end of the tournament meant that Manchest fell short of the top 15 players and those who tie that position who would be eligible for Sunshine Tour playing cards for the next season and left broken-hearted.
"This is redemption for me," said an emotional Manchest. "I didn't like how I lost out on a spot last year and I told myself that this week if I shoot a total of 10, then I will be fine. I think I beat last year's score by 21 shots if I'm not mistaken, so I am very proud of myself. I set a goal for myself to finish 10-under and I finished -11.
"That's a tick in the right box for me because I've worked really hard on my mental game and just how to manage myself when things don't go my way."
Taking a one-shot lead into the final round thanks to rounds of 70 and 68 in the first two days in Soweto, Manchest didn't relent in his pursuit for his second IGT title of the season and his career. Birdies on two and seven marked a bright start for the man from George in the Southern Cape, but a double on the ninth took from those gains.
An eagle and three birdies decorated his scorecard coming home and a final round 67 was enough to earn him the win over veteran Ryan Tipping at 11-under and four shots clear.
"This win gives me a lot of confidence because it is my second in the same season, so it means I can compete," Manchest added, "I wouldn't say I played my best golf this week but I think I was very tough mentally and I am happy that I made it through."
Now, as Manchest makes his ever-so-consistent climb up the Chase To Sunshine Tour rankings, he will do so with pride knowing that firstly; he can win on Tour, and secondly; that he finally conquered Soweto.
Latest IGT Challenge Tour News