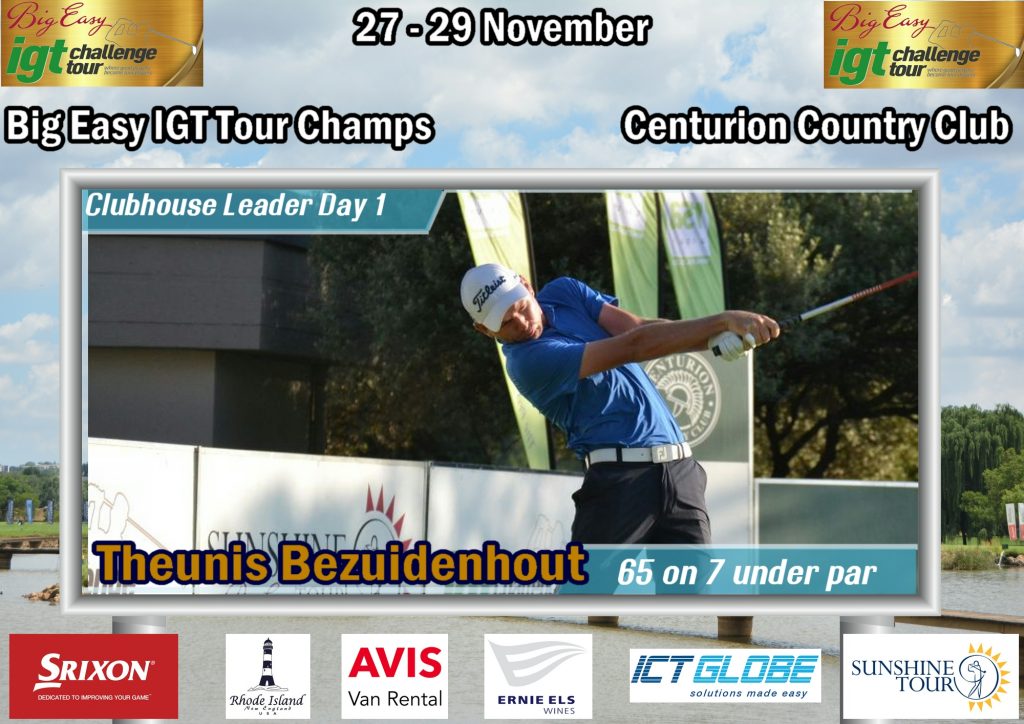 27th November 2019 | IGT Challenge Tour
Mansfield makes bold move at Big Easy IGT Tour Champs
Mansfield makes bold move at Big Easy IGT Tour Champs
(Photo Clayton Mansfield; credit CJ du Plooy)
PRETORIA, 27 December 2019 – KwaZulu-Natal rookie Clayton Mansfield laid down a marker for a coveted Sunshine Tour card when he surged within striking distance of first round leader Theunis Bezuidenhout in the Big Easy IGT Tour Championship on Wednesday.
Mansfield navigated the championship layout at Centurion Country Club in 67 strokes to finish just two off the pace from Bezuidenhout, who fired a flawless seven-under 65 for the lead.
When the R200 000 season finale wraps up on Friday, the top six ranked players in the final Road to Sunshine Tour Order of Merit after the will earn passage to the Sunshine Tour for next season, while the top 30 earn Big Easy IGT cards and exemption into the final stage of the Sunshine Tour Qualifying School in March next year.
"It's like being in a pressure cooker," said the 25-year-old Mansfield.
"Your whole season comes down to this week. I'm about R6 000 behind Marthin Scheepers, who is sitting in the sixth spot right now. He is going to do everything in his power to hang on to that spot. I'm going all out for a top five finish so I can overtake him. And between us there are three other guys that also want that spot. It's only going to get tougher from here, so I'm really pleased that I made a strong start."
Mansfield reeled in six birdies, including a trio of gains coming home.
"I hit 4-iron off the tee on 14, wedged it to eight feet and holed the birdie putt to go three-under," said the Durban Country Club. "On the 16th I had 104 metres flag and almost holed the wedge shot. I tapped in for another birdie and had an easy two-putt birdie on 18 after I landed my 2-iron drive on the back left of the green, with a flag back right.
"My mental game was good today. I came into this week with a game plan and I'm trying to execute it to achieve the ultimate goal. Game-wise there wasn't anything that really stood out. I drove the ball well and did what needed doing on the scoring holes. I hung tight through the rest and just tried to take the opportunities as they presented themselves."
The first prize cheque worth R32 680 would be a great early Christmas present, but for Bezuidenhout, the Big Easy IGT Tour Championship presented one last chance to hone his game ahead of the business end of the Sunshine Tour season.
"I've had my Sunshine Tour card for two years, but I have a handful of tournaments early next year to make sure I keep my card, so I entered this week to keep competitive and to build some confidence," said the 24-year-old Mooinooi Golf Club,
"It's nice to play stress-free golf this week, but I'm still playing to win. My swing has really been solid in the last few months, and it was nice to get the putter going today. I also made two great par saves today that really gave me a boost. It was a little disappointing that I only birdied one par five, but hopefully I can take advantage of all of them tomorrow."
A total of 20 golfers broke par in the opening round, including Pretoria golfer Jason Smith.
Second on the Road to Sunshine Tour and chasing his fourth win of the season, Smith is perfectly positioned to secure his playing privileges on the Sunshine Tour next year.
However, the two players that shares third with Smith on four-under – Big Easy IGT #15 winner Byron Coetzee and Hendrikus Stoop – are also in Mansfield's  'pressure cooker'. Kloof rookie Coetzee is currently 18th in the standings and Stoop is counting on his local course knowledge to catapult into the top six from his current 24th place ranking.
Meanwhile Allister de Kock, Dwayne Basson and Thabiso Ngcobo, who secured their Sunshine Tour cards for the 2020/2021 season with a one-two-three finish on the Transformation Road to Sunshine Tour Order of Merit last week, are also in the running for the big prize.
De Kock and Ngcobo carded rounds of 71 to tie for 11th, and Basson returned a two-under 70 to share ninth with Dainfern golfer Matthew Spacey.
First Round Scores
All competitors RSA unless otherwise specified.
65 – Theunis Bezuidenhout
67 – Clayton Mansfield
68 – Hendrikus Stoop, Byron Coetzee, Jason Smith
69 – Eric Nel, Reinhardt Blaauw, Desne van den Bergh
70 – Dwayne Basson, Matthew Spacey
71 – Luan Boshoff, Thabiso Ngcobo, Allister de Kock, Matt Saulez, Jason Rossiter, Quintin Wilsnach, Jeff Inglis (ENG), Gideon van der Vyver, Hennie O'Kennedy, Malcolm Mitchell
72 – Neal Woernhard (SUI), Karl Ochse, Jason Froneman, Marthin Scheepers
73 – Richard Joubert, Michael-James Steyn, Jason Roets
75 – Albert Venter
76 – Coert Groenewald
77 – Leon Vorster
Written and released by Lali Stander on behalf of the Big Easy IGT Challenge Tour.
Latest IGT Challenge Tour News