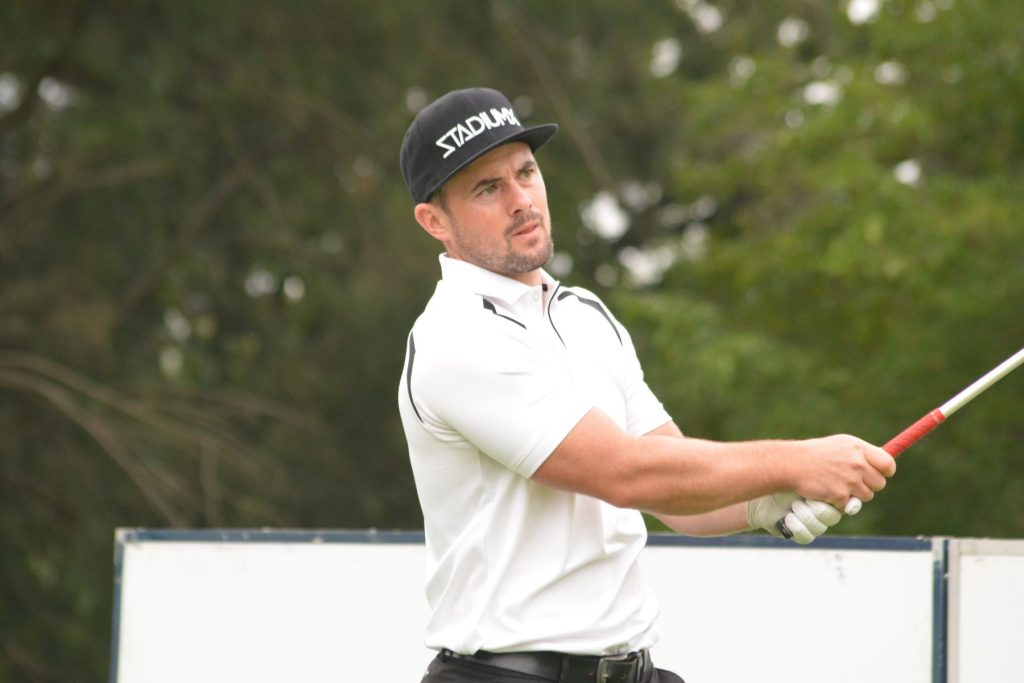 11th March 2019 | IGT Challenge Tour
Mayo, O'Neill in pursuit at Reading
Mayo, O'Neill in pursuit at Reading
ALBERTON, 11 March 2019 – KwaZulu-Natal amateur Luke Mayo and Englishman Ryan O'Neill will go in pursuit of Tristen Strydom when the second round of the Race to Q-School #9 tees off at Reading Country Club on Tuesday.
Strydom was in ascendancy again less than a week since he captured his sixth IGT Challenge Tour victory in the Race to Q-School #8. He stitched together rounds of 66, 64 and 64 at Akasia Country Club to match the all-time 54-hole record with a winning total of 22 under 194.
The Pretoria golfer fired six birdies on the back nine – including a run of four from the par three 11th and a brace of gains to finish – for a seven-under-par 64 to take pole position in round one.
However, Mayo from Mount Edgecombe racked up his own string of four successive birdies from the sixth to pull within a shot of Strydom's target, and O'Neill used loops of 32 and 34 to finish within two strokes of the leader.
A further seven players are within four shots of Strydom.
Neil Woernhard, Leon Visser and Hayden Griffiths posted a trio of 67s, with Divan Marais, Ruhan van Dijk and Arno Pretorius a further stroke back on three-under.
Most of the players in the top 20 are vying for a top 15 spot in the Race to Q-School Order of Merit, which will earn them automatic exemption into the Final Stage of the Sunshine Tour Qualifying School at Houghton Golf Club next week.
Strydom and O'Neill already did the hard graft in November when the pair crossed the first big hurdle in First Stage.
"It's all about the preparation right now and getting match ready for final stage," said 30-year-old O'Neill, who arrived back in South Africa last month and is making his fourth start on the country's premier golf development circuit.
"It's the first time I've come out to South Africa to try and qualify for the Sunshine Tour. I would have flown back here this week and played a few practice rounds, but thankfully I discovered the IGT Challenge Tour. It's absolutely fantastic to have a professionally run tour where we can compete to stay competitive and prepare for Q-School at the same time.
"I think the Race to Q-School series is brilliant. The incentive of the 15 spots into Q-School is a great way to keep the guys motivated and a great reward for being committed. I've found that the standard is quite high and the guys are seriously competitive. Great initiative, this tour."
O'Neil got his round off to a nice start with a birdie at the second.
"I had a sloppy drop at the third, but bounced back with two birdies in a row at four and five," said the Penwortham golfer. "I hit to four foot at the par three (seven) and made another good putt at eight for birdie, and kept the momentum going with a good par from the fairway bunker at nine."
The Manchester native turned five-under, but gave back a shot to field with a drop at the par four 10th.
"I was behind the trees on 10 and paid the price, but I managed to knock in some more birdie putts at 14, 16 and 17 before I dropped another shot at 18. All in, it was a solid round and I'm pleased to be hitting some good form before Q-School."
First Round Scores
All competitors RSA unless otherwise specified; amateurs indicated as AMA
64 – Tristen Strydom
65 – Luke Mayo AMA
66 – Ryan O'Neill (ENG)
67 – Neal Woernhard (SUI), Leon Visser, Hayden Griffiths
68 – Divan Marais, Ruhan Van Dijk, Arno Pretorius
69 – Darin De Smidt AMA, Christopher Van der Merwe AMA, WM Coetzee AMA, Richard Joubert, Harry Konig (ENG), Matt Bright, Keegan Van Jaarsveld, Peetie Van Der Merwe, Stefan Wears-Taylor
70 – Henning Du Plooy AMA, David Toplis, Neal Herman, Maritz Wessels, Dongkwan Kim (KOR), Tristan Topka AMA, Ryan Joyce AMA
71 – Gareth Sargent AMA, Gary Daoust (BEL), Bradley Diggeden AMA, Liam Labuschagne AMA, Kyle Barker, Dean O'Riley, Eric Nel, Michael-James Steyn, Clayton Mansfield
72 – Ivan Mare AMA, Hanlo Jacobs, Marco De Beer, Zabastian De Jager, Jack Rex Duthie, Jason Roets, Dylan Mostert, Francois Nel AMA
73 – James Mack (ENG), Jaco Van Der Merwe AMA, Paul Rodrigues AMA, Leon Vorster, Albert Venter, Jason Rossiter, Scott Houghton (ENG), Michael Saunders (ENG)
74 – Jay Dean Fourie, Adam Baker, Keanu Pestana, Paulo Serrao (POR)
75 – Oliver Tubb (CAN), Roedolf Klopper AMA
76 – Christof Appel, Andre Bezuidenhout AMA
77 – Albert Visser, Jared Hall AMA
78 – Cody White (CAN), Jan-Louis Nel AMA, Allan Jirek AMA (CZE)
79 – Nqobani Ndabambi (ZIM), Tristan Eeles AMA, Garth Wolter
80 – Angus Ellis-Cole AMA
81 – Daniel Van Den Heever AMA, Pierre Le Roux AMA
82 – Louis Botha, Boyuan Zhang
86 – Xander Prinsloo AMA
88 – Nathan De Bruyn AMA
93 – Justin Steenkamp AMA
Missed the cut:-
WDN – Stephane Van Neer (COD)
PHOTO – Ryan O'Neill from England; credit CJ du Plooy.
Written and released by Lali Stander on behalf of the IGT Challenge Tour.
Latest IGT Challenge Tour News