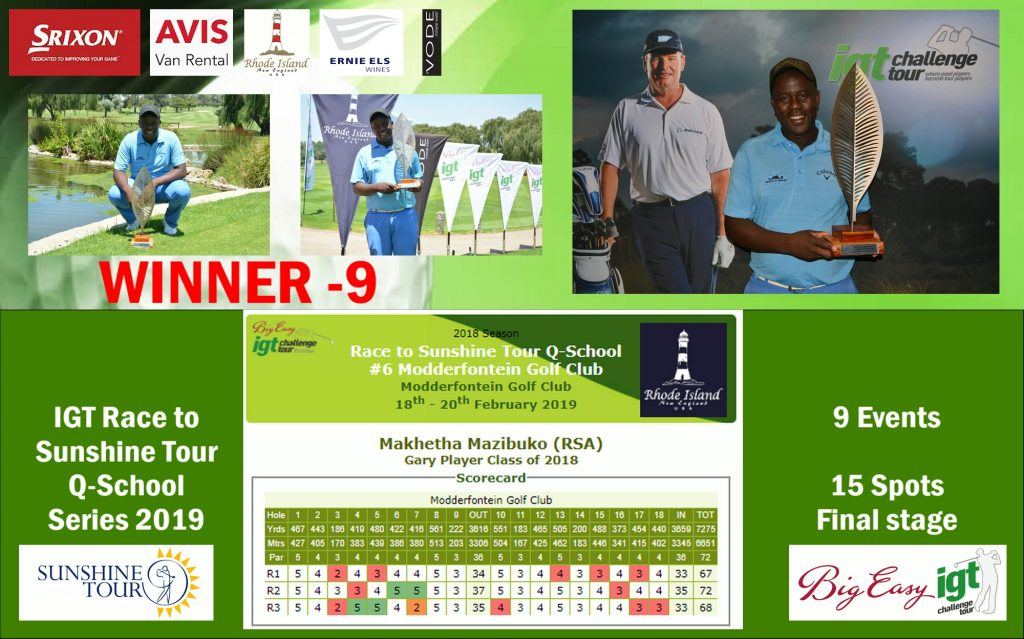 21st February 2019 | IGT Challenge Tour
Mazibuko claims magnificent IGT maiden at Modderfontein
Mazibuko claims magnificent IGT maiden at Modderfontein
(Photo – Makhetha Mazibuko; credit CJ du Plooy)
JOHANNESBURG, 20 February 2019 – It's been coming for some time, but when it finally happened, it caught him quite by surprise. After an eight year grind and too many missed opportunities to count, Makhetha 'Play Station' Mazibuko finally broke his duck on the IGT Challenge Tour on Wednesday and that with a game that is only "at 50 percent."
The popular 31-year-old Bloemfontein golfer entered the sixth event in the Race to Q-School series to work out some kinks with a wayward swing ahead of the upcoming Limpopo Championship on the Sunshine Tour.
What he got at Modderfontein Golf Club, was so much more.
Great iron shots and wedges and a hot putter for a flawless five-under-par 67 earned him a share of the four-way tie at the top in the opening round. He slipped two shots off the pace with a second round 70 and was still chasing the early leaders in the final round when an eagle two at the par four seventh brought a change in fortune.
The Free State golfer birdied the 10th put him in contention and a fabulous birdie-birdie finish for a four-under 68 saw him triumph on a winning score of nine-under 207.
Mazibuko won by one shot from overnight leader Rupert Kaminski and Pretoria rookie Ruhan van Dijk, with Clayton Mansfield third on six under.
"I am over the moon," said the smiling Mazibuko as he hugged his first silverware. "When I saw I had a chance after the birdie at 10, all that mattered was that I get the job done. The swing has improved, but it's nowhere near where it needs to be. But I grinded and kept bogey-free on the back nine and that is what earned me this trophy."
It has been a very long and often-times tough journey for Mazibuko since he first enrolled in the South African Golf Development Board (SAGDB) programme in the Free State.
Despite the hardships, he never stopped pursuing his dream.
"A lot of people have asked me why I don't give it all up, especially in tough financial times, but how could I when this is all I've ever wanted to do. And today, I proved to everyone who taught me and guided me and everyone who supported me that it was worth it.
"I have a lot to be thankful for. The SAGDB and Rata Motoung who saw my potential. Riaan Spangenberg from Callaway and Langley Perrins who look after my equipment and kit. Leonard Loxton at Titleist who keeps me in balls, gloves and shoes.
"Oom Cois (du Plooy) and the IGT Challenge Tour that give us a circuit to play on between the Sunshine Tour events where we can stay sharp and competitive and work on our games. And Selwyn Nathan and the Sunshine Tour for giving me a spot in the Gary Player School.
"The financial support has taken a huge burden off my shoulders and the camps have been really helpful to get my mind in the right place. I hope that I can send a big message with this win to all the kids in the SAGDB in South Africa, and to all my brothers in the Gary Player School. Persevere. Work hard, Put in the hours and never give up, because the reward is just around the corner."
Mazibuko started with successive pars and a birdie at the third, but had two three-putts for bogeys at four and five. "At seven, I hit a good drive and I took sand-wedge for my second," he said.
"I aimed it right of the flag so I could catch the slope and it came out perfectly. I couldn't see where the ball landed, but Kyle Barker said it went in the hole. When we got to the green, it did roll into the hole. That eagle gave me a really big boost. I was right there with the leaders and I just wanted to keep the momentum going."
Mazibuko advantage of the par-five after the turn to get to two-under.
When overnight leader Rupert Kaminski back-tracked with a double bogey at nine, he knew he had a chance. "I just told myself to keep making pars and to wait for the birdie chances to come," he said.
"I would have forced things in the past, but I've learned a lot in the last few years and I know now that getting aggressive causes you to make mistakes. So I just tried to hit fairways and greens down the back nine and waited for a birdie chance."
Mazibuko didn't make the most of a birdie chance at the par five 14th but he didn't make the same mistake over the last two holes.
"At 17, I had 60 metres flag and I pitched it to two foot and made the putt for birdie," he said. "On 18, the wind was right to left, but just as I hit my tee shot, it switched direction and pushed my ball inot the threes on the right. I had 140 metres to the pin, so I hit a soft wedge into the green. It pitched nicely and stopped five feet from the hole.
"I knew the line because I had exactly the same putt in the last Vusi Nqobeni Q-School. It was right to left and it straightened up just in front of the hole. I was so relieved when that putt dropped."
Final Results
207 – Makhetha Mazibuko 67 72 68
208 – Ruhan van Dijk 67 71 70, Rupert Kaminski 70 67 71
210 – Clayton Mansfield 73 66 71
211 – Musiwalo Nethunzwi 69 70 72
212 – Christopher van der Merwe AMA 70 70 72, Kyle Barker 70 69 73
213 – Dongkwan Kim (KOR) 71 72 70
214 – Riaan Swart AMA 75 66 73, Cody White (CAN) 67 74 73, James Mack (ENG) 71 70 73, Cameron Moralee 75 65 74, Richard Joubert 71 68 75
215 – Dean O'Riley 73 71 71
217 – Hayden Griffiths 72 73 72, Jonathan Waschefort 73 72 72, Liam Labuschagne AMA 76 68 73, Tristen Strydom 74 72 71
218 – Tristan Topka AMA 71 73 74, Hanlo Jacobs 70 74 74, Darin de Smidt AMA 75 67 76, Michael Saunders (ENG) 72 75 71
219 – Gary Daoust (BEL) 72 73 74, Maverick Faber (FRA) 75 69 75
220 – Carlo O'Reilly AMA 70 74 76, Christof Appel 73 74 73, Werner Deyzel AMA 67 73 80, Maritz Wessels 76 73 71
221 – Jason Rossiter 74 70 77, Leon Vorster 73 74 74
222 – Thabiso Ngcobo 71 78 73
223 – Clinton Grobler 72 73 78, Ryan O'Neill (ENG) 70 73 80, Michael Pfeifer 71 77 75
224 – Jaco van der Merwe AMA 70 76 78, Matthew Spacey 75 69 80, Gareth Sargent AMA 76 71 77, Alex Pienaar AMA 76 72 76, Divan Marais 77 72 75
225 – Gerard du Plooy 70 75 80, Ruan Korb 69 76 80, Jabulane Mabilane 72 74 79, Jack Duthie 73 76 76
226 – Mitchell Lightfoot 69 77 80, Andrew Carlsson 76 71 79, Bradley Diggeden AMA 72 77 77, Idrees Saban AMA 75 74 77, Franco Putter 73 76 77
227 – Thabo Moraba 72 76 79, Keaton Slatter 76 72 79, Dean du Plessis AMA 76 73 78
228 – Ricardo Towell 77 70 81, Warric Dyers 75 72 81
Written and released by Lali Stander on behalf of the IGT Challenge Tour.
Latest IGT Challenge Tour News