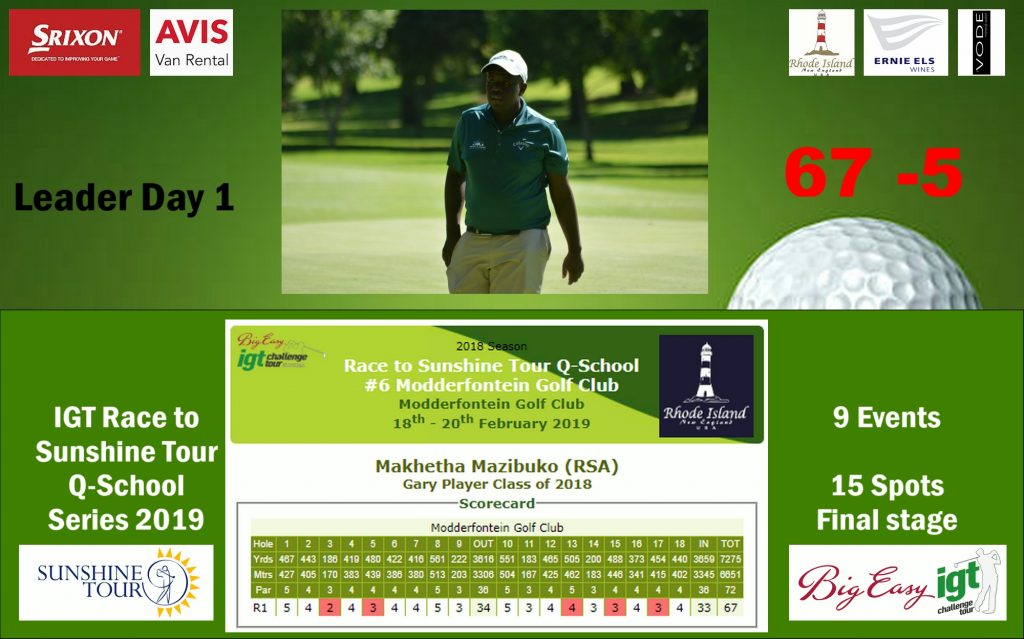 19th February 2019 | IGT Challenge Tour
Mazibuko in four-way tie for Modderfontein lead
Mazibuko in four-way tie for Modderfontein lead
JOHANNESBURG, 18 February 2019 – Bloemfontein professional Makhetha Mazibuko made it a four-way tie at the top after posting a flawless five-under-par 67 in the opening round of the sixth Race to Q-School on Monday.
Gary Player School member Mazibuko broke par twice during his outward loop at Modderfontein Golf Club.
He fired a trio of birdies coming home to join Canadian Cody White, rookie Ruhan van Djik and Pretoria amateur Werner Deyzel at the top of the first round leaderboard.
The quartet opened up a two-shot lead over Ruan Korb, Mitchell Lightfoot and Muzi Nethunzwi, also a member of the Gary Player School and Gerhard du Plooy made it three in the top 10 for the Sunshine Tour's development initiative when he tied for eighth at two-under with seven players.
Mazibuko has struggled for form of late, but a return to the IGT Challenge Tour sparked some imaginative shot-making.
"I came back to the IGT, because we have the Limpopo Championship and the Vuzi Ngobeni Q-School coming up," said the 31-year-old. "I always played on the IGT between tournaments on the Sunshine Tour. It helps you to keep sharp.
"I have been struggling with my driver and I'm hoping I can sort it out this week. I missed a lot of fairways and I had to get really creative, but I scrambled very well. My shorter irons, my wedges and my putter was on song. It was my first bogey-free round in three years."
Mazibuko, a graduate of the South African Golf Development Board programme in the Free State, was pleased to see Nethunzwi and Du Plooy in the running.
"I'm really happy for those guys," he said. "We are all in the same boat. The Team Championship at Dainfern in 10 days doesn't count for the Order of Merit. We have to be on our A-game at Euphoria, so we can make some money. Vuzi comes straight after Limpopo, so it's got to happen this week."
White, who hails from Nova Scotia, was equally thrilled with a leading 67.
"I came out to South Africa in October last year with my mate Christof Appel and I really enjoyed my time on the IGT Challenge Tour," said 30-year-old White. "I'd quit the game for seven years and started playing again in 2014.
"I went to the Golf Academy of America and they placed at Bowen Island Golf Club in British Columbia. I manage the club and I teach there. The members there clubbed together to sponsor me to come back to South Africa.
"Christof and I both hope to make the top 10 in the Race to Q-School Order of Merit so we can compete in the final stage of the Sunshine Tour Qualifying School. The hope is to play out here during the Canadian winter to start with.
"It's been quite an adjustment, especially with the altitude. And the age variation on the tour. I have some guys by six years, others by 10, but I'm loving it out here. I made my first cut at Houghton last week and then the last round had to be cancelled.
"I drove it really well today and the putter was red-hot. I made eight birdie putts and a lot of good par saves. I had something like 25 putts and I didn't miss a green on the back nine. Hopefully I can post another low number in the second round and be right in it on the final day.
First Round Scores
67 – Werner Deyzel AMA, Makhetha Mazibuko, Ruhan van Dijk, Cody White (CAN)
69 – Mitchell Lightfoot, Musiwalo Nethunzwi, Ruan Korb
70 – Hanlo Jacobs, Kyle Barker, Jaco van der Merwe AMA, Rupert Kaminski, Ryan O'Neill (ENG), Gerard du Plooy, Carlo O'Reilly AMA, Christopher van der Merwe AMA
71 – DK Kim (KOR), Tristan Topka AMA, James Mack (ENG), Richard Joubert, Michael Pfeifer, Thabiso Ngcobo
72 – Michael Saunders (ENG), Thabo Moraba, Hayden Griffiths, Gary Daoust (BEL), Clinton Grobler, Thabang Simon, Bradley Diggeden AMA, Sipho Bujela, Jabulane Mabilane
73 – Henning du Plooy AMA, Dean O'Riley, Keanu Pestana AMA, Franco Putter, Jack Duthie, Clayton Mansfield, Jonathan Waschefort, Leon Vorster, Christof Appel
74 – Tristen Strydom, Leon van der Walt AMA, Jason Rossiter, Louis Botha, Angus Ellis-Cole AMA
75 – Jared Botha AMA, Duan Nagel AMA, Darin de Smidt AMA, Elmo Barnard AMA, Idrees Saban AMA, Riaan Swart AMA, Cameron Moralee, Andrew Plint AMA, Bryce Myburgh, Maverick Faber (FRA), Alpheus Kelapile, Matthew Spacey, Jason Diab, Warric Dyers
76 – Maritz Wessels, Liam Labuschagne AMA, Gareth Sargent AMA, Paul Rodrigues AMA, Andrew Carlsson, Stephan Erasmus, Simon Du Plooy AMA, Dean du Plessis AMA, Paulo Serrao (POR), Keaton Slatter, Michael Dreyer, Alex Pienaar AMA, Zabastian de Jager, Khaya Jika, Lincon Cele
77 – Myburgh Viljoen AMA, Vickus Fleischman AMA, Divan Marais, Ricardo Towell, Thanda Mavundla, Shalan Govender, Jonathan George AMA
78 – Albert Visser, Hanish Nagrani (ZIM), Richard Spagnolo AMA, Samba Niang (SEN), Deon Bredenkamp, Cameron Gunning, Ivan Mare AMA, Cody Holwill AMA, Angelo Marques AMA
79 – WM Coetzee AMA, Marcus Smal AMA, Fritz Orren
80 – Carlo Heunis AMA, Peetie van der Merwe, Lance Ellerbeck AMA, Darren Slingers AMA, Tumelo Molloyi, Allister De Kock, Adam Baker, Jancarel Rossouw AMA
81 – Stephane van Neer (COD), Matthew Hands AMA, Donald Makhafola AMA
82 – Michael van Rooyen, Neal Herman, Arno Pretorius, Scott Houghton (ENG)
83 – Blain Sansom
84 – Tristan Brice AMA, Nhlalenhle Dlamini
85 – Xander Prinsloo AMA, Carel du Plessis AMA
86 – Nhlanhla Mohlauli
87 – Willem Van Der Merwe AMA
88 – Allan Jirek AMA (CZE)
98 – Jeandre Badenhorst
WDN – Phumlani Maluka
Photo – Makhetha Mazibuko; credit CJ du Plooy.
Written and released by Lali Stander on behalf of the IGT Challenge Tour.
Latest IGT Challenge Tour News