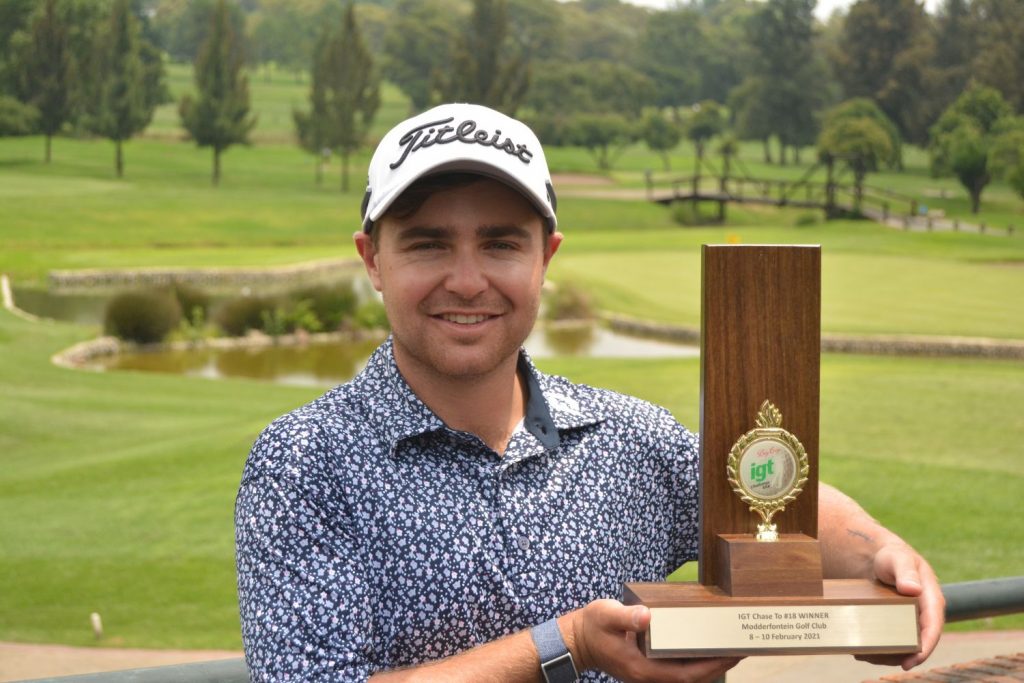 12th February 2021 | IGT Challenge Tour
McClatchie climbs in Chase to Sunshine Tour
PRETORIA, February 12 – His victory at this week's IGT Big Easy Challenge Tour's Chase to the Sunshine Tour #18 at Modderfontein Golf Club saw Kyle McClatchie position himself at number three in that circuit's rankings.
McClatchie nailed down his second win of recent months, and his first on this particular circuit, after he won the Big Easy Road to the Sunshine Tour event late last October at State Mines Country Club. He fired a final-round level-par 72 this week to close out the tournament at Modderfontein and hold off Sunshine Tour professional Rourke van der Spuy by one shot.
The top three players on the Chase to the Sunshine Tour rankings at the end of the season, which has 22 tournaments to go ahead of the final in December, will get their playing privileges on the country's premier professional golf circuit.
McClatchie, formerly the country's top amateur, has had a taste of the Sunshine Tour after he turned professional back in 2018. But he's had a tough time of things, coming 101st on the Order of Merit in each of the two seasons he's played, as well as enduring a tough few months on the Challenge Tour in Europe.
Resetting on the IGT, a tour which places a premium on consistency over a long period, has got McClatchie back into the kind of form which saw him win on the Big Easy Tour as an amateur at Killarney Golf Club back in 2017.
That shows in the gradual improvement in his stroke average, which is now 70.43 over 42 rounds, and while that is only good enough for a share of 36th on that table – although all of the tp 10 on the list have nine or fewer rounds to their names.
The other area where he's making his mark is hitting greens in regulation: Of the 792 holes he's played this season, he's hit 73.48 percent of the greens in regulation. That, of course presents birdie opportunities, and when you're making 4.06 of those per round over so moany rounds, that always puts you in with a chance.
McClatchie's name is down for next week's tournament, so he will get the chance to try and solidify his place on the rankings. He currently trails the leader Casey Jarvis, with the ever-consistent Michael Kok in second.
Latest IGT Challenge Tour News